Filtered By: Lifestyle
Lifestyle
UNICEF says Moro play at UP Rep postponed 'to sharpen its focus'
(Updated 5:00 p.m.)
The University of the Philippines Repertory Company (UP Rep) officially confirmed last Thursday
the "temporary" postponement of all play dates
for Rogelio Braga's full-length play "Mas Mabigat ang Liwanag sa Kalungkutan."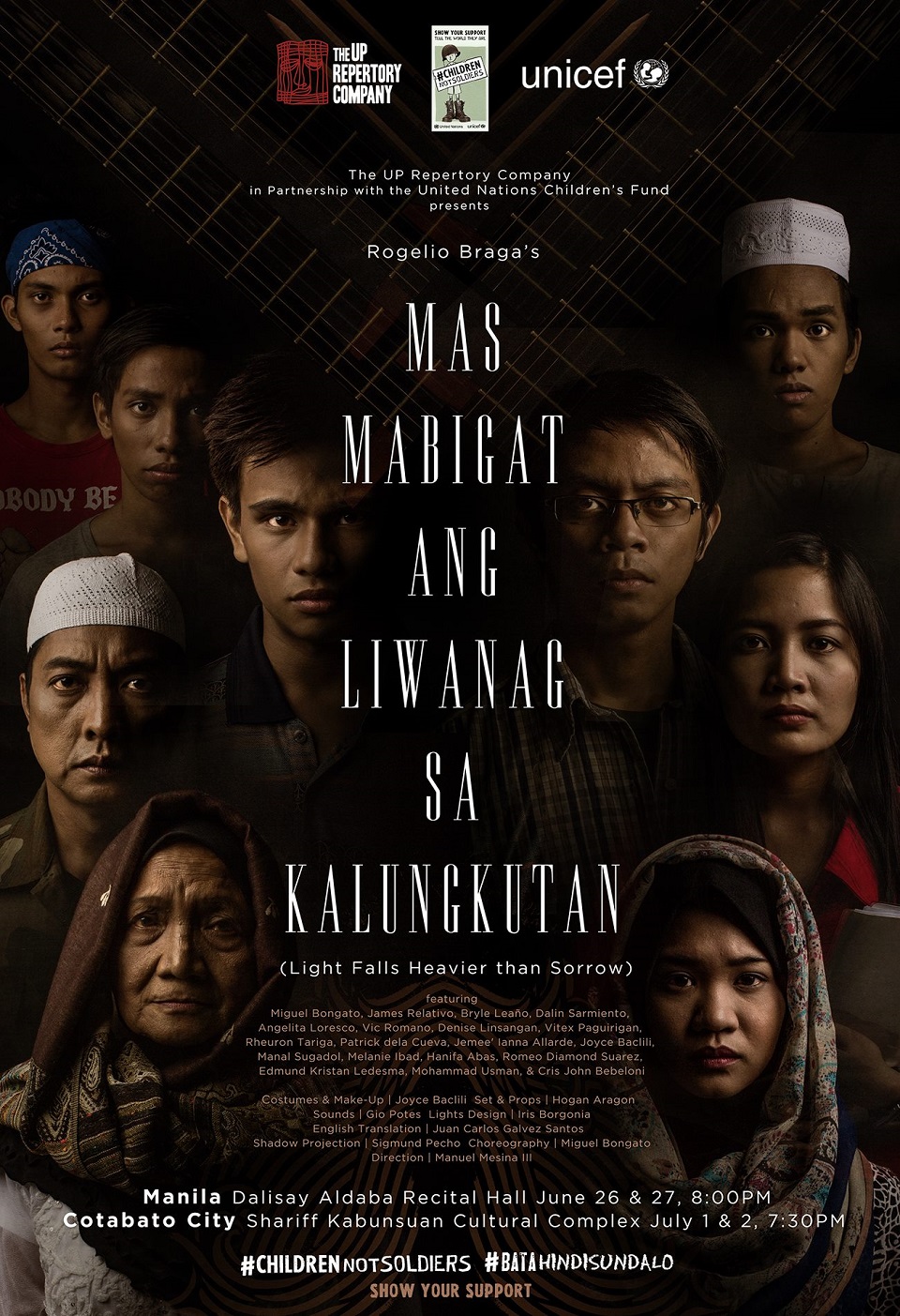 The play—and its English-language version, "Light Falls Heavier Than Sorrow," translated by Juan Carlos Galvez Santos—had been scheduled to go on stage on June 26 and 27 at the Dalisay Aldaba Recital Hall in UP Diliman and at the Shariff Kabunsuan Cultural Complex in Cotabato City on July 1 and 2.
The play was initiated in partnership with the United Nations Children's Fund (UNICEF) Philippines in Cotabato as a part of its four-month "Children, Not Soldiers" campaign.
Censorship?
"Mas Mabigat ang Liwanag sa Kalungkutan" takes place before the siege of Camp Abubakar, the large Moro Islamic Liberation Front (MILF) camp that fell to the military in 2000.
It tells the story of four boys—Akil, Kamad, Karim, and Madz—who enter the training camp weeks before "all-out war" beaks out.
Despite his teacher's urging to continue his studies, Akil chooses to stay in the camp with his friends. Inside Abubakar, he is reunited with Sarah, a young dayunday singer and the childhood sweetheart of his close friend, Teng, who is studying in Manila but who later goes back to Mindanao. Sarah, Akil, and his friends await their fate inside the camp.
UP Rep had earlier opened the play's rehearsals at Aldaba Hall to the public, already hinting then at a possible setback with the organizers.
On June 24, Braga announced on his Facebook account that the play's run would be cancelled.
A final meeting between representatives of UP Rep and UNICEF was held the next day, June 25, to discuss the script.
In an interview with GMA News Online, Braga said that UNICEF asked that some parts be removed from the script. These parts, he said, mentioned past presidents Ferdinand Marcos and Joseph Estrada, the dichotomy of Filipino and Moro identity, and the glorification of child soldiers. He said that UNICEF decided to stop the production until he revised his script. Braga refused to do so.
On Sunday, Autonomous Region in Muslim Mindanao (ARMM) executive secretary Laisa Alamia mourned the play's suspension. "The first step to correcting the wrongs and giving justice to the historical injustice suffered by the Moros is to ACKNOWLEDGE these historical facts as they are. If we cannot do this even in the field of the Arts, or worse, demand that these historical facts and context be changed, then we may need to carefully revisit and scrutinize our institution's role in protecting human rights and our own selves' contribution to that role," she said
in a post on her Facebook account.
UNICEF
UNICEF Philippines would only say that the staging was temporarily postponed "to allow more time in finalizing the play, to sharpen the focus and messages on the rights of children who are involved in and affected by armed conflict."
"UNICEF as a United Nations organization operates on the principles of impartiality and neutrality. Our role always is non-partisan and apolitical," said UNICEF Philippines communications chief Zafrin Chowdhury in an email to GMA News Online.
"We are looking forward to working with UP Repertory on this initiative to support the rights of children affected by armed conflict," she said.
According to UNICEF Philippines Chief of Cotabato Field Office Rebecca Pankhurst
on the organization's website
, the "Children, Not Soldiers" campaign "is designed to spread the message to the MILF, their families, communities and MILF base commands across Mindanao that no child under the age of 18 should be engaged in any form of military activity."
UP Rep was established by director Behn Cervantes in 1972 as an answer to the University's need for a responsible performing group. In response to the worsening social conditions prevalent in those days, the company established a tradition of plays that mirrors the lives of Filipinos.
— BM, GMA News