Filtered By: Lifestyle
Lifestyle
PERFORMATURA 2015
Chromatext Rebooted: Follow your bliss
Writers, poets, and artists will show off their artwork starting Nov. 6 at the visual arts exhibit Chromatext Rebooted, organized by Gawad Pambansang Alagad ni Balagtas awardee and newspaper columnist Alfred "Krip" A. Yuson and artist Jean Marie Syjuco.
The show runs until 17 Jan. 2016 at the Cultural Center of the Philippines.
This installment is the latest in the Chromatext series of art shows.
It is also part of the CCP's three-day Performatura Festival, which runs from November 6 to 8.
Poetry and prose
The first Chromatext was staged by the Philippine Literary Arts Council in 1983, and featured the works of PLAC founders Yuson, Gemino H. Abad, Cirilo F. Bautista, Alfredo Navarra Salanga, and Ricardo M. de Ungria, as well as those of other members.
The sequel, Chromatext II, was held the following year.
Chromatext Reloaded in 2007 showed the works of 87 poets, writers, and artists, including National Artists for Literature Edith L. Tiempo and Virgilio Almario, National Artist for Sculpture Napoleon Abueva, and National Artist for Painting Bencab, who recently celebrated a 50-year retrospective of his works.
Chromatext Rebooted, said Yuson, "will feature artworks based on, coupled with, or related to words/poems/prose, or any kind of visual art executed by poets/writers, including abstract, sculptural, conceptual, and digital works.
"Over a hundred poets/writers/artists are expected to participate. Works have come from Baguio, Cebu, Dumaguete, Davao, Singapore, Australia, California, New York City, and Virginia."
Among those who submitted their works for this show are Almario in collaboration with Jeff Mendoza and Joey G. Diokno; Abad in collaboration with Bencab, Cyan Abad-Jugo, and Thelma Rivera; Susan S. Lara in collaboration with Gino Tioseco; Padmapani L. Perez in collaboration with Kelly Ramos; Marjorie Evasco, Jaime An Lim, Tim Tomlinson, Tita Lacambra Ayala, and Mario Miclat.
Colorful language
I sent three pieces of fiber art as my contribution: swear words hand-embroidered in the colors of the rainbow on plain muslin, a stimulus to the discussion on the usage and constructed/deconstructed meanings of expletives.
Why embroidery? I can't draw, but I can stitch. I make quilts by hand and machine and hand-embroider on a variety of fabrics. I do not use a pattern for my pieces; I choose floss colors and stitches as the spirit moves me, adding details or building backgrounds with crayons, color pencils, and ink sticks, making it all up as I go along. There are no such things as "mistakes"—imperfect stitches, smeared colors, needle holes, and even drops of blood are incorporated into the design.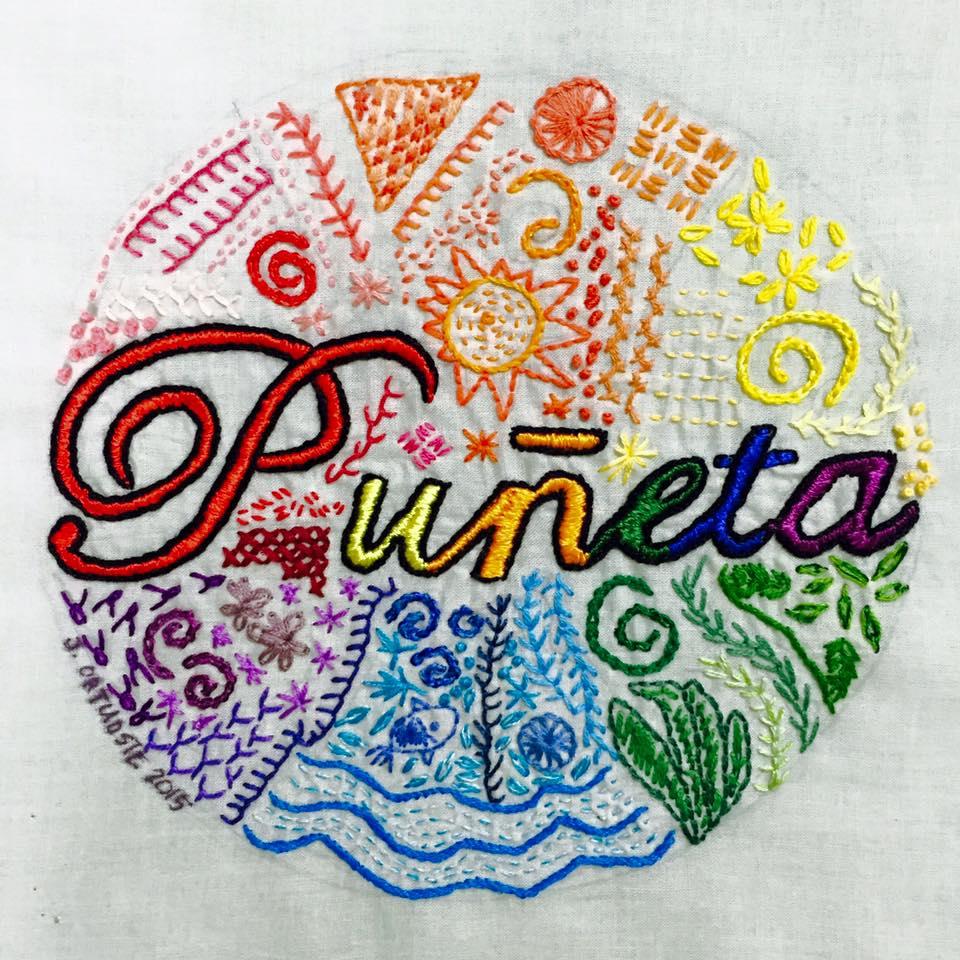 'Salitang Makulay' by Jenny Ortuoste
Because my process is spontaneous, I cannot recreate a piece exactly the same way, so the recipient of my work will own original, never-to-be-duplicated, cannot-be-mass-produced art.
The message of Chromatext Rebooted is that anyone can create visual art with the skills and tools they have; its mission is to show the many ways this can be done.
Art, after all, is how you define it. Art is what you make it.Art is personal, and to everyone who says they "aren't creative," claim that creativity and choose your medium.
And in this age of "technological intoxication," as postulated in John Naisbitt's 1982 bestseller Megatrends, people are becoming increasingly fatigued with high tech and seek a return to "high touch" in intangibles such as emotions and values, manifested in a return to arts and crafts as creators and consumers.
We see this trend in the plethora of crafts lessons being given by independent crafters and artists all over the country. Among those engaging students of all ages are calligrapher Fozzy Castro-Dayrit, letterer and illustrator Abbey Sy, crocheter Trey Ajusto, and the artists at Artwhale.ph who offer classes in watercolor and gouache painting, sketching, and brush lettering.
Also related to the "high touch" trend is the popularity of adult coloring books. Many studies show that coloring, like meditation, relieves stress and anxiety and provides a means of relaxation and self-expression.
How do we make our own personal connection to high touch?
"Follow your bliss," said Joseph Campbell. It might be through visual art, literature, music, crafts, or sports—whatever makes you feel happy and complete. There will always be that skill or craft that you will be drawn to, the one whose tools will feel as if a natural part of your hands; the thing is to try. — BM, GMA News
Visit "Chromatext Rebooted" at the Cultural Center of the Philippines from November 6 through January 17 next year to learn how a group of poets and writers follow their bliss. Perhaps here you will find the inspiration to follow yours.
Follow the author on Facebook, Twitter, Instagram, or visit her blog at http://jennyo.net.