Filtered By: Lifestyle
Lifestyle
EXCLUSIVE
Get to know Karla Garcia, first Filipino cast member of 'Hamilton'
"Hamilton" has become one of the most important musicals of this generation. It's a smash hit—on Broadway, where tickets have been sold out for months; with critics, who have lauded its savvy mix of hip hop and history; and even internationally, a curious phenomenon given its very American subject.
An imaginative retelling of the life of Alexander Hamilton, one of the United States' Founding Fathers, the musical has earned a number of accolades both off-Broadway (where it debuted in February 2015) and on the Great White Way. It recently won the Grammy for Best Musical Theater Album, and is expected to haul in more trophies at the Tony Awards in June.
A few months after it opened on Broadway last August, "Hamilton" creator Lin-Manuel Miranda (who also stars in the title role) and co-star Leslie Odom Jr. (who plays Hamilton's nemesis Aaron Burr) welcomed the musical's first Filipina company member, Karla Garcia, in an entertaining "Ham 4 Ham" video that saw the trio singing "Ten Duel Commandments" in Taglish.
Karla was born and raised in Oxon Hill, Maryland, to Rodney Dakita Garcia, who was originally from Pasig, and Ella Puno, whose family lives in Quezon City. Rodney, a lawyer, passed away two years ago. "I know he is still with me in all I do," she said.
Karla notes that her parents' story has similarities to that of Alexander Hamilton, who was himself "an immigrant who found his way in a new country and used his natural skills to reach his goals," she said.

"Among many other accomplishments, my mom and dad came to the US and graduated in the top percentage of their college classes and started the Filipino choir at our parish St. Columba. My dad was the legal counsel for most of the Filipino associations in the DC Metro area; they both raised three kids, putting us all through college, instilling proper values in us, encouraging us to follow our dreams. I'm so grateful for them," she said.
Karla has a younger sister, Jitter, and a younger brother, Rocky. Their mother, Ella, works for a biotech firm in California.
GMA News Online talked to Garcia about her work, the pursuit of her passion, "Hamilton," and growing up in a Filipino family.
GMA News Online: Congratulations on joining "Hamilton"! How is your experience with the musical so far?
Karla Garcia: Thank you! This show is truly a dream for me! It's the most special work I've ever been a part of. The material is groundbreaking—the story, music and choreography are incredible. Lin-Manuel is a genius. It's anything you could ever want in a Broadway show plus more! I pinch myself everyday knowing I'm involved in it.
I'm a swing in the show, so I cover the female ensemble if they call out or are on vacation. Being a swing in any show is difficult, but "Hamilton," especially, is so intricate in terms of staging, movement, props, etc. You have to be ready to perform anyone's part at the drop of a hat. I actually really enjoy this challenge, though! This is my fourth Broadway show, but it's the first time I was hired as a swing. At this point in my career, I'm excited and ready to take on this position.
Last week, I covered a girl's vacation and had my onstage debut! My Mom and little brother flew in from San Francisco (where they live), and stayed in NYC for 36 hours just to catch my performance. My family has always been so supportive of me, and I wouldn't be where I am today without them. Having them in the audience for my debut was the most memorable experience so far.
How did you discover your love for performing/dancing?
My Dad was a musician and songwriter, so artistry was definitely in my blood. When I was 3, my parents put me in a tap class. My first performance was as a tap dancing Minnie Mouse. Dancing just felt so natural to me, and I loved being on stage. Later on, I started dancing competitively and got more serious about it. I saw a production of "Lion King" that my cousin (another Filipina) was in, and I was hooked. I was so inspired, and I knew it was what I wanted to do professionally.
How did you hone your craft? What were the hardships you went through just to achieve a certain level of mastery in your field?
I devoted most of my childhood to training. I was always at the dance studio rehearsing or at home doing homework. I was okay with that, though! I competed in national dance competitions from 6-18 years old. Most of my high school years, I didn't get to go to too many parties, because of my dance schedule. A common phrase I would say was, "I can't. I have dance."
My close friends completely understood that I was working towards a goal, and I couldn't hang out with them as much. These supportive friends are the ones I've remained close with to this day. Looking back, I don't regret any of my sacrifices. I was accepted to New York University's Tisch School of the Arts on a $75,000 dance scholarship. I moved to NYC and got my BFA.
You were on "So You Think You Can Dance." Can you tell us what that was like?
Yes, I was on season 5 of "So You Think You Can Dance" in 2009. It was an incredible learning experience. Just being cast on the show is a feat in itself. They audition thousands of dancers from around the country, and they only chose 10 guys and 10 girls. I worked with amazing choreographers on the show like NappyTabs, Stacey Tookey, and Mia Michaels. We learned the duet choreography in 3 hours, rehearsed on our own, then we would perform it on the show the next day. Then they would announce the dancers with the lowest votes; you might've had to perform a solo to save yourself from being kicked off; and if you survive the cut...the next week starts all over again!
It was exhausting. However, it was a great test of perseverance and mental strength under pressure. Not to mention, I really enjoyed representing the Filipino-American community on TV! I was really proud to have made it as far as I did (top 7 females).
What is your ultimate goal as a performer? Any dream roles?
As far as performing, "Hamilton" takes the cake when it comes to being given great material. When I perform the show, I really feel like I am dancing/acting to help move the story. It's just written and choreographed so well. I love it.
My ultimate goal would be to choreograph a Broadway show of my own. I absolutely love to create. When I'm not performing, I'm either teaching at Broadway Dance Center (a professional dance studio in NYC) or working on a choreography project or concept video such as this one:
I've choreographed music videos for the artist Kindness and The Knocks.
I'd love to do more choreography and, eventually, choreograph a Broadway show. That would be the next step ... the ultimate goal for sure.
Any anecdote you'd like to share about your Filipino family or friends? Like do you have Filipino traditions at home?
So many! The first time I visited the Philippines was when I was three years old. My parents were moving across country from Maryland to California, so they left me in Manila for a couple months with my lola, all my titas and titos. My parents said I was so used to living in the [Philippines] that by the time they came back to fetch me, I knew all the Filipino nursery rhymes. I also saw my dad for the first time in months and said, "Daddy ko!"
When I was at NYU, studying dance, I was having a tough time adjusting to the hectic schedule of the dance department. I needed an outlet. So, I joined the International Filipino Association (IFA). It's a group for Filipinos at NYU to come together, learn about Filipino history, share creativity, and most of all just bond. I felt so at home! There was a family feeling that was so familiar to me. Every year, there was Philippine Cultural Night (PCN), a performance put on by the students incorporating music, dance, and acting, exploring the Filipino culture through an original musical. It was like a Broadway show! It was so rewarding to be able to do what I love with other talented Filipinos! Joining IFA honestly saved me.
My sister Jitter was actually the president of the Filipino Cultural Association at University of Maryland. Now, my little brother is involved in PACE (Philippine American Collegiate Endeavor) at San Francisco State. He is one of the lead actors in their PCN this year, and he recently led all the Filipinos in the ethnic studies strike on campus! So, it's definitely come full circle.
As far as traditions, my family loves to eat Filipino food of course. My favorite is, surprisingly to some, balut. Yum!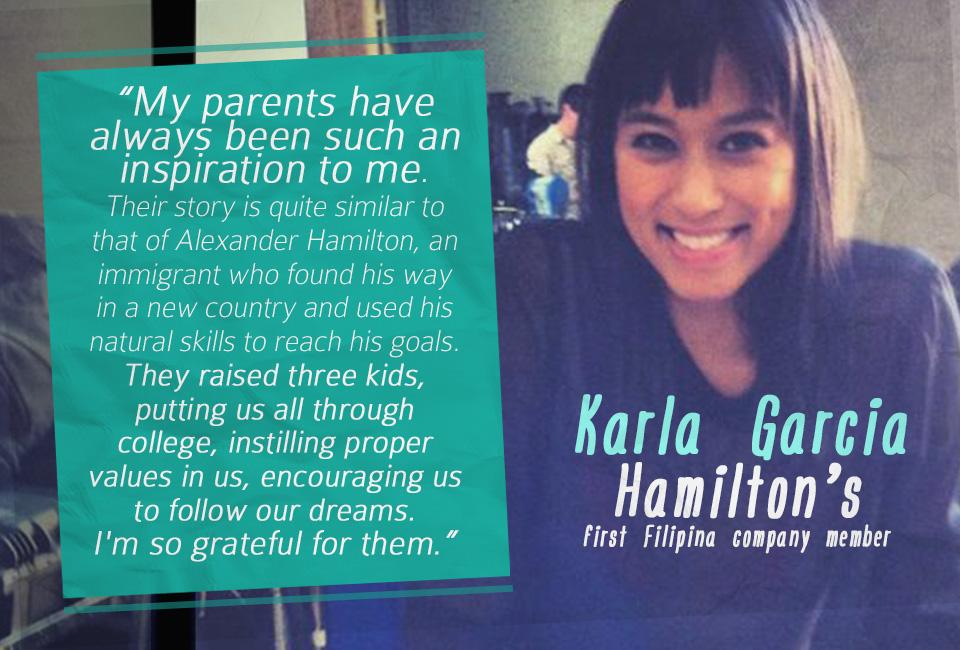 Any tips or words of encouragement to aspiring performers who also want to reach Broadway?
Always keep learning. Vocal training, dance, acting ... everything is vital. Expand your horizons. Take a hip hop class, learn to juggle, study improv. Whatever resources are available to you, be a sponge, and soak it all in. The more versatile you can be, the better.
For me, having a strong support system was key in reaching my success. It's a rough industry filled with so much rejection. I'm so blessed to have had my parents' support from the start. I'm never alone in my endeavors.
On top of all that, also stay true to yourself. Take ownership of the unique qualities you can bring as a performer. Everyone has their own special light. It's your job to discover yours and let it shine! — BM, GMA News