Filtered By: Lifestyle
Lifestyle
'We're in a golden age of female writers' —YA author Sarah Maas
Pinoy book lovers came out in droves last month for yet another visiting author writing in the fantasy young adult genre.
After flying in Alex London and Victoria Aveyard, National Bookstore next invited Sarah Maas to meet her fans. As in the previous events, the book signing and meet-and-greet felt more like a rock concert, when the New York City native, who wrote the bestselling Throne Of Glass series, was met with loud screams and unending applause from a throng of eager, book-wielding young readers.
The 30-year-old Maas first wrote Throne of Glass, which is loosely based on the tale of Cinderella, when she was just 16 years old. The book has since spawned three sequels, Crown Of Midnight, Heir Of Fire and Queen Of Shadows. A fifth book, Empire Of Storms, is due to be released later this year.
I had the pleasure of chatting with Maas just before the end of her visit. The author talked about tuning out distractions, how she feels about being a woman writing in the YA genre, and what song is on constant repeat when she writes.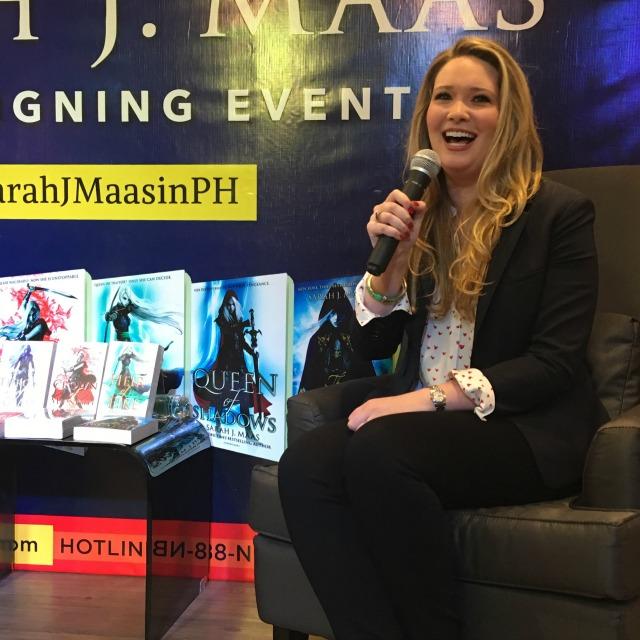 Successful author Sarah Maas started writing when she was 16. JB Roperos/ National Bookstore
GMA News Online: You started writing at 16. How did you find the patience and professionalism to write at that age when there are so many distractions?
Sarah Maas: I don't know! I say this all the time, I am the laziest person ever! But the only thing I've ever been disciplined about is my writing. I was an okay student, I did well in some classes, I was horrible at others. I did sports in high school. I played soccer and I was in the varsity swim team. And I watched so much TV. And I have no idea how I had time to write. None! The vigor of youth, maybe.
I would write until really late at night and on the weekends. Any school break I had, I would just lock myself in my room and write, write, write. And it's always been like the thing that makes me feel most alive. And I was lucky to find my passion and my joy in what I wanted to do with my life when I was young, so by the time I graduated from high school, I knew I wanted to be a published author.
GNO: In previous interviews, you've always talked about how important it is to believe in yourself and not let negativity influence you in any way, but you must have had days when you felt self-doubt or insecurity.
Maas: Absolutely.
GNO: How did you get past that?
Maas: It might be a little bit cheesy to explain, but music played such a big part in not only my writing, but in staying motivated. And so on those days when I was knocked down, I would put on some of the music that picked me back up and I would listen to it until I felt better again. So the songs really carried me through.
GNO: Could you name some of those songs?
Maas: It's like the cheesiest song ever but it's so good! "Go The Distance" from the Hercules soundtrack! (Laughs). If I hear that song, no matter where I am, I would start crying! I listen to that song so many times during my journey to publication. That was kind of like my theme song. And then there's "You'll Never Walk Alone" from Carousel, which has become an anthem of sorts, and that's still a song that I come back to. So yeah music has played a role in not only inspiring me on a creative level but keeping my eye on the prize and staying motivated.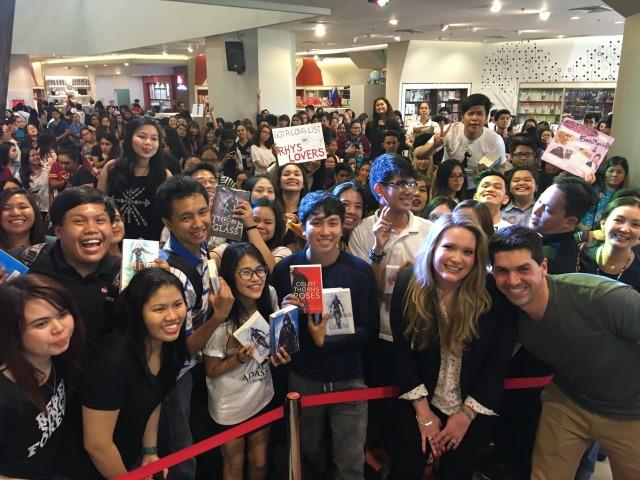 Sarah Maas' meet and greet was like a rock star event. JB Roperos/ National Bookstore
GNO: You're several books into the Throne of Glass series. Does get it easier or harder as the books go on?
Maas: Every book is its own journey and has its own set of hardships. I feel like with every book I write I have to reinvent myself as a writer and because every book is its own journey I have to figure out how to write that book. And so I always get this moment of panic at any point when I'm drafting a book, where I'm like, "I don't know how to write a book, I've never learned how to write a book, I should go read a book so I can learn how to write a book." And it always happens with every single book that I write. And then, I plow through that panic. And I will do rounds of revisions with my editor and then I realized, wow I wrote a book!
GNO: You mean you still feel that way even now?
Maas: Still! Oh my god! With every single book, learning to drown out all those voices of doubt is probably still the hardest thing about writing, and now, I'm fortunate enough to have my fandom become so huge, so that's a lot of voices telling me around the clock what they want to happen, what they hope to happen. But as much as I'd like to make my readers happy, I have to listen to the voices of my characters instead. And so learning how to block out the outside noise so I can hear my characters and write the story the way it wants to be written, that is something I work at every single day. So it definitely does not get easier with every book.
GNO: You're a NY Times bestselling author and your fans are legion. But how do you feel when you encounter less than favorable reviews or criticisms?
Maas: It's something that every author learns to deal with. Because not everyone in the universe is going to like your books. And that's why it's so fun to be in the writing community and a community of readers, cause we all have our own opinions. Without that diversity of opinions it would be really boring.
I never go looking for bad reviews. Some writers do, to learn from it, but I find, I don't learn, it just makes me sad more than anything (Laughs). Even though I know that not everyone will like your book, you do hope that people will enjoy it. And I don't mind if people don't like the plot, the characters, whatever. It's more like the personal attacks, where I'm like, you don't know me as a person, why are you assuming these things. That's never fun to encounter. It's never fun to have people tell you that you're terrible person and that you should die because things didn't happen…
GNO: Have you had people tell you that?
Maas: Yeah! I get that some fans are really pasionate about things. I think that as a fan girl, I understand why you can feel so ardent about things. But it's always a surprise to encounter that level of intensity. Whenever I see that stuff I'd be like, sure, okay, that's a bummer, but at the end of the day, I still write stories for myself, I write because I love to tell stories. I love to share stories so even when I see those things, I don't let that get me down.
GNO: As a female author, have you ever felt disenfranchised, or maybe like you had to work harder to prove yourself because you're a woman?
Maas: Right now, I feel like we're in a golden age of female writers killing it across the board especially with fantasy and young adult. I grew up at a time when there wasn't much YA at all out there. So all of this has been amazing to witness both as a reader and as a writer in the industry. I feel really lucky.
So many women have paved the way, like Tamara Pierce and Robin McKinley. I get to stand on their shoulders because of the work that they did in the 80s and 90s for female-dominated fantasy. And I love that now, we have so many young women authors kicking ass. I just feel tremendously blessed.
Lightning round
GNO: What's your favorite snack?
Maas: There's so many…but this was what I've been eating recently: cheddar-covered popcorn. It's disgusting, but I can't stop eating it. Any kind of cheese product is my favorite. I have a shelf in my fridge just for cheese.
GNO: Favorite city in the world?
Maas: I'm a born and raised New Yorker, so I feel like I should say New York…but I do love London. And Manila's pretty awesome! (Laughs) So I dunno! I have to say New York since I'm a New Yorker or else I might be banned from the city!
GNO: Favorite TV show right now?
Maas: Broad City. It's amazing. It's the funniest show. I feel like if I had been young and single in New York, that would've been me.
GNO: Three authors alive you'd invite to a dinner party?
Maas: JK Rowling. Nalini Singh, who writes one of my favorite paranormal romance series. And Megan Whalen Turner, who wrote The Thief Series. She's brilliant. It'd be a ladies party.
GNO: One thing you can't leave home without, besides your phone?
Maas: Either my Kindle or my iPod. I need an iPod to listen to music. I don't like it on my phone cause I have like 14,000 songs in my iTunes and they can't all fit in my phone!
GNO: You've gotten a whole lot of touching messages from fans. Could you maybe share a really memorable one that made you feel really grateful?
Maas: I was in Nashville, Tennessee for one of my tour stops and there was this older gentleman in line. He's not my usual type of reader, so I was kind of like who is this man, there was no one with him, he's not a dad, and not a grandpa. When he finally gets to the front, he's got copies of my books, and he says "I'm a big fan of yours, but I'm also here tonight for someone else and he told me the story of how he's a nurse at a children's cancer hospital and how he had this young teenage girl patient who was deathly afraid of needles and during the chemo process they would talk about how much they liked my books. And he told me he was there because she actually passed away and she lost her fight. And he just wanted to come and get the books signed because she couldn't be there. I'm a very emotional person, and right then I just put my head in hands and I just cried and cried.
And just a couple of weeks ago, I got a letter from a mother in Scotland who was writing because her daughter was a big fan of mine. When she was 13, the daughter was diagnosed with leukemia and she read my books throughout her entire treatment process. And she told me I gave her the strength to fight this horrible sickness. She was writing because her daughter beat the cancer. I don't even have the words to describe how grateful I am that my books gave those girls any bit of fight.
—KG, GMA News
Sarah Maas' new book, A Court Of Thorns and Roses, is now available in National Bookstore branches.
Paul John Caña is a magazine writer and live music geek. He is also co-founder of libreto.org, an online collective of writers and artists. Email him at pjcana@gmail.com or follow him on Twitter and Instagram @pauljohncana