Filtered By: Lifestyle
Lifestyle
MOVIE REC
'To Be A Miss' tells the story of pageant-obsessed Venezuela
In her earliest interviews as Miss Universe 2015, Pia Wurtzbach frequently shared that "Filipinos take beauty pageants very seriously."
The evidence for this can easily be found—it's in the loud screeching of fans, the high traffic news about beauty queens bring, and the existence of "pageant schools" in the country. (Schools! For pageants!)
Women's rights group and feminists frequently lament the country's warm embrace of "objectification"...but across the globe, there's another country that's just as or even more obsessed than we are with the glitz of beauty contests.
The documentary "To Be A Miss" showcases Venezuela's almost unparalleled love for pageants.
Pageant fans know that Venezuela is a powerhouse—they've won more titles than any other nation in the world. Its the first country to win two "Big Four" crowns in one year and also the first country to achieve the elusive "back-to-back" Miss Universe win.
But off the stage, "To Be A Miss" shows a less glamorous story. For every Gabriela Isler, there's a nameless girl who did not make the cut.
"To Be A Miss" follows the story of three women, all trying to become Miss Venezuela.
As far as documentaries go, "Sunday Beauty Queen" this is not. The film could benefit from a little more polish, but it does succeed in turning your attention away from Venezuela's wins and shift it to what looks like a factory of women in bikinis—all still "too fat" despite all the weight they've already lost.
Candidates are advised to nip and tuck—and some may find the openness of the recommendation strange, especially because such "enhancements" are generally frowned in the Philippines. Our preference for natural good looks might be saving lives, as the documentary makes it clear that there's a very real danger of death for aspiring beauty queens in Venezuela from botched surgery.
One of the subjects says that "real Venezuelan" women are more plain, or at least are not at all like the women who win the crown. They adhere to the Western idea of beauty, she claims.
There are feminist groups in Venezuela trying to dissuade women from joining these pageants, but shutting down beauty contests just removes a viable avenue for women to move up economically.
Miss Universe 1998 first runner-up Veruzka Ramirez appears on the film, singing the pageant praises and recalling her journey from nothing to almost winning the crown.
Aside from being plucked from obscurity, being a titleholder allows women to move up and benefit from their beauty financially.
"To Be A Miss" shows children as young as maybe six or seven already being groomed to be beauty queens. This is a dream that many, many girls grow up with and they all seem to want it, pardon the term, quite desperately.
But surely, there are ways for women to advance in the world without having to give up something as important to staying alive as food. It's absurd that abs are required for people to be heard.
The documentary ends somewhat ambiguously, noting that Venezuela was in ecstasy when Dayana Mendoza and Stefanía Fernández achieved a back-to-back win at the Miss Universe pageant during a precarious time in the country.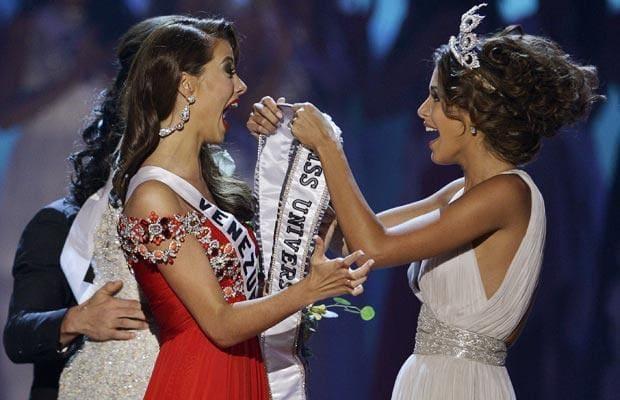 Back-to-back success for Venezuela: Miss Universe 2008 Dayana Mendoza (right) bestows the winner's sash on Stefanía Fernández in 2009.
"To Be A Miss" does not needlessly condemn the obsession with pageants, but rather, it presents the conditions that lead to the obsession. In illustrating the place of women in society, the filmmakers indirectly ask which direction we want to go. — BM, GMA News
"To Be A Miss" is available for streaming on Netflix.