Filtered By: Lifestyle
Lifestyle
LOOK
Borlongan, Garibay, Justiniani unite for mural on nat'l identity for Art Fair PHL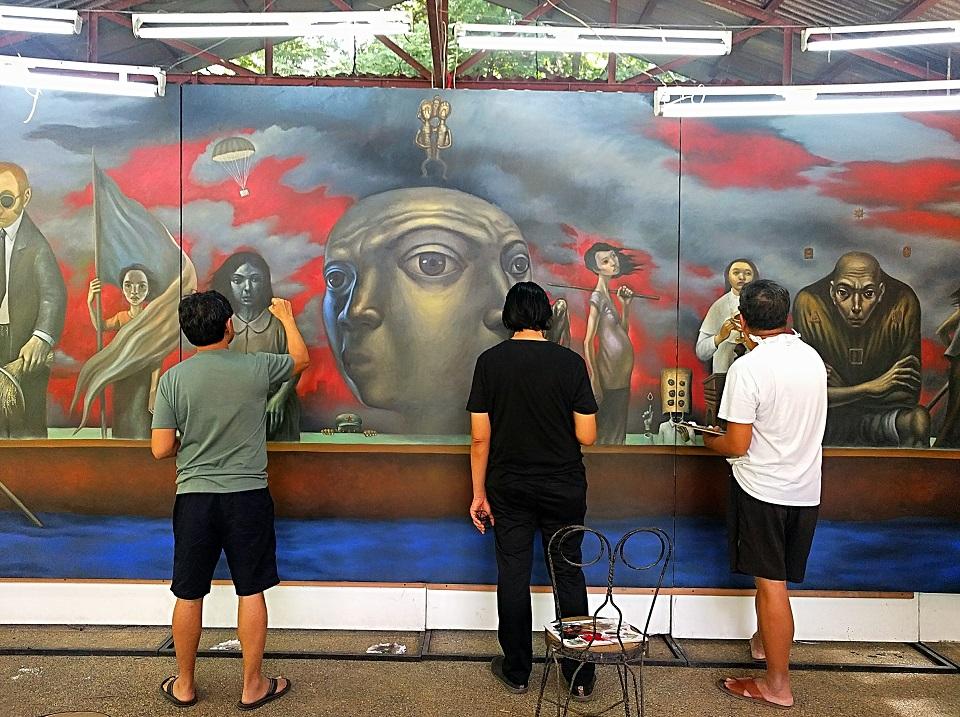 Elmer Borlongan, Manny Garibay, and Mark Justiniani at work on a piece to be displayed at Art Fair Philippines' 10 Days of Art, to start on February 9, 2017. Photo: Czyka Tumaliuan
Multi-awarded artists Mark Justiniani, Elmer Borlongan and Emmanuel "Manny" Garibay have reunited to collaborate on a special exhibit for this year's Art Fair Philippines.
The project was initiated by Center for Art, New Ventures and Sustainable Development (CANVAS) founder Gigo Alampay, who said the exhibit will aim to examine the present status of our identity through art.
"This is an uncertain period in history. And we cannot afford to just be passive. We have to be active participants in writing our country's narrative," Alampay said.
"Generally, during tumultuous times like this, it's the artists, the singers, the poets who keep the flame of the protest alive because everyone else is scared to keep the fire going. When you look at the leadership, from government, to church, even in business, takot lahat. I feel that it's our duty to spark a conversation."
And who better to do the job than three former members of activist art collective Saling Pusa reuniting after 20 years for the project?
"Sino pa ba?" Alampay quipped.
The triumvirate started to conceptualize the 24 x 8 mural in November 2016, and finished the piece in a farm in Batangas this month.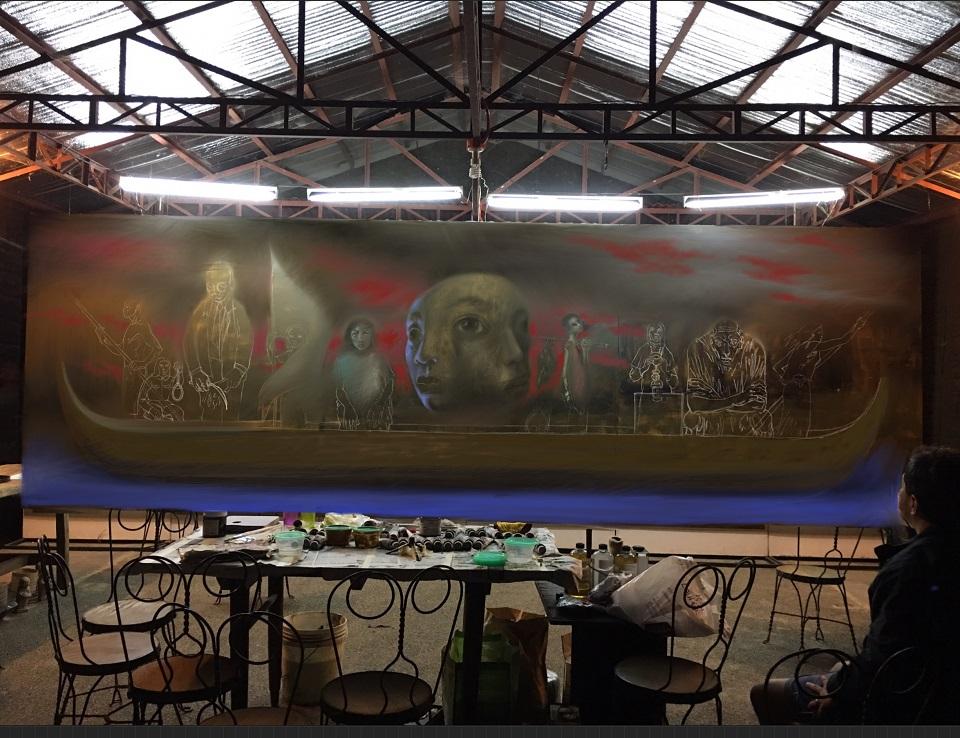 The trio's work in progress. Photo: Mark Justiniani
"We started thinking about where the country is heading now that there's a new administration. Are we going to revise history? Where are we going to base who we are as nation now? We all felt like we're in a limbo, like this boat with two persons at the end paddling in opposite directions," Borlongan said.
"We thought of the prehistoric burial jar—the Manunggul jar. Unang nakita 'yan sa Palawan. It had a boat on top of it—a symbol that it's going to the afterlife," he added.
Bleak and surreal, the piece is replete of symbols of crisis, neo-colonialism, folklore and Philippine revolution, but is neither provocative nor offensive.
"We've matured. Our work is less combative now. It's more introspective. It's inviting you to ask questions and reflect," Garibay said.
The trio said that the collaboration was easy because they are already familiar with each other's style and are eager to learn from each other.
"Wala na kaming ego. Wala na kaming desire to show off. What we want now is to learn from one another," said Garibay.
"We don't criticize anymore. We just give suggestions to further improve each other's idea. In fact, anyone one of us may paint on top of the work kahit hindi pa sa kanya 'yon. We go way back. Malalim na ang trust namin sa isa't isa," Borlongan added.
Technology also helped accelerate their creative process.
"Before, it was more difficult to make large-scale murals because you have to re-create your sketch manually. But now, you can just project your studies and trace it. That's what we did for this project," Justiniani said.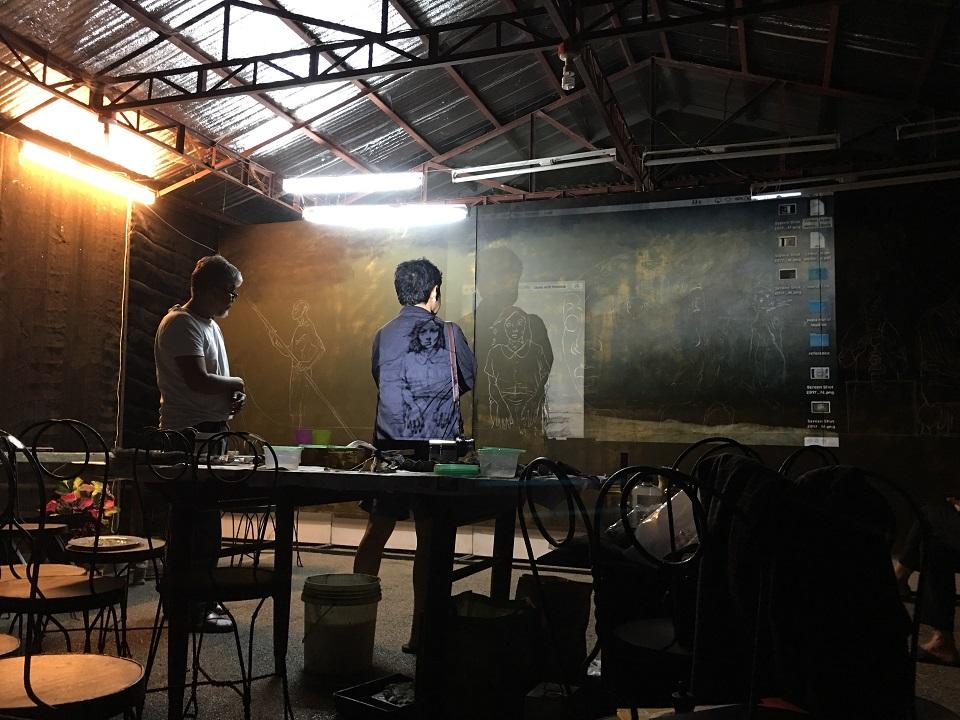 Manny Garibay and Elmer Borlongan check if a digital study matches the outline. Photo: Mark Justiniani
Influenced by his son, an animator, Justiniani admitted that he didn't want to adapt to new tools at first.
"I used to be a snob, but I enjoy it now. Iba pa rin 'yong actual, but you can't almost tell the difference anymore. It looks like real oil. Look. And it's really fun to use. You can experiment and easily erase it if ayaw mo. There's less risks and mistakes when you start to do your study on digital," Justiniani said.
With the help of Jaime "Jay" Pacena II, the three artists will include all the studies they did before they went to Batangas in the exhibit.
"We don't know how yet, but we're going to put our studies there with the mural so people see the process," said Borlongan, who also said that the three hope to be a powerful trio of muralists, much like Mexico's own great muralists Diego Rivera, José Clemente Orozco and David Alfaro Siqueiros.
"This is a historical moment. I'm sure that their exhibit in Art Fair would be an important piece in history," Alampay said. — BM, GMA News
The Philippines Big Three special exhibition will be found on the seventh floor of The Link Carpark, Ayala Center, Makati City from February 16 to 19.