Filtered By: Lifestyle
Lifestyle
Tagaytay Art Beat 2: Beyond the party
Cool air blanketed the glittering vibe of Tagaytay Art Beat 2 on February 4, as over a thousand millennials flocked to Museo Orlina to view art from up-and-coming talents and enjoy indie music. The gathering's aim was to deepen the creative fire of the new generation, as well as showcase the museum to a younger crowd.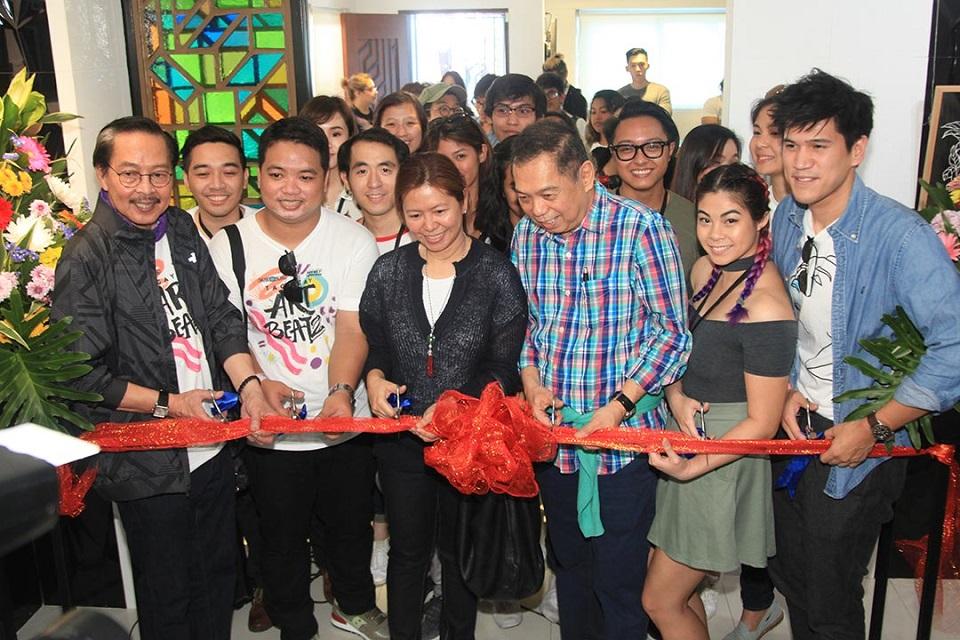 Renowned sculptor Ramon Orlina (left) at the ribbon-cutting ceremony for Tagaytay Art Beat at Museo Orlina in Tagaytay on February 4, 2017. Photo: Czyka Tumaliuan
There was a lot of raw ingenuity on display during the event. In the afternoon, street artists Dee Jae Paeste and Tyang Karyel did a live mural on the museum's exterior, while a group exhibit curated by Ramon Orlina's daughter Anna opened inside the museum.
Most of the artists participating in the exhibit are Anna's friends and artists she follows on social media: Kara Pangilinan, John Paul Duray, Airell Segovia, Karen dela Fuente, Allison Tan, Miguel Alberto Antonio, Anna Orlina, Christof Rellera, Dans Bermejo, Dee Jae Paeste, Erica Ng, Vincent Kristan Quilop, Jess de Leon, Julia Tabor, Ku Rumillo, Lee Caces, Tyang Karyel, and Valerie Harley.
The exhibit can be viewed until the end of February.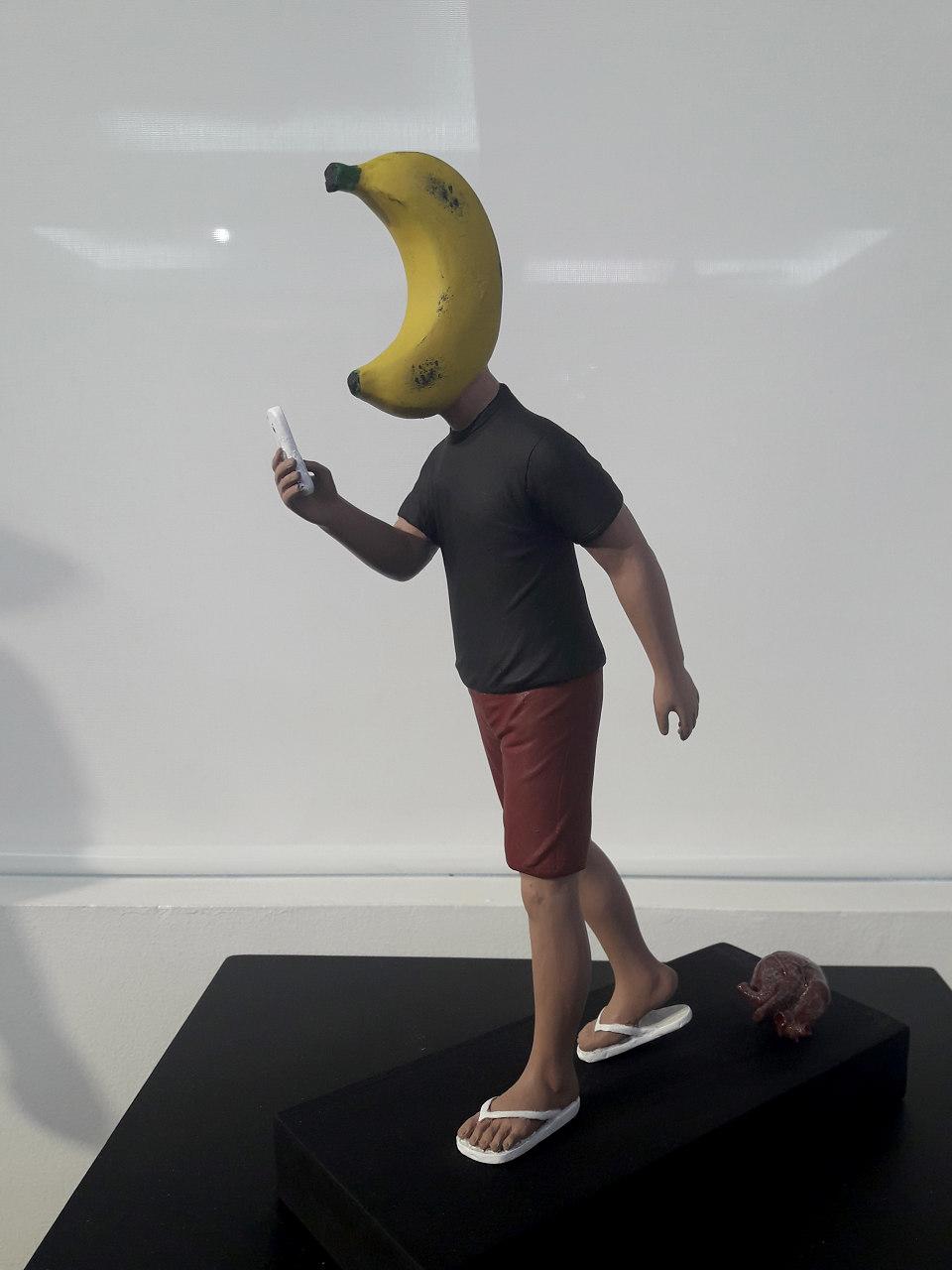 A John Paul Duray sculpture at Tagaytay Art Beat. Photo: Mae Cervantes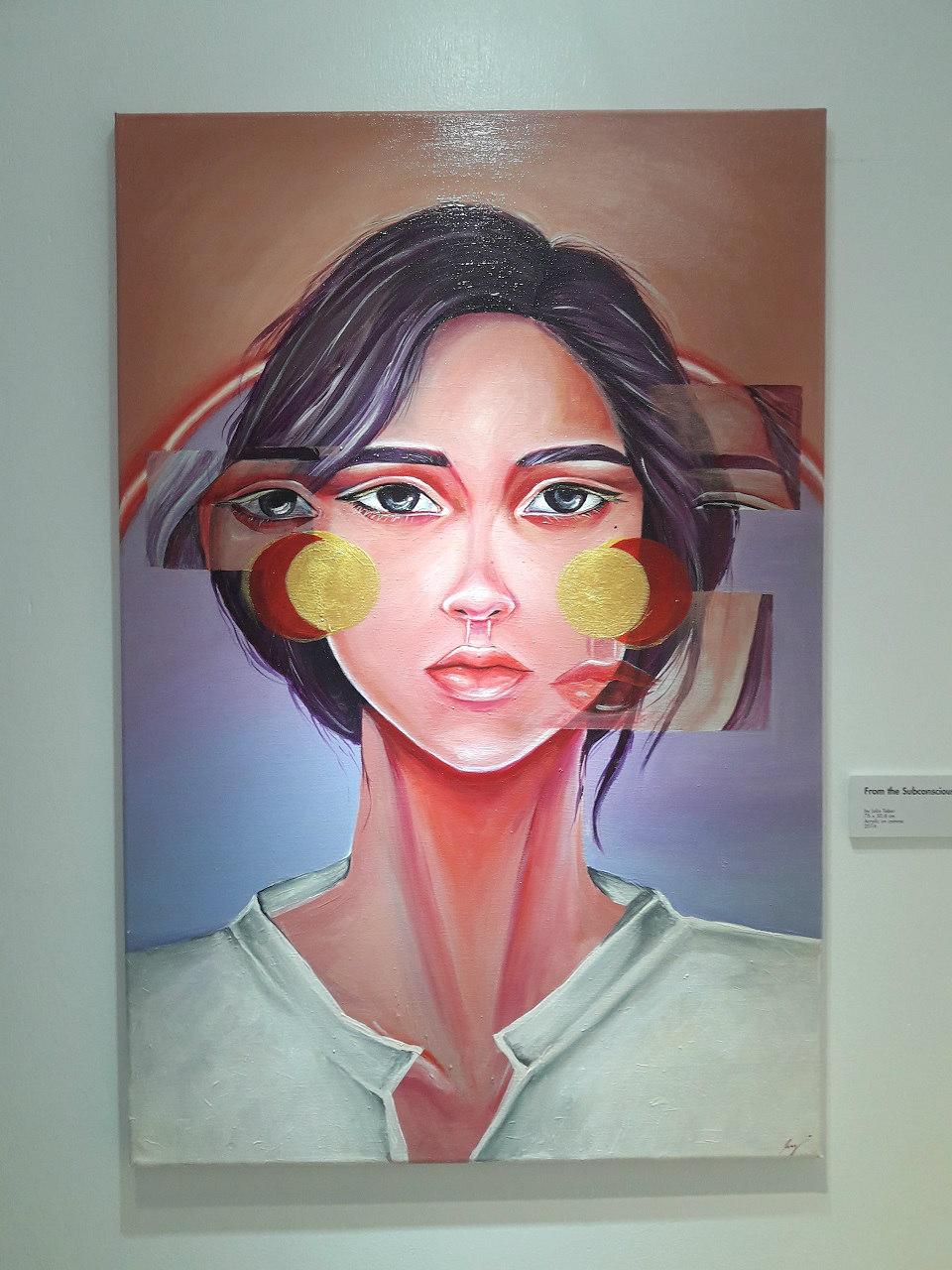 Julia Tabor's "From the Subconscious." Photo: Mae Cervantes
Miguel Antonio's "Mind Control." Photo: Mae Cervantes
A multimedia artist who used to work at Secret Fresh, Anna Orlina's curation was non-traditional, urban and eclectic, allowing the featured artists to explore new subjects, media and methods without imposing a single theme on them. Pop culture, erotica and surrealism in the digital age pervade the works, but the most interesting pieces are the most experimental, fearlessly including emerging technology with contemporary art and design, such as the 3D-printed sculptures that Orlina made with her boyfriend Christof Rellera, and the glass sculptures that she did in her dad's style.
In terms of technique and theories, there's more room for improvement for the younger Orlina, but her guts and sweet personality are already evident in her curation and her first attempts at making glass sculptures.
"There's still more to learn and I will continue to practice," she admitted.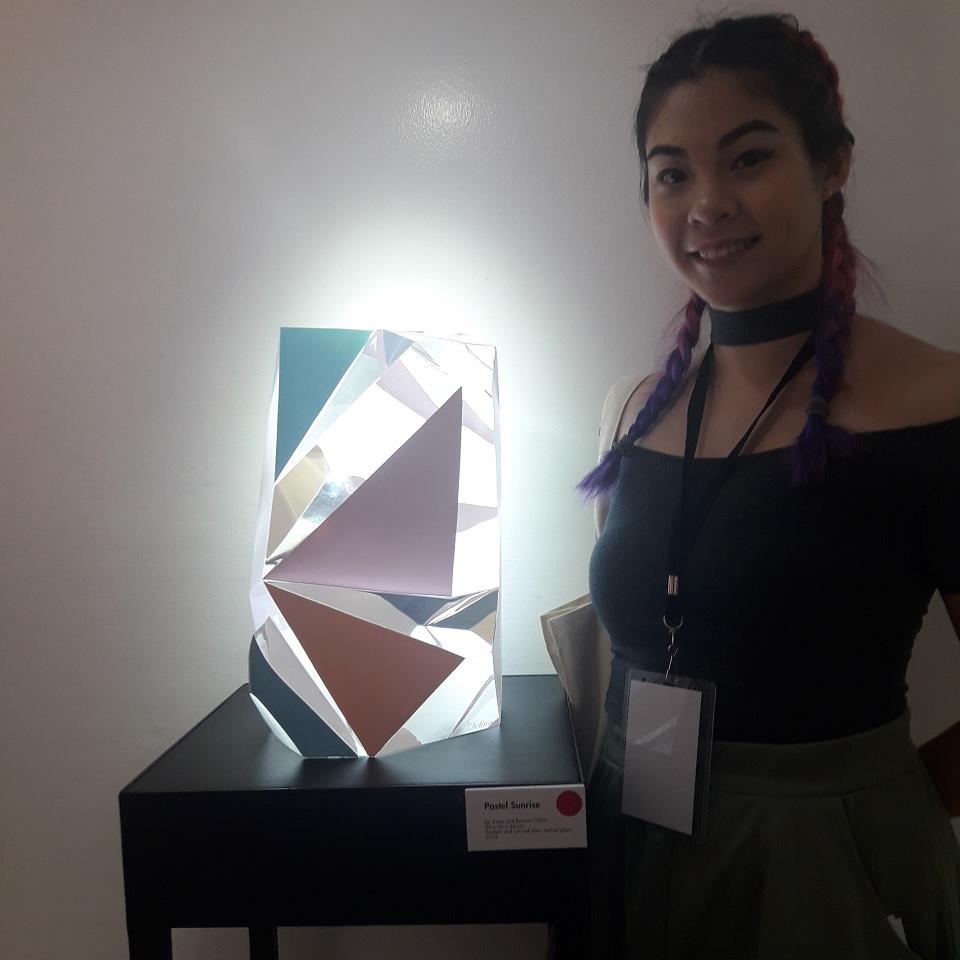 Anna Orlina and her sculpture, "Pastel Sunrise." Photo: Mae Cervantes
She's currently apprenticing under her dad, but Ramon Orlina said that he's been learning from his daughter as much as she is learning from him.
"She finished multimedia and her influence to us is seen in the interactive features of the museum and website," he said.
The music
Outisde, in the sculpture garden amphitheater, bodies pulsated and grooved to the music of independent artists chosen by another Orlina daughter, Ningning, with DocDef Productions: Farewell Fair Weather, Apartel, She's Only Sixteen, Conscious and the Goodness, Reese Lansangan, Fools and Foes, Tom's Story, Banna Harbera, Bullet Dumas, SUD, The Ransom Collective, Jensen and the Flips, Motherbasss, Tandems '91, Moonwlk, Mayonnaise, Rob and The Hitmen, Logiclub's CRWN, Ninno and Dante x Amigo and Autotelic.
Tandems '91 and Reese Lansangan. Photo: AJ Claudio
Laidback and intimate, the festival was received with so much love and enthusiasm. You could feel people's positive energy surrounding the space, and Tagaytay Art Beat trended on social media.
"People just feed off each other's vibes because it's so close. It's like you're part of the crowd," Ningning said.
But the event was also met with criticism that hopefully the family sees as opportunities for growth and development.
"I've been in the scene for a long time, and I think the bands could do better," said Ricci Fidelino, former producer and manager of Razorback and Cynthia Alexander. "What I like is that everything is raw and the museum is providing a platform for the youth to express themselves. But I really hope that the music eventually becomes more original. Sayang eh. We have a chance to go big like Jakarta."
The ticket pricess also went up at an incredible rate, raising eyebrows.
"We increased the price because we already paid the bands and everyone who helped. Before, we didn't. It will also keep the event more intimate, which is very important for me," Ningning explained.
The Orlinas didn't reveal their plans for the future, but they've renewed the contract with DocDef Productions for three more years.
Museo Orlina is on Hollywood Street in Hollywood Subdivision, Tolentino East, Tagaytay City, near the Sta. Rosa-Tagaytay Road crossing. In this building, Ramon Orlina has permanently ensconced his works to showcase the evolution of his practice. — BM, GMA News
The artworks exhibited at Tagaytay Art Beat can be viewed in the museum until the end of the month. Follow Museo Orlina and Tagaytay Art Beat on Facebook for updates.