Filtered By: Lifestyle
Lifestyle
Fans come out for Diana of Themyscira on 'Wonder Woman Day'
One of the most anticipated films of this year, "Wonder Woman" has proven to be a successful representation of female empowerment, with Gal Gadot shining as a beacon of hope, justice, and love in the latest DC Films presentation.
The Patty Jenkins-directed movie has opened to a staggering $223 million worldwide, including $100.5 million in the US and $122.5 million from 55 other markets including the Philippines—proof that male superheroes don't need to be in the spotlight every time and that an iconic heroine such as Diana of Themyscira can carry her own movie.
In honor of Wonder Woman's grand debut on the big screen, DC Comics also celebrated its flagship female superhero on "Wonder Woman Day" on June 3, with comic book shops, retailers, and stores across the globe offering special giveaways themed after the Amazon warrior princess.
Local comic book store Comic Odyssey held the first Wonder Woman Day on June 4 at its main branch in Fully Booked on Bonifacio High Street in Bonifacio Global City.
Dozens of collectors, enthusiasts, and cosplayers joined in the celebration, which featured guest artists raffles for exclusive Wonder Woman themed-artwork and other prizes.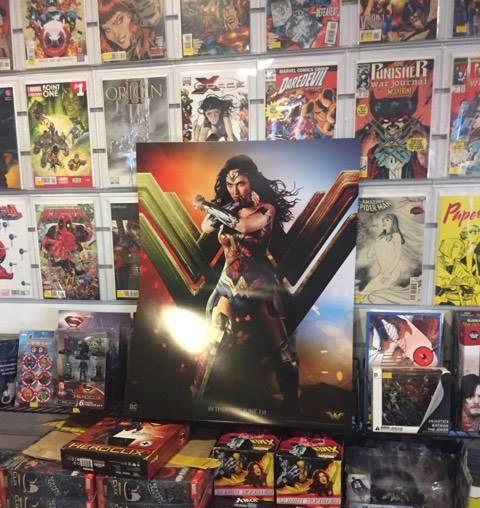 A Wonder Woman poster can be seen among comic books and other merchandise at the Comic Odyssey branch in Bonifacio High Street on Wonder Woman Day, June 3, 2017. Photo: Tim G. Villasor
Stepping into the shop and bringing my Wonder Woman fandom with me, I met guests like DC Comics artist Elmer Santos who were there to honor all things about Wonder Woman and give fans a little token of appreciation in the form of sketches and drawings.
Cosplayers of all ages were also on hand to celebrate "Wonder Woman," with one particular guest clad in the Amazon armor and wielding the sword and shield that Diana wears in the film. Comic Odyssey also gave out some neat and foldable tiaras, which fans could wear to impersonate and become the fearless Amazon warrior herself!
Catch "Wonder Woman" in theaters now! — BM, GMA News