Filtered By: Lifestyle
Lifestyle
Cultural Center of the Philippines calls for nominations for 13 Artists Awards 2021 is now open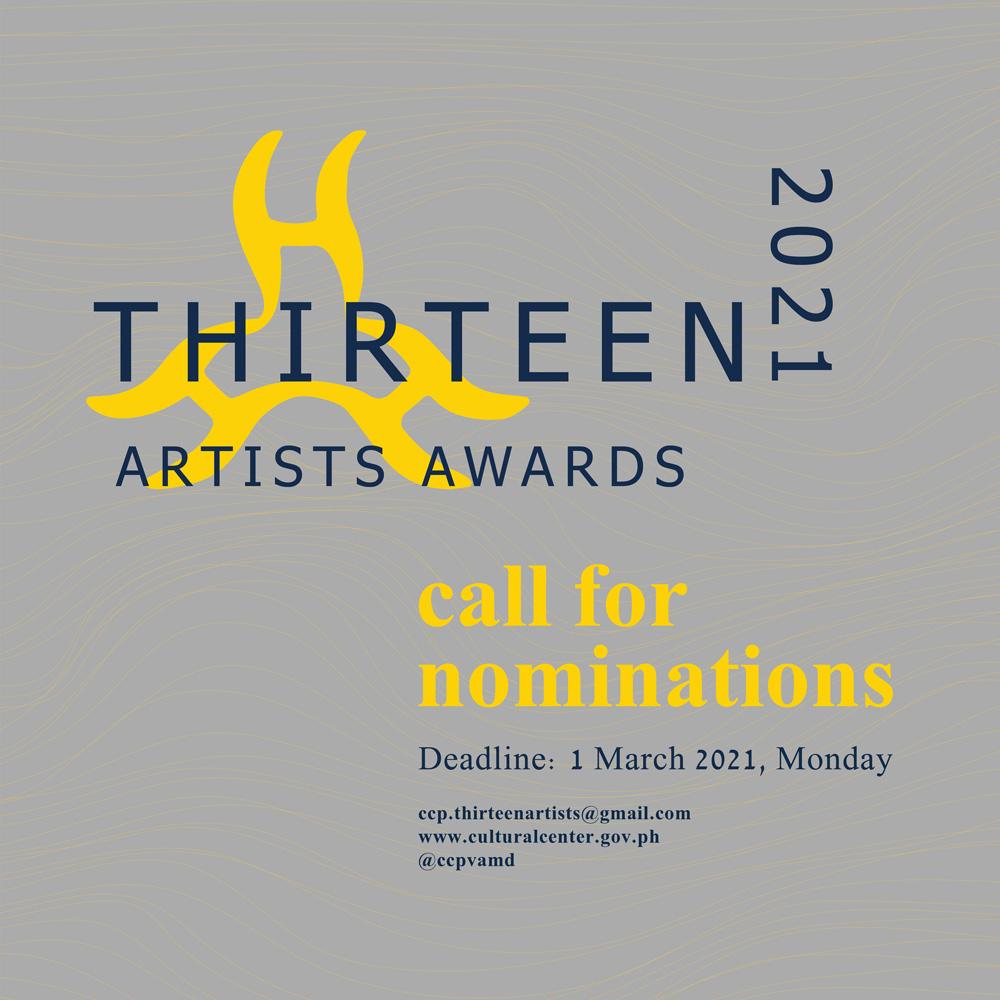 The CCP through its Visual Arts and Museum Division (VAMD) is now accepting nominations for its Thirteen Artists Awards (TAA).
According to a press statement released on Wednesday, nominated artists must posses the following eligibility requirements:
Body of work characterized by artistic integrity, innovativeness, and forcefulness of ideas
Responsiveness to contemporary realities
Evidence of sustained artistic activity demonstrated by a track record of individual exhibitions and group shows for at least the past three years
Engagement with contemporary visual art forms including, but not limited to, painting, sculpture, new media, installation, performance art, photography, printmaking and digital imaging
Filipino citizenship
Less than 40 years old in the year of conferment or must be born 1982 onwards
Art councils, art groups, head deans of art schools, museum and gallery curators and directors, art critics and past Thirteen Artist Awardees may nominate a maximum of (3) artists each.
The selection committee will be composed of four (4) past awardees and the head of the CCP VAMD, which will then be convened by the VAMD under the Production and Exhibition Department and Office of the Artistic Director.
Among the prizes the Thirteen Artists Awardee will receive include a cash grant "to defray the cost of materials for producing new work for a group exhibition at the CCP Bulwagang Juan Luna (Main Gallery), which will open with the formal awarding ceremonies."
Awardees will also receive a trophy designed by a 13 Artists Awardee, commissioned for the 2021 TAA.
Lastly, they will also be privileged with participation in CCP's public programs of discussions, lectures, workshops, and other activities
Those who plan to submit nominees can download the form and send the completed nomination forms to ccp.thirteenartists@gmail.com.
Hardcopy submission of nomination forms will not be accepted.
The Thirteen Artists Awards started 50 years ago as a curatorial project of the CCP under the directorship of its first curator Roberto Chabet.
It was started to "showcase the works of artists who grasped to estructure, restrengthen and renew artmaking and art thinking…that lend viability to Philippine art."
During his time as museum director in 1974, former director of the CCP Museum and non-theater operations, the late Raymundo Albano, transformed the 13 Artists into the awards program it is today.
The 13 Artists exhibition used to be mounted every two years from 1970 to 1980 and again in 1988, 1990, 1992 and 1994.
It returned in 2000 and became a triennial format, which is still being followed today.
The most recent Thirteen Artist awardees are Zeus Bascon, Bea Camacho, Cian Dayrit, Janos Dela Cruz, Carlo Gabuco, Dina Gadia, Guerrero Habulan, Eisa Jocson, Doktor Karayom, Raffy T. Napay, Archie Oclos, Lynyrd Paras, and Shireen Seno.
— Jannielyn Ann Bigtas/LA, GMA News
For inquiries, contact the CCP Visual Arts and Museum Division, Production and Exhibition Department at tel. (632) 8832-1125 loc. 1504/1505, mobile phone (0917-6033809), email (ccp.thirteenartists@gmail.com) or visit www.culturalcenter.gov.ph, Facebook, Twitter and Instagram @ccpvamd.