Filtered By: Lifestyle
Lifestyle
LOOK
Viral illustration sparks solidarity among Pinoy artists to stand in dissent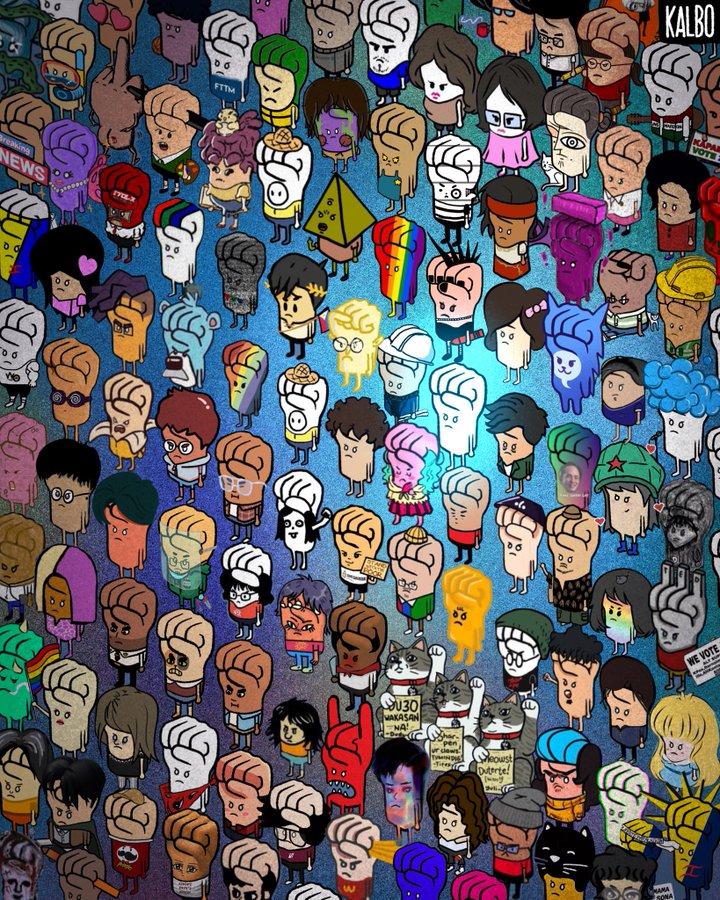 Who knew the powerful scene in every renowned film where citizens stand one by one in support for a cause can actually happen on the internet?
Last Friday, satirical cartoonist Tarantadong Kalbo shared a digital illustration and captioned it simply with "Tumindig," or stand in dissent. The illustration showcased rows of anthropomorphic fists bowing down, seemingly mimicking the fist bump commonly used by President Rodrigo Duterte and his allies.
Despite the whole image of bowed fists, one illuminated fist is seen standing erect, defying the crowd, and bravely standing in dissent.
T u m i n d i g ????? pic.twitter.com/ODYkPqRn0T

— Tarantadong Kalbo (@KevinKalbo) July 17, 2021
His artwork however soon sparked an impromptu collaboration among a myriad of Pinoy artists, who inserted their own "fists" or avatars, standing in solidarity with the singular fist from the original art.
By Wednesday, the illustration featured fists standing in dissent, no longer bowing down. It's left Filipino netizens with goosebumps.
In one of the early editions, the lone original fist standing in dissent was accompanied by another fist created by an illustrator going by the name Kapitan Tambay. He only wrote, "In support" in the caption.
In another illustration, Kapitan Tambay and Kevin's fists were accompanied by another one made by Cartoonist Zach.
Many more artists added their own avatars until Tarantadong Kalbo's own message with his drawing became a chilling reality.
GMA News Online sought Malacañang's comment on the digital illustration but Duterte's spokesman Harry Roque has yet to reply as of posting time.
Tarantadong Kalbo, Kevin Eric Raymundo in real life, is known to make satirical art that criticizes those in power. In an exclusive interview with GMA News Online, he said he didn't expect his illustration to blow up, especially since he didn't put much context in his work.
In Filipino, Kevin said he just "wanted to create a piece that encapsulated the feeling of being an artist-activist during the time of Duterte and his terror law."
In his "Tumindig" drawing, the one fist rising up in dissent sparked the curiosity of the fist bowing beside it. According to Kevin, this was a subtle way to send the message.
"I wanted to show how 'one's voice' can affect those around them. It's much more effective when we lead by example instead of belittling others," he said.
And true enough, his own example became a powerful and chilling ripple effect that has inspired other artists to join his anthromorphic fist's fight.
According to Cartoonist Zach, the collaboration happened organically. "Tarantadong Kalbo never asked this to happen. This happened spontaneously. Organic talaga yung pangyayari," he told GMA News Online in a phone interview.
Zach, who asked not to disclose his real name, believed that one of the reasons why the artwork blew up was because the fist has become a sign of support to the Duterte administration while a raised fist became a symbol for those who express dissent against the government.
"Ang fist naging symbolism siya or hand gesture ng kasalukuyang administrasyon tapos yung raised fist naging universal. Pagkita ng hand gesture, alam na. It became an issue doon nga sa mga na-redtag ng [National Task Force-to End Local Communist Armed Conflict]," Zach said.
(The fist has been a symbolism or the hand gesture of the current administration while the raised fist is universal. Once you see that hand gesture, you know that you are in dissent. It even became an issue to those who were red-tagged by the NTF-ELCAC.)
"'Yung online campaign, it is also to de-stigmatize yung kahalagahan ng raised fist kasi in reality, raised fist has already been existing. It means tumindig, stand up against those who [oppress us]," he added.
(This online campaign, it is also to de-stigmatize the importance of the raised fist. Because in reality, the raised fist has already been existing. It means to stand up to those who oppress us.)
Illustrator and comic creator Rob Cham meanwhile said Tarantadong Kalbo's creation "inspired him" to join in and stand up for what is right.
"I would rather stand against the injustices than kneel," he said in an online interview with GMA News Online.
Through his participation in the artwork, Rob said he wants to "show where I stand" together with the other artists in showing that they have a voice.
"[I want] to stand with others in saying how we do not accept the way things are as okay, that we can stand together for something better [and] we are not alone."
Kevin shared that he didn't expect his drawing to blow up this much and admitted that what his fellow artists did have touched him.
"I was overwhelmed. It's tearful because the response came at a time when I was frustrated with what's happening to the country," Kevin said. "And I felt like I was making a stand on my own."
He added, "The piece wasn't made with a call to action in mind as well, so it was all unexpected. Literal na 'tumindig' 'yung balahibo ko (The hair on my arm literally 'stood up')."
After such an overwhelming response, Kevin released a new version of his "Tumindig" artwork, but instead of a lone fist standing, it was filled with the different fists created by many artists as well as other additional fists that represented different communities. Kevin's illuminated fist drowned in a sea of allies who all stood up in dissent, and no one was no longer bowing.
The new artwork, said Kevin, was a "fitting 'ending' to what transpired."
"People have been asking me to make a sequel to the 'Tumindig' artwork with some of the firsts already standing, but I felt that it was not 'genuine' in a way that it wasn't what I was feeling at that time. So when they started adding their own avatars to the original piece, I consolidated it into one image as a way of saying thank you," the cartoonist explained.
Kevin also reached out to his readers and the artists who joined his fight. He said, "Let's use our skills and talents to our advantage. Having the choice to 'be positive' in our art is a privilege. I am aware of my own privilege as well, and I will use it to amplify the voice of the oppressed, even at the cost of losing 'fans.' I do not create art for the sake of aesthetics. Art is always political whether we like it or not."
He added, "'Wag tayo mabuhay sa takot (Let us not live in fear)." — with reports from Hananeel Bordey and Franchesca Viernes/LA, GMA News