Filtered By: Lifestyle
Lifestyle
Filipino curator of art and climate change on museums' role in solving climate crisis: 'We need to create shows about it'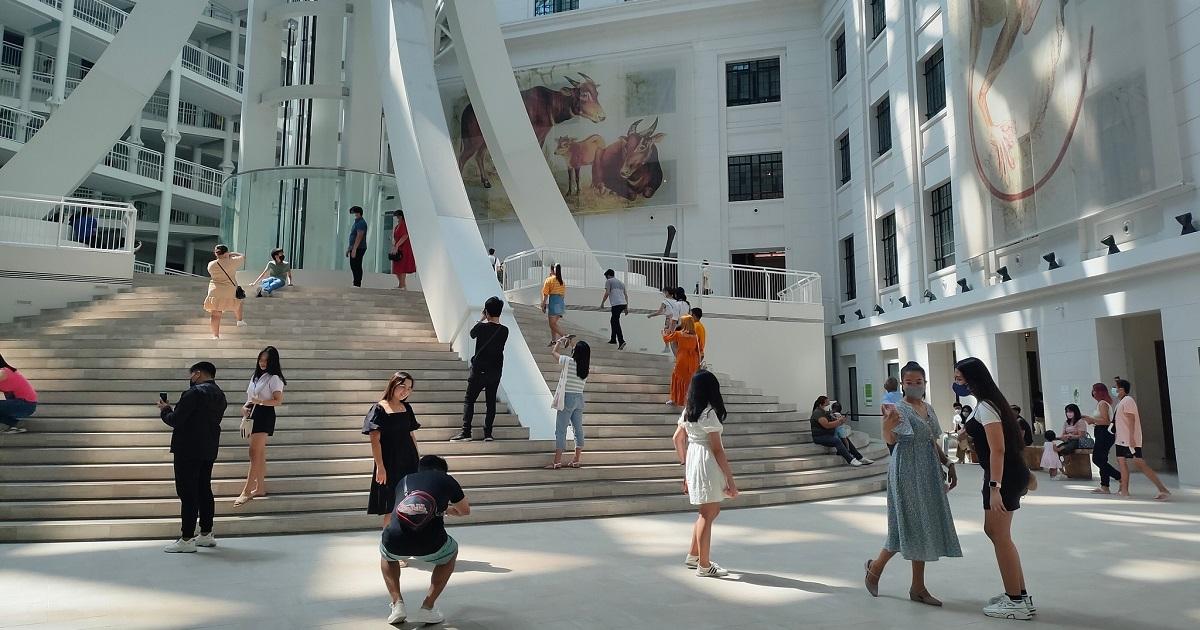 John Kenneth Paranada recently became the curator of art and climate of the first museum in the UK to appoint such a role, the Sainsbury Centre for the visual arts.
Raised by environmentalist parents who worked at the DENR, Paranada has always been attuned to climate and the environment, despite not necessarily understanding it. "[My parents] introduced me to climate change at a very young age — obviously, I couldn't understand it then," he told GMA News Online in a Zoom call last January.
Moving from Ilocos Sur to Manila at age 8 to study, Paranada soon witnessed "knee-high floods almost every time it rained. I have experienced countless floodings, drought, calamities and other severe weather conditions," he said.
He left the Philippines in 2013 to study the Philosophy of Nature in Paris with Bruno Lateur, whom he calls "one of the trailblazing philosophers of the 21st century."
It was upon learning about the Gaia Theory — "all forms of life combined with the physical systems around them are vital to regulating the Earth's delicate chemistry and temperature," he shares — that Paranada's engagement with climate change became deeper.
And when he came home in November 2013 shortly after Typhoon Yolanda happened, he was completely submerged into it.
In this interview, Paranada explained the role of museums and art in solving the climate crisis, the necessary systemic change, and how the Philippines has influenced and inspired his vision for communicating the climate crisis through art.
It's been edited for length and clarity.
Congratulations on your appointment! Can you tell us what you'll do as a curator of art and climate change?
For me, my role is is to be able to distill and translate theory and complex data relating to the climate crisis in contemporary art exhibitions into action and from that action into a new form of living.
I'm excited for this very complex role because it also involves translating science data into something that is digestible by the common public. It needs to be explained in the way that makes sense, is not jarring and is open.
I think my primary job is to articulate it in the way that is understandable, in a way that translates the power of art to captivate and enchant people to reimagine new ways of thinking.
Can you briefly walk us through your journey to this important appointment?
When I saw that the Sainsbury Centre was hiring for a Curator of Art and Climate Change last year, I knew it was a vital role (generously funded by the John Ellerman Foundation's Museums and Galleries Fund, which supports curatorial innovation in the UK).
Not only would this position be the first of its kind for the institution, it would be the first of any UK museum — a feat that is fitting for a genre-defying art museum with world-class collections such as the Sainsbury Centre. It's always broken the rules to empower art and people.
The emphasis on climate and sustainability enticed me, as I believe the climate crisis is one of our generation's most pressing, challenging and complex issues.
During my first interview with Tania Moore [Chief Curator], Calvin Winner [Head of Collections] and Dr. Jago Cooper [ Museum Director], we discussed the role of museums in the 21st century. I told them that institutions need to be dynamic and agile in the face of an ever-morphing world, and that it is possible to be custodians of traditions and heritage whilst also being agents of change.
We discussed the possibilities of a sustainable future and how we might use the power of art to raise and shape our ecological consciousness and influence palpable change in society. I was already thinking of meaningful and experimental ways to articulate and activate the urgency of the climate crisis through the power of art, when I found out I had got the job.
How do you mean "possibilities of a sustainable future"?
Creating pathways to a new world requires an untangling of structures that don't work [anymore].
I'm interested in highlighting contemporary art and art from the antiquities that talk about these tangled relationships between humanity and nature. Like why do humans think they can control nature?
All of these are hinged upon the idea of development, of enlightenment that led to colonialization, which is horrible, which was soon followed by capitalism and the massive extraction of resources that soon became the norm.
It's a controversial topic because if you go into that root of who caused climate change, obviously it's mostly the rich and powerful nations that comprise the Global North and the industrialization that happened there.
But countries in the Global South for example are asking, "Why are we curbing our carbon emission now?" They are arguing it is part and parcel of their development as a country.
I think that conversation is a bit reductive because we need to acknowledge we have already altered the system of the planet, the climate.
Now is not the time to play the blame game, but to come together as nations and as a people to start addressing what we can do to prevent another kind of catastrophic event from happening.
And it starts with small things. For example, walk more, take the bus, take public transport.
But in places like the Philippines, people prefer cars because to take the train for instance, we need to wake up before dawn and endure long lines, and to take the bus, to sit through heavy traffic as well.
It needs to be systemic change because some systems are already untenable. Just really why is it [still] here? It creates so much pollution, so why care for those systems?
Systemic change also specifically points to the complex idea of re-assessing how we curate and design our modern cities to be more liveable and habitable. This pertains to scalable and workable solutions.
So perhaps in the Philippines, the immediate need to invest more in green, efficient and reliable public transport is vital as these infrastructure projects will ease the traffic, clean the air of cities and encourage the public to take mass public transportation [thereby curbing emissions].
These could be further programmed by introducing cycle lanes and covered walking paths in major thoroughfares.
If we want something radical, then the government should start introducing ways to encourage people to go car-free or create a program to carpool, introduce collective living habitats, install solar PV panels, switch electricity to renewable sources, introduce vegan or vegetarian diets at the workplace and encourage it at home, recycle.
These are apparent steps to decarbonize, but they need to be communicated well. That enacting all these things actually leads to a good life where we have access to healthy food. We encourage togetherness. Connect more with nature/physical activity/mobility. Personal growth and learning, ethical/spiritual framework and promoting sustainable consumption.
Again, these ideas are easier said than done, as policymaking is the key for all these ideas to be implemented. Government plays a crucial part, so the public must be critical and hold the government accountable for what the future might look like for the Philippine islands in the face of an ever-transforming world.
We need to redefine and assess how the lifestyles of human beings in the 21st century need to be recalibrated in ways that will work with the planet.
Hopefully it will happen soon. We not yet there so what can we do now is to have that conversation and lead the people to realize it is a crisis.
These are such big ideas. How do you intend to show this in your work?
My idea is basically to look at historical objects from — I guess let's just say "antiquities" to mean a particular era that is now gone but still very relevant in the 21st century, reminding us of who we are as human beings.
In elucidating the climate crisis into the exhibit format, I would go to showcase different types of objects. For example, the very first chain saw, which was invented in the Victorian times in Scotland.
The first chain saw is related to the climate crisis because it was first and foremost a medical device. It was when human beings first thought they could cut bones.
But then the chain saw is no longer used for surgeries of the human body. People started using it to cut trees. Soon after, we were plowing lands and soon enough massive ecological catastrophes started occurring in different places in the planet. I think it's all related.
We need to understand it from a historical vantage point but I'm not looking at it in a linear perspective.
It needs to be cyclical so that the audience becomes a part of the conversation. If we start dictating with a timeline, it won't work. It needs to be generous with the audience that they come in and understand and digest the ideas because it's so abstract and philosophical.
And the moment they understand how this relates to their experience as a human being, then that's when the magic of art happens. It makes an individual reflect deeply on how he's causing all of these upheavals.
This is going to be the strategy because in the climate crisis, we need to find that thing that rallies people together.
People need to start dialoging or having a conversation about this. Museums need to start creating shows about this.
In the recent COP 27 in Egypt, they created a consensus that museums need to play a role in shaping society's ecological consciousness. They said museums and heritage sites these are great places to have that conversation.
People enter these spaces for reflection and they need to reflect on this. it's one of the most pressing issues out there.
That's super interesting. Isn't there a growing consensus that the super wealthy with their private jets and weekend homes have high carbon emissions that the rest of us? The super wealthy are among those totally into art. Museums can reach them.
That's it. We need to influence them more because they fly everyday of your waking life, imagine the carbon emission they contribute to the world.
I'll explain myself by saying yes, museums have elitist sensibilities because that is its history but 21st century museums are more social. It talks more about the pressing issues in society. It's acknowledging colonialism and the repatriation of objects looted during colonialism.
You're doing this in the UK, which has a colonial past. Will you be touching on this in your 1st exhibit, "Sediment Spirit"?
The museum is a university museum so I think the audiences are more critical. I'm not really worried about talking about these violent and hard histories. It's not about that. Obviously we will be referring to that history but we will discuss it in ways that is polite — probably not polite because sometimes you need to be honest.
But it will be handled in such a way that it provokes dialogue rather than a confrontation.
Can you tell us more about "Sediment Spirit"?
"Sediment Spirit" is the first exhibition I'm curating. It traces art practices across generations, encouraging audiences to reflect on our impact as a specie on the planet over time.
It will look at art, space and architecture as performative entities to invoke what philosopher Claire Petitmengin posits as Felt Meaning, or "a feeling which does not belong to a specific sensorial register but which is nevertheless specific and intense, full of carnal and living density. It emerges at a deep, pre-reflective level and is inexorably embodied."
Instead of just one of our senses at work, felt meanings are often multi-sensorial, bringing together viscosity, texture, colours, vibrations, density, resonance and rhythm as part of the art. Such an experience will empower audiences to engage with the climate crisis on a visceral level.
"Sediment Spirit" will open with three different shows this autumn. We will have a show on plastics, we will have a show on indigenous art, and then the titular show.
We have a permanent collection in the museum and I'm using some of the objects from the collection to talk about the climate crisis. The permanent collection will have a lot of interventions from "Sediment Spirit."
We'll also invite contemporary voices to be part of it. It's going to have very diverse works — we'll have works from the '60s up to contemporary times, 2022.
After the opening there will be loads of programs to activate all the works together: artist talks, a performance, a discussion, a workshop. There's going to be loads of activities to last six months.
Did the Philippines play a role or influence your direction toward climate change?
My experience of growing up in the Philippines has consciously shaped how I make sense of the climate crisis. That's why I'm bringing a fresh take on this curatorial role. As a Filipino who has lived across Antipolo, Q.C., Pasig and Manila, I grew up witnessing knee-high floods almost every time it rained in the city.
I have experienced countless floodings, drought, calamities and other severe weather conditions. Combining my lived experience and my career in art, I've gained an understanding of how we might tackle issues relating to the climate crisis through different vantage points and entanglements of time, objects, ideas and space.
I've also noticed that our experience of the climate crisis differs from the Global North in some ways. Ours is more embodied, urgent and immediate because we are at the biting end of the insidious effects of the climate crisis.
As an archipelago in the East of the Pacific Ocean, the tropical experience of climate change conjures to me an image of shape-shifting islands, like our archipelagic south-adjacent neighbors Kiribati, Tuvalu and the Marshall Islands - which are in the low-lying archipelagos deep in the South Pacific and have faced countless coastal erosions and environmental destruction.
Cyclones and tsunamis in the region are predicted to become more intense. The Philippines and nation-states in the Pacific are already experiencing the catastrophic effects of climate change. We need to accelerate our response.
I feel that we, as Filipinos, have developed a form of resilience and adaptation through our cultural ways of modern-day Bayanihan as a coping mechanism in times of collective crisis. For example, the Filipino language already has a poetic and timely portmanteau on climate change. "Banyuhay" or pagbabagong anyo ng buhay (Shapeshifting the form of life). Is that not fascinating?
It's in our ancestral tongue to articulate that change is the only thing constant in this ever-morphing world.
For me, that means a radical restructuring of an unsustainable capitalist-extractivist model, one that prioritizes profit over preserving indigenous peoples' cultures and ancestral lands.
This is all super impressive but do you think art can do this, help solve the climate crisis?
I was already living in Europe when Yolanda struck, but I flew home for a holiday on the third week of November 2013, shortly after Yolanda happened. The news, the catastrophe, the devastation. 'What is happening?' It was disastrous!
And that really impacted my desire — how can we change society through art?
While art can't rally people to protect their environment [in an instant], its power lies in making you think in a deeper level. What does it mean for us as a society? Because this is an existential question.
If Yolanda is possible, then there must be more to come. And we need to be prepared and we need to be more agile and adapt to all of these existential crises because it will be more devastating, as a lot of climate scientists are warning us. In that Hollywood scenario of islands sinking, how will that pan out with us?
How would you like people to leave after seeing "Sediment Spirit"? How would you like for people to approach it?
The first bit is kind of like to open the conversation softly but in an honest and direct way. What I want the audience to get from "Sediment Spirit" is an understanding of how intrinsically we're part of nature and that we cannot control it anymore in ways that our former knowledge dictates.
That's the first thing.
But on a personal level, I want people to have a deep reflection of trying to unlock our ecological unconscious. We're part and parcel of nature. The idea now is that nature and humanity are no longer separate and our relationship with it will dictate what the future look like.
If we decide as a people to continue with this capitalist extractivist model of development — I'm uncertain about the future.
A lot of scientists and anthropologists believe we are part of nature. All of these things — birds and fish they know how to cohabitate with nature. they know how to care for it as well, like the cycle of life.
So for Sediment Spirit, it's that kind of reflection, that notion that we need to address this problem collectively.
It doesn't happen automatically or in 24 hours, even in a year but the moment we start considering all these things, the moment we allow it to enter our inner consciousness, it starts to brew.
Again, the power of art is slow. The effects of it will be felt in the coming years. it's acknowledging that this crisis is happening because if you're not affected by the crisis, you will dismiss it.
So I think what "Sediment Spirit" will try to bring to the audience is the enchantment, the pathway to how to understand and renew our relationship with nature and the environment. How we can act together collectively to impact something desirable for the planet. — GMA Integrated News