Filtered By: Lifestyle
Lifestyle
Why PETA's 'William' works
The easy answer is that William, a production of the Philippine Educational Theater Association (PETA), works because it is able to deal with the difficulty of William Shakespeare's plays without sacrificing its integrity in the process. But also it works because it succeeds in taking on the challenge not just of drawing a line that connects a literary text and contemporary life, but more importantly between Shakespearean drama and the lives of Pinoy high school students.
The success of that connection might be encapsulated in the instance when the teacher Ms. Martinez (Timee Gorecho), after finding her students excited about Shakespeare's sonnets because they had so loved his plays, looks away and exclaims dramatically about how it's a wonderful teaching moment.
And I daresay the whole play is exactly that.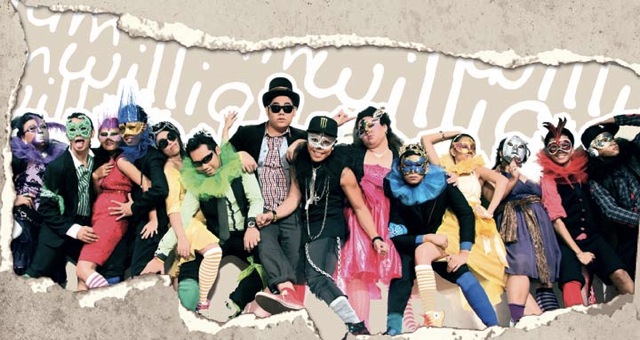 A cast that's worthy of an original creative production in PETA's William.
Because it is able to actually give us a peek at current high school life, and the concerns of our youth, vis-à-vis how literature—Shakespeare at that—can allow an amount of understanding, if not an explanation, for what we go through and how we feel. Right here is its gift to literature and to teaching: it proves to us its relevance in light of our real lives in the everyday.
That William is also able to deal with the pain in these five high school students' stories with a sensitive but controlled hand is its other gift. These teenagers after all are in stories that render them victims of family lives and societal pressure that's bigger than them.
Richard (John Emmanoel Moran) is gay, not necessarily in the closet, but not declaring it to the world either. He is a stereotype familiar to us: overachiever, batch leader, intelligent in the classroom. His crisis happens when the bully TJ (Inno Martin) pushes him out of the closet by writing it on the bathroom wall, at around the same time that TJ decides to put Erwin (Ian Segarra) through some suffering, signing up the shy stuttering outcast as candidate for batch representative.
TJ's back story as bully is one that's about abuse, while the two girls of the group are in crises all their own: Estella (Anna Luna) is angry at her mother for leaving her father to marry someone else in London, and is the overachiever quiet girl worrying too much about her grades; Sophia (Imee Katanyag) is part of a social climbing family, forcing her into friendships rich enough for their newfound stature as lotto winners, creating an image of her that's all about being larger and louder than life.
Yes, this is stuff for soap operas, and here is where William proves an adept hand at turning the story into one that isn't uncomfortably melodramatic. In fact what it does is tell an upbeat story with contemporary rap music and hip-hop dancing, at the same time that it melds this story seamlessly with having to learn the Shakespearean drama within the classroom. So as the classroom dynamic unravels given the personal relationships within it, the challenge of Shakespeare allows both a layer of unity and reason for disunity. More importantly Shakespearean drama becomes reason for understanding each other and understanding oneself.
So that Richard faces the homosexual bullying by choosing to recite Shylock's revenge speech from Merchant of Venice, TJ unravels as bully via the to-be-or-not-to-be speech in Hamlet, Erwin finds his voice and comes out of his shell in defense of Richard through Julius Caesar's friends-Romans-countrymen speech. Estella forgives her mother, and herself, for the distance and anger via Portia's speech on mercy in Merchant of Venice, and even Sophia, seemingly petty as her crisis is, ties together a newfound love in the poor boy that is Erwin through Juliet's what's-in-a-name speech from Romeo and Juliet.
But there is also laughter here given Shakespeare: via Ms. Martinez who's wont to scream "Unsex me here!" from Macbeth, the trio composed of Bugoy (Cheeno), Buchoy (Carlon Matobato) and Strawberry (Felicia Constantino) that functions both as school bullies but also as chorus that ties many of the scenes together, and the absurdity of the same actor (Jojo Atienza) playing very disparate father figures. And then there's laughter borne of the everyday gay lingo that permeates what is conversation in the vernacular, with students grappling not just with the English of Shakespeare but with speaking in English period, the conversations about young lives with big problems becoming feed for light(er) banter even as it carries with it the weight of adversity.
And this is really the success of William. That it is able to traverse all these lines that make Shakespeare and literature difficult—to teach, to read, to learn—at the same time that it also deals with very real teenage problems of bullying and family expectations, peer pressure and difference. There was too the decision to put together a cast that looked totally different from each other, that refused stereotyping on the one hand, also just lived it up on the other, where being the big curly haired girl is not reason to lose confidence, the quiet geeky girl can find some confidence and take care of the good looking jock; where the jock can change and be kind and compassionate, the independent school leader could use the help of the shy ill-socialized intelligent boy.
It is here that William proves to be valuable, not just in terms of Shakespeare but in terms of contemporary teenage lives as we know it to be unkind and unjust. Here the youth is told that they can turn compassionate and understanding, instead of judgmental and mean.
It is William's luck as well that it has a cast that moves across that stage, creates moments small and quiet, as well as grand production numbers, with an aplomb and skill that will get you stomping your foot and clapping your hands. The five leads were also equally touching in their monologues, though Moran and Martin were brilliant the night I watched probably because theirs were the weightier monologues here. Segarra's discomfiture even as he unraveled in the task of finding his voice in a rap version of Julius Caesar's speech was priceless though, as was the comedic timing of that trio which pretty much brought the house down every time. As an ensemble this could also only work, with hip-hop dancing happening in unison or in sync, with no sense that any one of them was freestyling it ala unprofessional dancing on TV. The singing and rapping was en pointe, upbeat without sacrificing content.
But this cast's skill was really only dependent on the kind of creativity and originality the rest of this production had. It goes without saying that what I've praised here is the writing by Ron Capinding, but also there's the music by Jeff Hernandez (which should be on an official soundtrack, seriously) and the choreography of Batche Tan.
I couldn't help but fall in love with that set by Boni Juan, a rendering of wooden chairs piled one on top of the other, as backdrop on the one hand, but also as parts that would form the different sets for the play's every scene.
The costumes by Carlo Villafuerte Pagunaling find reason for being in its very conscious and careful take on stereotyping based on look and color: where the pretty thin girl is pegged at color yellow, and the larger than life girl is color pink, the shy boy is in blue and the jock in green, the leader of the pack in bright red. It was in the finale though that these colors and the creativity in the costumes would prove itself worthy of mention: where everything was just youthful and fun, adventurous and fantastic, without looking impossibly unwearable. Funky teenage clothes ala Shakespeare's Midsummer Night's Dream never looked this good.
Which does bring us back to the intelligence and control that is in this play as a whole—something that director Maribel Legarda and dramaturge Rody Vera must take credit for.
There was here a keen sense of the need not to fall into the traps of simplistic storytelling of high school life and the concerns of the youth, and of lecturing about Shakespeare's relevance instead of proving it to be true. That these two aspects were melded together into one story that was both believable and truthful, and really just ultimately honest, is the gift of PETA here.
That in the end we are told there is reason to read Shakespeare toward understanding ourselves better, that it will allow us to let go of the masks we wear, that it will ultimately mean an amount of fearlessness—in relation to Shakespeare and in light of life's struggles—is what makes William relevant and important for today's Filipino youth and student.
It's also what brought me to tears as I clapped my hands to that beautiful touching final song. –KG, GMA News
William
is a production of the Philippine Educational Theater Association (PETA), written by Ron Capinding and directed by Maribel Legarda. It's being performed in schools across the country. Contact PETA and bring it to your school.