Filtered By: Lifestyle
Lifestyle
Feasts and famine: How Pinoy writers savor them in Philippine literature
To paraphrase the famous first line in Jane Austen's Pride and Prejudice, it is a truth universally acknowledged that we Filipinos are a people of feasts.
We go beyond our daily budget constraints to prepare big portions of food for special occasions like birthdays, anniversaries, and Christmas. We mark the feast day of the town's patron saint with street dances, marching bands, pageants, and overflowing food. We sell (or slaughter) our pigs and chickens for a wedding. Kitchens are teeming and busy even during the wake of a loved one.
The wants and needs of our taste buds define our culture, but four Filipino writers who closed this year's Philippine PEN (Poets and Playwrights, Essayists, Novelists) Conference early this month said food is not the only thing we devour.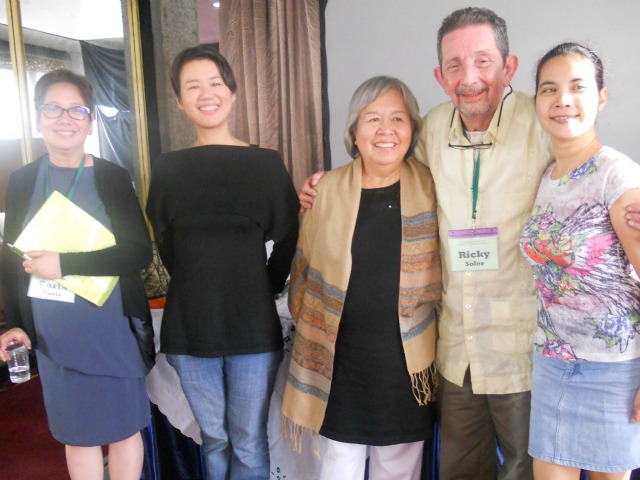 Panelists at the 2011 Philippine PEN Conference 'On Feasts and Famine' module (L-R): Moderator Carla Pacis, Yvette Tan, Merlie Alunan, Dr. Ricky Soler and Alma Anonas-Carpio. Photo courtesy of Philippine PEN
We also feed on human suffering, they noted. But whether we're taking delight in giving meaning to chorizo de bilbao, or taking our ringside seats to watch the latest tragedy in the neighborhood, writers—being writers—would always find ways to create something beautiful and lasting out of these.
Encapsulating pain
In her paper "Memory and the Poetics of Grief," respected Visayan poet
Merlie Alunan
shared tragic incidents that defined her view on grief and strength, including the Ormoc flash flood in 1991, which swept her father, her brother, his wife, and three of their children.
Alunan, who opened the final panel of the conference, "On Feasts and Famine," last December 2, said it took some time before she could translate her experiences, or lack thereof, into verses because "silence seems the only way to meet the enormity of that event."
"When my father died in that flood, blankness followed me for a long time, as though I am not allowed to feel—as though I have not allowed myself to feel," she said. "It's not for lack of concern, but an overflow of it. Words carelessly uttered would only sound shallow; better to be silent than dishonor grief with false speech."
Words only came back to her two years later, enabling her to write "
Amina among the Angels
," a Palanca-winning poem she wrote about her mother, who passed away three years before the flash flood.
Alunan said the poem fed on her memory of her mother on that night in Lanao del Norte when their neighborhood was alarmed by a Moro attack—"how Amina had run into the dawn shaking in terror"—and the many pains it indicated: the illnesses and loneliness she "had endured to keep our family together."
"I was grateful she had gone earlier, for how can anyone protect her from this most brutal horror of all—three generations of her family gone in one sweep, including the man she has followed through all imaginable difficulties," she shared.
Other poems followed Amina which Alunan said was a result of "memory after time"—how she "learned to set the distance, to view [personal tragedy] without feeling that I am preying on my own misfortune to produce a poem."
Savoring experience
Journalist-poet Alma Anonas-Carpio seconded Alunan's point with her paper "Chicken Today, Feathers Tomorrow," saying that sometimes it takes hunger or tragedy—theirs or someone else's—for writers to come up with their best works.
She cited Enheduanna, the Sumerian priestess who "wrote the most powerful poetry of her collection that survived" when her father, the king, threw her into a dungeon for refusing a political marriage.
Anonas-Carpio, who admitted she is "going through a personal tragedy right now," said she is coping with it "by writing, because, God help me, if my pain isn't going to be worth something, then it's not worth going through."
"Sometimes we can't avoid it. When the pain, the tragedy is unavoidable, what is it that sets the writer apart? We don't lie down and die. We get up and write," she said.
But it's not all pain, she noted, adding that writing about all kinds of experiences and emotions, including boredom, can be profitable in some way, regardless of how little the monetary return may be.
The real payback, she said, is how the works affect lives, seeing joy and sharing one's joy through writing—something that you "can't put a price tag on."
"So you go through that—a cycle of boom and bust, the cycle of plenty and nothing, but you always come out with something," Anonas-Carpio said. "Hopefully you will get paid, but you have already profited in the way that matters the most—you have lived the experience and you have shared that experience."
Gut(sy) literature
The panel session picked up a lighter mood when
Manila Magazine
publisher Ricky Soler and GMA News Online blogger
Yvette Tan
shared how food figures in literature.
Soler, dubbed as a certified jokester and late bloomer in literature, threw jokes at the audience and enlightened them when he said that popular Chinese dishes like lumpiang shanghai and pancit canton—staples in Filipino feasts—originated in the Philippines.
But kidding aside, Soler said food makes for good literature, citing works like Laura Esquivel's Como Agua Para Chocolate (Like Water for Chocolate), a novel that makes use of magic realism and recipes to tell important parts and memories in interconnected lives and loves.
Meanwhile, Tan, a horror writer, said "monsters are not very far from food"—a premise that earned a good laugh from the audience.
"You guys laughed when I mentioned food and horror, but first of all, monsters are exactly like people because they equate food with survival. For all we know, we invaded their world and they're just trying to make sense of what has happened, they're just trying to survive," she said.
Tan shared personal experiences in the kitchen that defined her fiction, like their family's bad luck with cooks. One of them, who she said was "the best kusinera ever," turned out to be a witch who tried to eat her brother, while the second best one "had a miscarriage on the kitchen floor."
She used these bits of real-life to write her stories, like Sickyewhore, which tells about a Caucasian guy who decides to get a mail-order bride from the Philippines because he knew she could whip up great meals.
"He buys the bride and waits on her, but as a Third-World country, we have trouble with airfare, we have trouble with [authorities]. Instead of getting her on the plane as a whole bride, he gets her in parts. He has to assemble her. He freaks out, but he doesn't care because he knows she can cook. He knows she's going to give him the best meals ever," she shared.
As her speech came to a close, Tan added that people can't escape monsters "because we turn into monsters sometimes, especially when food is concerned."
"We're very, very grumpy when we're hungry. On the opposite side, we're at our very, very best when we're well-fed. At the same time, food is tied to being Filipino—we think with our stomachs and we love with our guts. And we often forget it, but how we relate to food is indicative of how we relate to life in general," she said in conclusion. –KG, GMA News