Filtered By: Lifestyle
Lifestyle
So many books, so little time! Wish I had read more books than I actually did. Would have needed to build a couple of robot clones to go to work for me and do my chores. And now it's that time of the year when we look back and make a few yearender lists. It will be "Mission Impossible" to create a truly comprehensive "Best Books of 2011" one because I haven't read enough of them; I am not "genre agnostic"; and, however embarrassing it is to admit (I hang my head in shame,) I didn't even read enough of local literature. As a compromise, offered here is a list of the notable ones among those that fellow book bloggers and bibliophiles have read this year. Should any of the titles listed here catch your fancy, you can purchase them in local book stores, or in the case of the e-book, via a local online bookstore.
FICTION:
"Philippine Speculative Fiction 6"
edited by Nikki Alfar and Kate Aton-Osias (Kestrel DDM, May 2011) The Philippine Speculative Fiction anthology series has been showcasing the works of well-known writers and up-and-coming literary talents for several years now. In its
sixth
outing, the anthology features 22 stories by a very diverse set of authors, writing anything from alternate realities to refreshing takes on old-fashioned Filipino mythological creature tales. The quality of the selections continues to improve, and we can only be excited by the prospect of reading what our local writers have in store for us in the next volume.
"A Dance With Dragons"
by George R.R. Martin (Random House, July 2011) The
5th book
of Martin's critically-acclaimed "A Song of Ice and Fire" series arrived after a 6-year wait, and amid greater-than-usual expectations in the wake of the success of the HBO TV adaptation, "Game of Thrones." But it was worth the wait, as World Fantasy Award-nominated bibliophile
Charles Tan
notes, because "Martin's fiction remains interesting, compelling, and unpredictable." I hope your remaining favorite character did not die in this installment just yet.
"Before Ever After"
by Samantha Sotto (Crown Publishing, Aug. 2011) What was author
Samantha Sotto
's pastime became her internationally-released
debut novel
, and a source of pride and inspiration for aspiring Filipino authors. The multi-layered story of the eccentric tour guide Max Gallus captured the hearts of many readers, while Sotto's writing style earned her admirers like
Jason Vega
, co-administrator of the
Goodreads Filipino Group
. "Sotto's prose is magical," he says. "Even plain things and motifs she uses significantly in her story assume new meaning in the eyes of the reader. She writes lusciously and engages the senses."
"Ready Player One"
by Ernest Cline (Crown Publishing, Aug. 2011) It's 2044. The only way to escape the ugly real world is to hook one's self into a virtual utopia called OASIS, and Wade Watts is on a quest to find Easter eggs hidden within this world that will grant him power and fortune. "
Ready Player One
," according to author Carljoe Javier ("The Kobayashi Maru of Love," "The Geek Shall Inherit The Earth") is a treat. "It revels in retro references and tells one of the most fun and exciting stories of the year. It moves at a smooth, confident pace, and brings a sincerity and sweetness that is surprising amidst all the conflict and turmoil. It's packed with action, excitement, drama, romance, and loads of humor."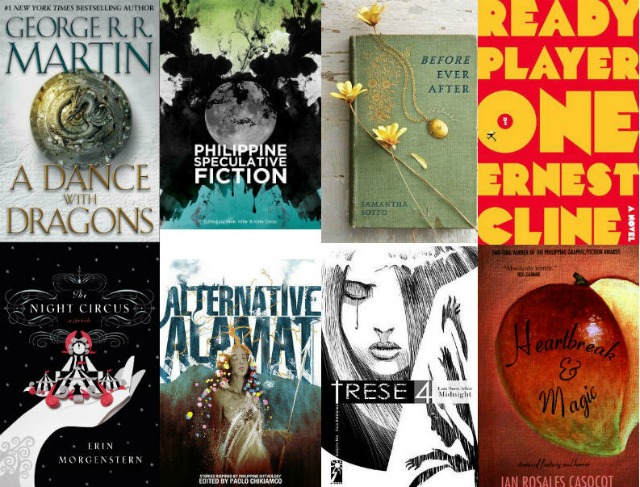 "The Night Circus"
by Erin Morgenstern (Doubleday, Sept. 2011) Morgenstern's debut novel about two dueling magicians will, to borrow her words, "take up residence in your soul" and make you want to run away to the circus. It calls to mind Christopher Priest's "The Prestige" and its Christopher Nolan-helmed film adaptation, though "
The Night Circus
" is infinitely more whimsical. "Erin Morgenstern writes beautifully, bringing the circus to life in between the pages," book blogger
Blooey Singson
gushes. "It hits all the right notes for me—the turn-of-the century setting, magic and fantasy, coming of age, and a darn good love story." And just like The Prestige did, the adaptation will soon make its way to the big screen.
"Trese 4: Last Seen After Midnight"
by Budjette Tan & KaJo Baldisimo (Visual Print Enterprises, Sept. 2011) Supernatural butt-kicking detective Alexandra Trese returns with 4 new adventures in the 4th installment of the
Trese
graphic novel series.
Charles Tan
praises author Budjette Tan for his competent handling of the first two stories, "Cadena de Amor" and "A Private Collection"; and for innovation while "still being faithful to your established formula and conceit" in the case of "Wanted: Bed Spacer" and "The Fight of the Year." Meanwhile, "Baldisimo makes great use of ink and space. The shadings add to the mood. When it comes to geography, the artist manages to replicate the details that make the setting convincing and unique...Baldisimo's art is that nuanced."
"Alternative Alamat: Stories Inspired by Philippine Mythology"
edited by Paolo Chikiamco (Flipside Digital / Rocket Kapre Books, Dec. 2011. E-book only.) Philippine mythology isn't just about
aswangs
,
duwendes
, and
kapres
; there exist pantheons of deities and a deep well of other legends and myths that we were never taught in school. "
Alternative Alamat
" makes some of these lesser-known tales and characters more accessible to modern readers with 11 engaging re-tellings. The book also includes interviews with scholars of Philippine mythology, a reference guide, and a list of notable deities accompanied by illustrations by Mervin Malonzo. This is only available as an e-book, though, so I hope that the publisher will consider releasing it in print so that it will be accessible to more readers. Because of efforts like this anthology, it won't be long before we find our own local Rick Riordan who will successfully skyrocket this aspect of our culture into the popular consciousness.
"Heartbreak & Magic"
by Ian Rosales Casocot (Anvil Publishing) This
collection
by multi-awarded writer Ian Rosales Casocot might just be 124 pages long, but the 8 stories included here are some of the best in local speculative fiction. "The beauty of Casocot's fiction is that it has its own unique voice that leaves a distinct, unforgettable impression," says
Charles Tan
. "It's amazing how Casocot captures the locality of his setting while crafting characters that are undeniably Filipino."
FICTION BOOKS FOR YOUNG ADULTS AND CHILDREN:

"Daughter of Smoke and Bone"
by Laini Taylor (Little, Brown & Company, Sept. 2011) The angels-and-demons theme is prevalent in the fantasy shelves these days, but this is more than just your run-of-the-mill teen paranormal romance. Set in historic Prague and in another world beyond its doors, Taylor's evocative writing brings an epic story to life through the eyes of a young art student whose fate is tied to an age-old war and a love that transcends death. "
Daughter of Smoke and Bone
" will captivate the hearts and imaginations even of not-so-young adults.
"Goliath"
by Scott Westerfeld, illustrated by Keith Thompson (Simon Pulse, Sept. 2011) "
Goliath
" closes the curtain on Westerfeld's acclaimed steampunk alternate history trilogy about a girl who masquerades as a boy to serve in the British Air Force, and the besieged young heir to the throne of Austria-Hungary. Their friendship and inevitable romance develop in the middle of World War I as you've never seen it depicted before, but which you can actually glimpse through the delightfully detailed pen-and-ink illustrations by artist Keith Thompson. Showcasing masterful world-building, witty dialogue, thrilling action sequences, and realistic characters that you will not hesitate to root for, this book—no, the entire series—will have you wishing you could see it on the big screen...in IMAX 3D.
"A Monster Calls"
by Patrick Ness (Candlewick Press, Sept. 2011) "Stories are wild creatures…When you let them loose, who knows what havoc they might wreak?" They can wreak heart-wrenching havoc, apparently, in the case of "
A Monster Calls
." "Beautiful and powerful" is how book blogger
Tina Matanguihan
describes Patrick Ness' latest novel, which is based on an original idea by the late award-winning author Siobhan Dowd. "Anyone can easily be in his shoes, think his thoughts, and find the same nightmare he wrestles with every night," she says of Conor, the book's protagonist. "We may not wake up with a monster calling our name, but we can always turn to a book like this and find important lessons."
"The Scorpio Races"
by Maggie Stiefvater (Scholastic Press, Oct. 2011) Stiefvater deserves a blue ribbon for this beautiful, impeccably-paced story about two teens who are driven by their circumstances to compete in a deadly horse race. She explores underlying themes of poverty and survival, life and death, love and sacrifice, through the eyes of her two protagonists and the inhabitants of a magical island where bloodthirsty water horses reign supreme. In a genre that is usually defined by trends, "
The Scorpio Races
" is wonderfully refreshing.
"The Son of Neptune"
by Rick Riordan (Disney Publishing, Oct. 2011) When a
book
opens with a Gorgon chasing after the hero with a tray of poisoned Crispy Cheese 'N Wieners for a murder weapon, you know you're going to have a lot of fun. Percy Jackson returns to the limelight after his absence in the first book, and if that's not enough, we finally get a glimpse of the Roman camp, teddy bears are sacrificed, and the world is poised on the brink of another war. Riordan does what he does best in this second installment of "The Heroes of Olympus" series, taking readers on a fantastical adventure in a world where modern mortals exist side-by-side with creatures and elements from Greek and Roman mythology.
NON-FICTION:

"It's a Mens World"
by Bebang Siy (Anvil Publishing, 2011) This collection of 20 essays is "a candid, sometimes funny, and sometimes bittersweet look at the life so far of a Filipino Everywoman," says book blogger
Ron Lim
. "It is when Siy completely strips herself of any of the mystique and glamour that her gender usually affords her that her essays resonate the most. Rather than be off-putting, the awkwardness and the unforgiving candor with which she talks about the most sensitive of topics only ends up endearing her to readers...All in all, '
It's A Mens World
' just shows that Siy is as good in non-fiction as she is in fiction."
"Bossypants"
by Tina Fey (Little, Brown & Company, April 2011) "In '
Bossypants
,' writer/actress Tina Fey ("30 Rock," "Saturday Night Live") shares stories from her childhood, awkward teen years, and still-a-bit-awkward adulthood. It reads like an irreverent guided tour of her past, or a snarky commentary track on the DVD of her life," notes author
Mina V. Esguerra
("My Imaginary Ex", "Fairy Tale Fail"). "Celebrities who over-share and overexpose their lives to the public can quickly disappoint even ardent fans, but my experience here was the opposite—I enjoyed each story, and by the end of it I wished there were more. I also wished I were her friend, she seems like such a cool friend to have."
"There Are Things I Want You to Know about Stieg Larsson and Me"
by Eva Gabrielsson with Marie-Françoise Colombani (Seven Stories Press, June 2011) "In a case of life imitating art that imitated life,
Eva Gabrielsson
gives her side on the domestic controversy that followed the unexpected success of her life partner Stieg Larsson's Millennium Trilogy. In the process, she also provides insights on the thinking and inspiration for places, people, and events that went into the books," GMA News Online Managing Editor Yasmin Arquiza shares. "The story of Lisbeth Salander—the girl with the dragon tattoo who played with fire and kicked the hornet's nest—may well be the story of Eva, the woman who is fighting Stieg's father and brother as well as Sweden's legal system to reclaim what is hers as Stieg's rightful widow."
"Supergods"
by Grant Morrison (Random House, July 2011) Carl Javier recommends "
Supergods
" "for comic book fans who want to gain deeper readings of their favorites, as well as for non-fans who want to see what's what. This sizable book offers a lot of ideas that will have your head zipping and banging." Grant Morrison explores the history of the superhero through the filter of someone who has spent years writing about them, and shares his insights on their importance and continuing relevance.
"Steve Jobs"
by Walter Isaacson (Simon and Schuster, Oct. 2011) Steve Jobs' impeccable sense of timing, it seems, extends even to the publication of his
biography
, which was released only a few weeks after he passed away.
Carl Javier
praises this compelling account of the life of the founder of Apple, Inc. for depicting Jobs for what he really was. "Isaacson's book is an insightful view into so many aspects of Jobs' life and career," Javier says. "It of course favors Jobs, but never covers for him. And best of all it humanizes and makes [him] tangible."
"Linamnam: Eating One's Way Around the Philippines"
by Claude Tayag and Mary Ann Quioc (Anvil Publishing) It took Claude Tayag and Mary Ann Quioc 4 years to eat their way around the Philippines and put together "
Linamnam
." You can think of this book as your "Lonely Planet Guide for the Filipino Foodie." It has recipes and histories for each region's trademark dishes, restaurant listings, and chapters on specific food items—all that in a beautifully-designed slim volume that will fit in your carry-on luggage. Take it with you on your next vacation and soak up some culture. This list is only a sampling of the best that 2011 had to offer; I'm sure there are more jewels hidden in the shelves of our favorite bookstores if we only take the time to look. 2012 is going to bring with it an avalanche of new releases. We may have to make more space in our shelves and e-readers, but we look forward to another year of new stories, old and new characters to meet and get re-acquainted with, and wonderful new places and time periods to explore.
—KG, GMA News