Filtered By: Lifestyle
Lifestyle
Khavn Dela Cruz and how 'wazak' works
If there is a festival that Manila-based filmmaker Khavn Dela Cruz could call home, this would probably be it. After all, this was the first European festival that supported his work when they screened his controversial "Ang Pamilyang Kumakain ng Lupa" in 2005.
Known for its being progressive, the IFFR paved the way for the inclusion of Southeast Asian Cinema and Philippine Cinema in particular in other European and international film festivals.
"Kung pag-aaralan mo 'yung pagputok ng Philippine cinema sa labas, puwede mong i-trace to that time. Kasi before that, may isang Pinoy film dito, isa doon, tapos 'yun na 'yun," Dela Cruz tells me over a plate of charcoal chicken.
We notice that the chicken's secret sauce is described as an aphrodisiac, and we find this funny, because the restaurant is designed as a wholesome family place, complete with large photos of happy, innocent children on the walls.
"Wazak," says Dela Cruz, first using what will become our word for the day.
"Wazak" is slang for "wasak" - Filipino for destroyed. For those who understand it, the word has become a perfectly acceptable way to declare praise for something that is great. "Wazak" is what "astig" was a few years ago, and before that, cool. But it's beyond these adjectives. It's hardcore.
Wazak and intense
In this context, wazak is the best word to describe Khavn's work, which is so intense that reactions to it vary from half the audience walking out to a high school student having to be debriefed after viewing one of his films.
The film that brought the student to tears was "Mondomanila," which had its world premiere at this year's IFFR in the
Spectrum section
, which screens recent highlights from the international festival circuit and other impressive and contemporary works.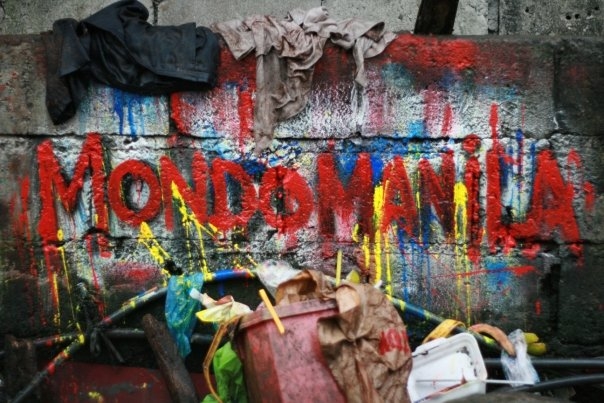 Mondomanila graffiti by Dante Perez.
The IFFR describes Dela Cruz's "Mondomanila" as a musical featuring the losers in Manila's slums, juxtaposing life in the Third World in a cheerful way. If it sounds disturbing, that's because it really is. In fact, the sound is literally disturbing -- when the high school student watched the film, he was told to just close his eyes. But there was no escaping the music, which Dela Cruz recounts was simply too much.
"Ang problema, maski nakapikit, 'yung assault sa pandinig niya wasak pa rin. So wasak pa rin siya," says Dela Cruz.
He admits that there is always the danger of shocking the audience to the point of not being able to get any message across, but this is out of his hands. He notes that poverty is nothing new, and since filmmakers like Lino Brocka and Ishmael Bernal highlighted the issue, things haven't changed.
"Wala naman din nagbago. Dumami lang o lumipat lang o mas may ganito o mas may ganoon pero basically ganun pa din. So doon naman din pumapasok 'yung treatment, 'yung aesthetics... Inisip ko itodo 'yung mga bagay bagay. Kaya 'yun ang lumabas," says Dela Cruz, who plans to shoot "EDSA XXX: Ganito Kami Noon, Ganito Pa rin Kami Ngayon" as one of his next projects.
Prolific filmmaker
The question of upcoming projects is a tricky one for Dela Cruz. With 31 features and over a hundred short films, he is without a doubt one of the most prolific filmmakers around. His calm, serious manner may suggest that he's just a laid-back, easygoing guy in a T-shirt and jeans, but you can be sure that at any moment, he's coming up with another bright idea.
For reasons unknown, Dela Cruz just can't not create. As a college student, he wrote enough poetry to fill 10 books. Apart from writing, he also has his music projects with three bands -- Fando & Lis, The Brockas, and Vigo.
If you're thinking that this quantity couldn't possibly come with quality, he proves you wrong with his many distinctions, having served as a jury member at the Berlinale, Clermont-Ferrand, CPH:dox, Jeonju, Jihlava and Dok Leipzig film festivals, and judged in the Palanca National Literary Awards, as well as won for his poetry and fiction. He's also the president of Kamias Road, an independent film, music, and publishing company as well as festival director of .MOV International Film, Music, & Literature Festival, the first digital film festival in the Philippines.
So how does he do it? Unfortunately, Dela Cruz shares no secrets.
"Kasi puwede ka naman talagang lumikha every minute, every hour kung gusto mo," says Dela Cruz, adding that the problem comes after the artwork is made.
"Distribution, marketing. But in terms of creation - parang paghinga or paglakad, parang ganun. Disiplina 'yun eh, para kang athlete. You practice every day. Ibig sabihin, you show up doon sa kailangan mong gawin. Which you can apply - haharap ka sa piano, sa computer, sa notebook. Gagawa ka ng film eh, 'yun na 'yung trabaho mo," he says.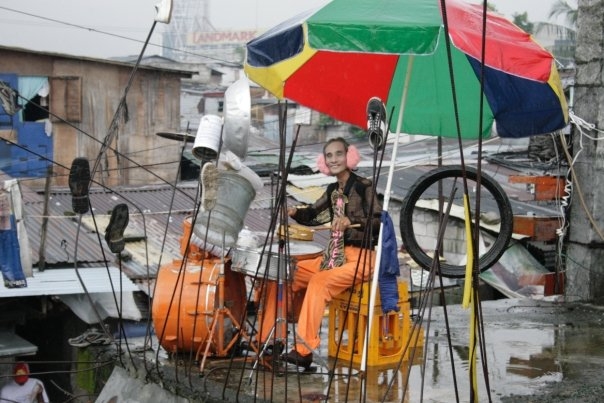 Palito as Pablong Shoeshine in Mondomanila.
At the same time, Dela Cruz does not take complete credit for his work. "Thou shalt not credit the director," he says, referring to the Dogme 95 movement's "Vow of Chastity" which demands a stripped-down filmmaking process.
"Kung magpapaka-spiritual naman tayo, of course, someone has to be credited. But in a way, kapag nagunaw 'yung mundo, hindi naman talaga sa 'yo 'yun eh. Dinadaanan ka lang, o kaya instrumento ka lang. Tapos lalabas sa film napaka collaborative process niya. Although ikaw 'yung nasusunod, ang daming nakakaapekto dun sa final outcome, from the actors, the crew, and so on," says Dela Cruz.
This explains why his films are credited with denial - "This is not a film by Khavn." Perhaps this detachment is helpful when it comes to dealing with criticism, but Dela Cruz says he prefers it when people react to his work, whether or not they like it.
"Noong una kasi tanggap ko naman na hindi masasakyan ng lahat ng tao ang trabaho ko. Actually kahit anong work," says Dela Cruz, recalling the conflicting reviews of Lars Von Trier's "Dancer in the Dark," which won the Palme d'Or at Cannes but was listed the worst film of the year by Time magazine.
"So ganyan pala 'yung kuwento ng film journalism or film criticism, medyo wasakan din, 'di ba?" Dela Cruz says.
Love him or hate him
In his case, he was exposed to criticism early in his career. "Hell broke loose," says Dela Cruz of 2005, when "Ang Pamilyang Kumakain ng Lupa" was released. "Doon pa lang, hiniritan na ako kaagad. May naghintay talaga, tinapos niya 'yung film para mang-asar. Sabi niya hindi niya ma-gets, bakit ko raw ginawa itong klaseng pelikula, ano raw 'yung point, 'yung moral lesson," says Khavn, who admits he answers stupid questions with stupid answers.
"I said something like don't judge a book by its margin," he laughs. He goes on to say that walk-outs in festivals isn't uncommon, since many viewers try to catch as many films as possible, several of which are shown simultaneously. But in Gutenberg, he was told that half the audience walked out, and some even demanded refunds.
"Wasak na wasak," he says. According to Dela Cruz, what's important is that the movie has an effect, never mind what kind of effect it is.
"Tatlo lang naman 'yung reactions diba? Ayoko 'yung film, gusto ko 'yung film o kaya deadma lang. Ang pinaka bad trip doon 'yung deadma lang eh, kasi parang wala lang eh. The opposite of love is indifference. And, there's a thin line between love and hate, 'di ba? So mas okay na 'yun. At least may nangyayari, may epekto. Your movie moved them, kung ano mang direksyon 'yun 'di ba?" he says.
Of course, part of it is about social change. "At the back of your mind, you want to change the world. You want to, sabi nga ni Michael Jackson, make it a better place. You start making your film, start playing around. Ayoko naman maging moralistic na 'ganito kayo, ganito gawin ninyo,'" says Dela Cruz, using another of his films, "Squatterpunk" as an example.
The film has no dialogue, and features Bobby Balingit singing in gibberish. There are five proverbs for the audience to mull over, and the rest of the film is all images.
"'Yung iba, they tell me they're moved. They want to do something. Kasi nagiging social work angle, which is not bad. Okay naman din - alam nilang may mahirap, alam naman nila na wasak, sira-sira 'yung sistema ng Pilipinas. But it's nice that an abstract film puts them into action," says Dela Cruz.
"Totoo naman na may ligaya dito, may kasiyahan. Pero minsan natatakpan ng ibang bagay, na kailangan i-unearth collectively," he says when asked to comment on the country's new tourism campaign.
For his part, he just keeps working, creating film after film of disturbing reality. "If Brocka's films a decade ago talked about the wounds of Manila, I would like to believe that 'MONDOMANILA' belongs to a new breed of storytelling that makes one feel as if one has actually touched that wound, a close-up view of all that gangrene and pus," he says in his director's statement.
He describes "Mondomanila" as a mashup of his previous films. "Parang hindi lang ng mga kung anu-anong napapanood ko, pati 'yung mga pelikula ko. Kung gusto mong i-dissect, parang, 'Ah, 'yung shot na 'to parang ganito, may echo ng ganyan,'" he says.
"Mondomanila" is described as "an unflinching and unflinchingly funny look at life in the underbelly of the urban diaspora...with songs."
Dela Cruz likens his aesthetic to things that are all mixed up. "Variety show, labo-labo, halo halo, kaning baboy," he says.
It's strange, but it makes sense. I know what he means, and there's a word for it. Wazak. — KG, GMA News
"Mondomanila" had its world premiere at the International Film Festival Rotterdam this month.