Filtered By: Lifestyle
Lifestyle
Love according to 'Next Fall'
(Updated Feb. 1) - It's easy to dismiss "Next Fall" by Geoffrey Nauffts as another gay play, as another one of those that romanticize the narrative of love that is different, because it's not heterosexual. But that would be to miss out entirely on what else is unfolding in front of you as spectator, it would be to miss out on the nuances that's in the rest of this narrative's necessary transformation of the ways in which we might view homosexuality on the one hand, religion on the other, love across the board.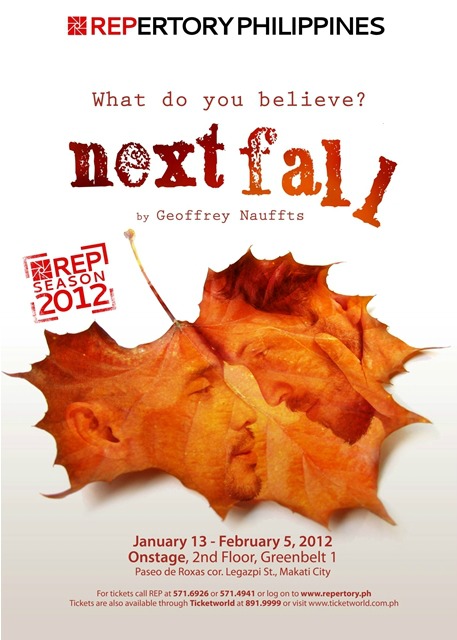 To ask the question: but what was that ending about? Would be to miss out entirely on the fact that not all endings are closures, and especially for acts of loving and desire and belief, the default must be an open end.
And yet that question could be no surprise in this context, where we are made to imagine that Catholicism in all its contradictions and tragedies is an end in itself, where atheism is something we imagine doesn't exist, as it is something we fear just in case Catholicism was right all along. In that sense it is precisely in Third World Philippines that "Next Fall" derives a power particularly about context. Which is here, where Catholicism is used to oppress women, sustain the impoverishment of a majority, and justify the shameless accumulation of wealth of a few; which means here, "Next Fall" is beyond just homosexuality, and becomes about love, and the brave disputation of Catholicism as we know it, as we might believe it in these shores.
Here after all is the story of Luke (David Bianco), born-again Christian who prays before meals and believes in salvation, and Adam (Bart Guingona), atheist, critical of the bitter pill that he believes is religion. And they fall in love, on that level that is about desire—as all relationships have that at its core, no matter that we might not admit it. The beauty of desire is portrayed here to be part and parcel of what begins as friendship, what becomes love. What is crucial about this desire is that it is also one that's about intellectual compatibility, and a sense of humor.
Here is Luke's and Adam's relationship for the world to see. And it is one that we are disallowed from judging in the course of "Next Fall": given the manner in which the narrative unfolds, we can only find ourselves taking it for what it is, no matter that pseudo-conservative Philippines might not be prepared for it. Because the unfolding is one that's premised on what is apparently unexpected: a member of the press asked "but why didn't they change clothes?"
Well, honey, because all of the play happens in a day, with flashbacks that were surprisingly difficult to question and unmistakably necessary.
Because here is a story that begins with its ending: Luke gets into an accident, and the distraught Adam is the last to arrive at the hospital that has already gathered together Luke's parents Holly (Juno Henares) and Butch (Miguel Faustman), his old friend Brandon (Niccolo Manahan), and Adam's friend Arlene (Liesl Batucan). The latter is Adam's lifesaver, the fag hag best friend who saw the relationship between Adam and Luke blossom, and who knew of the silences that needed to be cared for, the kind of rationality required before the decision to come out about homosexuality is made. The counterpoint to Arlene is Brandon, as Christian as Luke, and as gay; and not one to have a friendship with Adam. Brandon's presence is one of sanity, in the way that steps are measured and certain, in the manner in which everything is about propriety. Both friends are the familiar versus the distant that Holly and Butch come to represent: the two who are oblivious to who their son truly is, the two who would rather keep the silence about homosexuality than face it squarely as truth.
Yet this narrative of Holly and Butch are secondary to what is revealed to be the crux of this crisis that is not about Luke in a coma, but about the contradictions in Luke's and Adam's relationship, given the layers of religion and disbelief at its core. In that sense, as the narrative unravels via those flashbacks, it becomes clear that the crisis was always there, the irreconcilable difference in belief systems almost bringing the relationship to its logical end, the notions of homosexuality and Christianity fodder for humor yes, but also for a real and palpable cloud over the relationship. The compromise would've been silence, the compromise would've been accepting one for being Christian, the other for being atheist. But on that stage, it just seemed impossible for that compromise to be struck. On that stage, this contradiction practically throbbed with a life all its own, and all of it seemed par for the course.
Of course that had much to do with this cast, where as an ensemble there was no beat missed, no character out of focus, not one falling into another's space. Henares' Holly was consistently manic, which allowed for her quieter moments to be more poignant than they would otherwise be. Faustman on angry father mode might have fallen into the pitfalls of a stereotype in another actor's hands, but here denial/anger/anguish actually allow for what can only be compassion in the end. Manahan's Brandon is one that is equally self-assured and uncertain, rational but sensitive, as it traverses that tenuous line between judgment and understanding, where what could've become a long-drawn out explanation of a particular kind of Christianity became a heartfelt conversation about making the choice to love, or not. Batucan as the consistent presence of a fag hag friend provides the necessary comedy, where the characterization balances being bright-eyed and bushy-tailed, with her own uncertainties about searching for answers, and love, and everything in between.
And then there is Bianco, whose power here lies in the believability of a Luke who on the one hand acts on desire and falls in love, and on the other lives off of notions of religiosity and salvation and forgiveness. That the contradiction happens in a package that is caring and compassionate, but also kindly but consistently insistent on the need for belief, is the gift that is Bianco's performance. As his counterpoint, Guingona's Adam is everything this character needed to be: gay not flamboyant, outspoken not tactless, real in the face of the crisis in front of him. Here, it is restraint in the midst of over-the-top drama that is Guingona's gift. Here, it is only him one can imagine in this role, even when all one sees onstage is Adam.
Here, in this ensemble cast and a beautifully written narrative, the din of conversation is quieter than the silence that underlies it. Here, the accident is barely the point. Because what is truly accidental might be the fact of a relationship happening between two very disparate souls. What is accidental is being hit by love and finding that some compromises cannot and will not be made for it. And even then it will be sustained by many other things, including desire and humor and friendship.
In truth, the power of "Next Fall" is that across the narrative it barely matters that at the center of it is a homosexual relationship. The power is in the fact that in the end, it's just about love. The kind that persists, the one that's captured in the most fleeting of glances, that one that is ultimately exactly what's necessary. Love, in that sense, is the religion we live off of. The one that allows us to imagine one person to be with us as we live, the one whose eyes will be the last pair we will look at as we die. It is romantic for sure. But that is also ultimately what fuels belief, yes? Yes. –KG, GMA News
"Next Fall" by Geoffrey Nauffts is locally staged by Repertory Philippines under the direction of Audie Gemora. It runs until February 5, 2012 at Onstage in Greenbelt, Makati City.
Katrina Stuart Santiago writes the essay in its various permutations, from pop culture criticism to art reviews, scholarly papers to creative non-fiction, all always and necessarily bound by Third World Philippines, its tragedies and successes, even more so its silences. She blogs at http://www.radikalchick.com. The views expressed in this article are solely her own.