Filtered By: Lifestyle
Lifestyle
Bike to work? Why not? MRT now allows folding bikes
This February begins on a good note for Manila cyclists as the MRT3 EDSA line now allows folding bikes on its trains. The news was met well by cyclist-commuters, who have long been requesting MRT management to allow bikes on the trains. In 2009, the "
Bike On, Bike Off
" project was launched by the Light Rail Transit Authority. But the MRT had no plans yet of creating a similar project. MRT-Line 3 public relations officer Lysa Blancaflor said that the MRT's congested trains prevent the transport system from allowing folding bikes on the trains. She said allowing bicycles, even foldable ones, would only aggravate the congestion problem in the mass transport system. After several meetings with Tiklop Society of the Philippines, however, the MRT handed down its Office Order 2012-351 "Revised Guidelines on Hand Carried Baggages" on February 1, with the stipulation that folding bikes with wheels not more than 20 inches in diameter may be carried aboard the trains.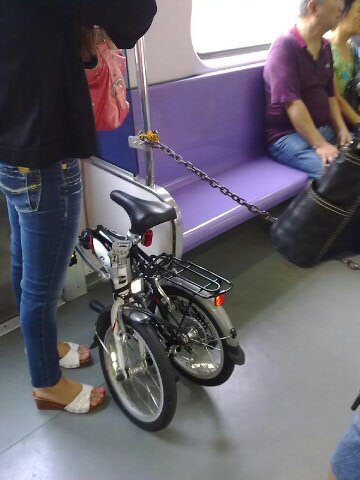 Cyclist-commuters have been carrying their foldable bikes on board LRT trains since 2009. This year, bikes can also be brought inside MRT coaches.
Tiklop Society's Pio Fortuno Jr. shared it took awhile before they were able to convince MRT management. "We had to build up a folding bike base among cyclists so that we will have the numbers to convince people that our concerns are valid. In the past three years, folding bikes have risen from obscurity into a widely popular vehicle that everyone wants to have," said Fortuno, who used to live in New York City, where he enjoyed bimodal transportation with the subway system there. "All the time I was there I kept telling myself that this is what Metro Manila needs, a highly efficient transport system that everyone, from all social classes, would like to use. My New York experience helped me formulate the LRT guidelines here," he said.
Smaller carbon footprint
He explained that bimodal transportation (using bikes and trains to get to your destination) combines two efficient means of transportation, allowing one to travel long distances with a much smaller carbon footprint that when using a car. He noted that given Metro Manila traffic, this is also a much faster way of traveling. "If enough people bike and use mass transport to get to their destinations and leave their cars behind, there would be much less traffic, less pollution, less stress, and more liveable cities. Additional benefits to the bike commuter are better health and a sound mind. And it is cool to be seen on a bike," he said. Of course, bimodal transportation has its difficulties. Fortuno mentioned minor problems encountered in the Bike 02 project, such as miscommunication between management and security personnel, so that some bike users were barred from entering the station. But he said this was swiftly resolved, and the LRT lines are now very pleasant to use, owing to the courteous and helpful station personnel. Another difficulty is the absence of elevators and/or escalators in some stations, which makes it difficult to bring the bikes to the platform level. "This may have discouraged some people. The solution though is to invest in a lighter bike in the first place, or to develop strength to carry the bikes. I do have friends who found carrying the bikes difficult at first, but got used to it at the second try," said Fortuno. While the new rule is good news for bikers, they must remember to be considerate of other passengers. Fortuno explained that the 20" diameter rule, which stemmed from their work at the LRT project, disallows folding bikes with bigger wheels, as the bulk might inconvenience other passengers. "Though this memo is enough to allow us to be on the trains, it should be supplemented by a set of guidelines to prevent various interpretations by both the bike user and security that may lead to chaos. We have prepared a set of proposed guidelines that we will ask the MRT management to adopt," said Fortuno.
Guidelines
He shared the following tips for bikers:
When using the MRT
:
Keep your bike clean, be courteous to others.
Try not to inconvenience others as much as possible.
Don't ride the trains during rush hour, or if you must, board at the first station where the trains are empty.
Stay clear of the door so people may pass.
Try not to disembark when train is full as it is difficult to pass through a mass of people. It is better to get down a station later, you're on a bike anyway and can easily traverse the distance.
On the road
:
Ride predictably, don't weave in and out.
Use hand signals to let other road users know what you are about to do.
Be courteous and wave to drivers and pedestrians who give you the right of way.
To fully learn how to bike and use the trains, it is best to ride with experienced bike commuters that will teach you the ropes. For more information, visit
https://www.facebook.com/groups/TiklopSocietyOfThePhilippines/
— KG/HS, GMA News