Filtered By: Lifestyle
Lifestyle
Art review: Discarded dolls tell the stories of our time
If you haven't been to Fairview in Quezon City recently, there's one good reason to brave the trip this week. A one-of-a-kind exhibit that explores our country's sociopolitical and economic realities through artworks big and small has been put up.
Currently on view at the Light and Space Contemporary Gallery is painter and sculptor Oca Villamiel's third solo exhibition entitled "Stories of Our Time," a collection of mixed-media installations which are as gripping as a horror film. You're terrified, so you cover your face. And yet, you can't bring yourself to keep your eyes shut, and you end up looking through the gaps between your fingers. From the framed pieces on the third floor to the massive walk-through installation at the basement, Villamiel grabs the viewer and doesn't let go.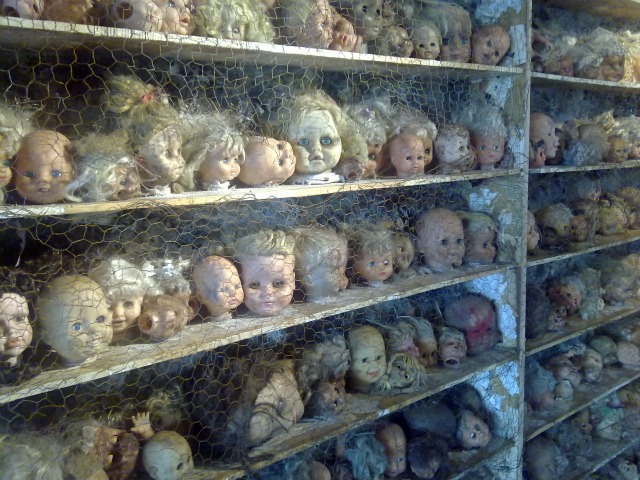 The dolls' eyes seem to follow you wherever you go. Carmela Lapeña
Several things contribute to the exhibit's power. For one, the gallery itself is a surprisingly lovely place. With high ceilings and large windows that provide guests with a view of blue sky and lush greenery, it's the perfect space to spend an afternoon enjoying art. But Villamiel's work contrasts the gallery's conventional beauty, with his blood-reds and ink-blacks, soot-grays and muck-browns.
Beyond colors, it's the fact that the exhibit is made with thousands of dolls found in the Payatas dump site. Dolls of all sorts and sizes with big blue eyes, witchy hair, rosy cheeks, sharp nails, broken and missing limbs, tattered clothes, and twisted torsos. Baby dolls, tiny cats, Disney figurines. Porcelain, rubber, plastic, cloth. It's overwhelming.
One wonders where they all came from, how they must have been played with for hours, loved to bits until they were finally discarded.
Now they serve a different purpose, and are part of something much, much bigger. In one gallery, the dolls are suspended with barely visible string, their arms bound together. They hang at odd angles, and continually swing from side to side. The effect is eerie, and if you stand there long enough you begin to wonder if they are actually peering at you from behind their matted hair.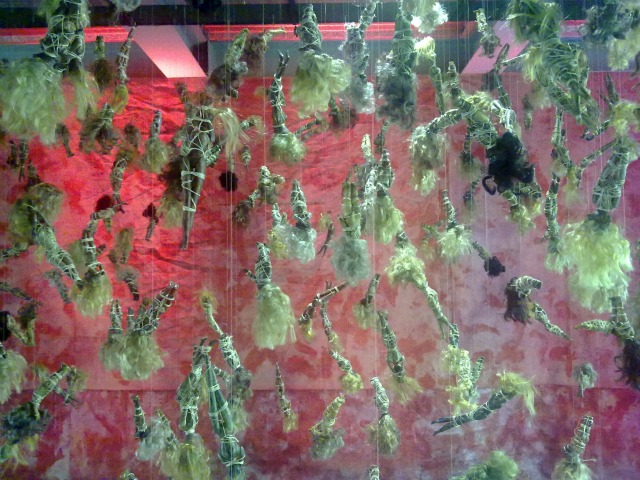 The bound dolls sway gently against an eerie red glow. Carmela Lapeña
Before you can even recover, Villamiel takes things further at the basement warehouse. Guests enter what resembles a fairy tale, only to discover that the seemingly lovely scene is more nightmare than dream. At first glance, everything is just colorful. The floor is strewn with plastic rainbows, and tall bamboo sticks line a path that leads to a makeshift hut. But the plastic rainbows are discarded wrappers, a field of trash with doll's heads impaled on each stick. The sign on the hut's door says welcome, but the feeling is far from warm.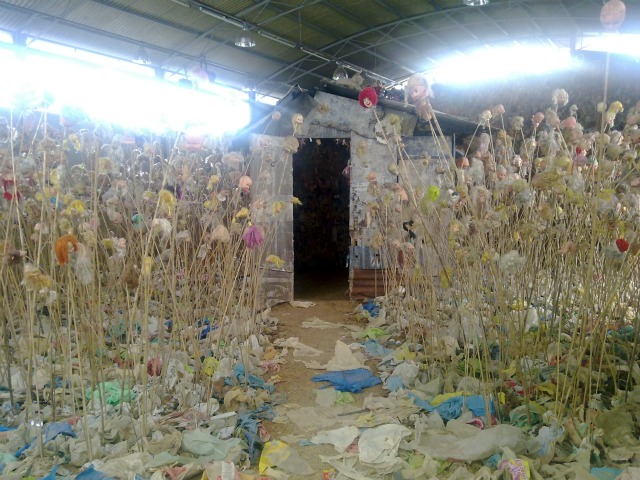 Villamiel's walk-through installation is the stuff of nightmares. Carmela Lapeña
Chills run down your spine as you enter the scene. You know it's safe, but it scares you to death. But you enter anyway, despite your heart pounding and your palms sweating. It's just an exhibit. It's all in your head, you think to yourself. But it isn't, not entirely.
It's all in the dolls' heads, covering every inch of the wall, facing every which way but their eyes on you. Always on you. At some point, you're able to calm down enough to think about it without getting overwhelmed. You may think about how dolls are mini-people, ideals like Barbies with impossibly tiny waists and feet that long for their high heels. They're toys, designed to keep children occupied for hours until something more interesting comes along. They come wrapped in shiny paper and ribbons, as gifts. Or have pins stuck in them, a curse.
While the exhibit feels sinister, the heaviness also stems from sadness. In the exhibit notes, Merrilee R.C. Montaña writes that Villamiel's creations are born out of his wounded heart.
"It is something that he carried inside him for years—an amorphous burden for our country. He bore these stories and allowed his emotions to take shape in his works as he masterfully combined unwieldy objects with truckloads of discarded dolls from the mires of Payatas and translated them into narrative forms of art," Montaña explains.
It is as if these tales of sorrow seep out of the works and into the viewer's mind. You're scared, yes, but more than fear, there's a gloomy weight that settles on your shoulders and sits there for days after. The question is, what do you do next? –KG, GMA News
"Stories of Our Time" runs until March 25, 2012 at Light and Space Contemporary, 53 Fairlane St., West Fairview, Quezon City. Exhibit hours are from 10 a.m. to 9 p.m. from Mondays to Saturdays, and on Sundays by appointment. For more information, visit https://www.facebook.com/Lightandspace.