Filtered By: Lifestyle
Lifestyle
Mina V. Esguerra: Young publisher in pajamas
When Mina V. Esguerra was in high school, she wrote original stories—and I do mean wrote them out by hand—that spanned some 20 notebooks, which friends and classmates passed around. She also tried starting a class newspaper back when her school had none, writing articles and overseeing its printing and distribution.
So it comes as no surprise that several years later, she would be publishing some of her novels on her own and selling them online. It's almost like foreshadowing, isn't it?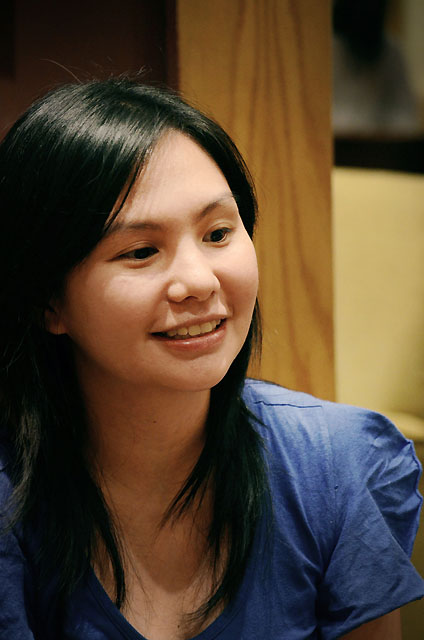 Mina Esguerra says she is 'trying to be the kind of writer that people might be willing to consider.' Gary Joran Mayoralgo
But before she discovered an alternative way to bring her stories to her readers, Esguerra also went through the trials and tribulations of traditional publishing.
"What inspired me to go into that was my friend,
Katrina Ramos Atienza
, was published," she recalls. "We had talked about the whole process she went through, how you submit letters, try to get them to read your manuscript and finally get someone interested.
Maganda 'yung
response
sa
first book
niya
, and it was just an inspiring story, so I did it too."
Summit Books took an interest in Esguerra's work, and welcomed her to their roster of chick lit authors. They published her first novel, "My Imaginary Ex", in 2009, and a year later, "No Strings Attached".
Publishing in pajamas
After "My Imaginary Ex" was published, Esguerra learned that Amazon was accepting international authors.
"I do feel that I get a good deal with my publisher and they treat me well," she says. "But I took a chance that maybe this will work out. Who knows? "
So in 2010, with the release of "Fairy Tale Fail" on Amazon, and later, "Love Your Frenemies", Esguerra added another title to her résumé: publisher. She aptly calls it "publishing in pajamas" because "I really do publish the book at home at night."
"Fairy Tale Fail" did modest sales for several months, but hit an unexpected high at the end of the year, along with other Amazon titles.
"In December 2010, people were offering up a lot of theories, but I think the consensus was that sales shot up because a lot of people got Kindles for Christmas," Esguerra recalls. "And they were buying all these cheap e-books, and mine are all just 99 cents. So, if more Kindles are sold, it becomes more likely that someone will find my books. And it doesn't stop there because you can read e-books in other devices."
Technology is changing the game, so it is now possible for authors like Esguerra to seriously consider independent publishing as a viable and legitimate way to market their work as an alternative to traditional publishing.
"Now I actually decide to write something—usually when I want to go a little more experimental—for the purpose of publishing it independently. But I also like to maintain a relationship with my publisher, so I still develop stories specifically for them."
Experimental goddess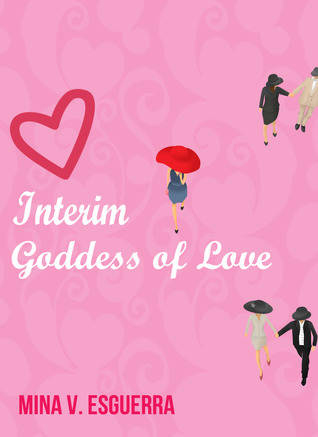 Esguerra's latest experiment after writing 4 books geared toward twenty-something readers is a young adult fantasy-romance called "Interim Goddess of Love". It is currently available as an independently-published e-book on Amazon (and, soon, in other online outlets) and as a paperback through her online store on Multiply.
"Having everybody be teenagers is a challenge I've been putting myself through for several years now, but I kept giving up because teenagers nowadays are so different. I felt so overwhelmed, and I couldn't write authentically about them, so I kept stopping," she reveals. "Then I taught college for a semester, and I realized I could do it if I added an element of fantasy. It doesn't have to be 'Gossip Girl', which is very contemporary. It can be something different."
The result is the story of college sophomore Hannah Maquiling and what happens when the God of the Sun asks her to temporarily fill in for the Goddess of Love, who has gone AWOL. The premise is already very intriguing in and of itself, but Esguerra did promise it's going to be something different, so the secret ingredient is the aforementioned gods and goddesses are actually modern re-imaginations of deities from Philippine mythology.
"By the time I had written 'Interim Goddess', I was getting tired of the usual settings. I would joke with friends na 'yung next, may monster. Next one, may robots," she laughs. "But I did actually want to do something local because I knew this was going to be for Amazon, and the market was going to be international."
No excuses
Esguerra is currently writing the second book in the "Interim Goddess of Love" trilogy, "Queen of the Clueless", which she plans to publish later this year.
Meanwhile, Summit Books is also set to release "That Kind of Guy", her companion piece to "No Strings Attached", in a few weeks' time.
The prospect is probably enough to make anyone call the God of Panic Attacks, but don't worry; it's all part of her master plan to make a living out of writing.
"I think it's possible because of what others have achieved. But the difference between me and people like Amanda Hocking, who became very successful, is they had at least 5 or more novels to their name before they started to take off. You have to write and write and write, and eventually, you will write that thing that brings all sorts of people to you, and the rest of your books will benefit from it."
But success is not just about the number of titles in your backlist, of course. Esguerra stresses that while trying to get a publisher to review your book is now something you go through by choice, writers must remain conscious of the quality of their work.
"My experience in independent publishing is that I didn't have any excuse not to publish because I have all these tools that I can use as long as I finish my manuscript. It's easy, so, no excuses. But you always have to make the best book that you can, and that's also true if you have a publisher. You have to start thinking of yourself as a brand. Are you a brand that people will patronize no matter who puts out your work?" she asks.
"I'm trying to be the kind of writer that people might be willing to consider," she adds. "But that's a challenge also. There are people who know me from buying my books sa bookstore, but a lot of them are hesitant to read e-books. And there are people who now know me through my 99 cent e-books who would probably have difficulty paying $7.99 for a paperback version of the same thing. My goal is whatever kind of reader you are and whatever price point you're comfortable with and whatever format you would like to experience reading my books, it should be worth it." –KG, GMA News
Mina V. Esguerra talks about Publishing in Pajamas on her official website, www.minavesguerra.com, which also has more information on how to avail of her books. You can follow her on Twitter (@minavesguerra) for her latest updates.