Filtered By: Lifestyle
Lifestyle
Comics artist Tony de Zuñiga, creator of 'Jonah Hex', suffers stroke
Many superheroes are known to have that special ability to hear cries of people needing help, no matter how distant they are. In no time, the heroes will come to the rescue.
Tony de Zuñiga, the legendary comics character creator who penned the images of some of the world's favorite heroes such as Jonah Hex, Batman, Superman and Spider-man, is suffering from a stroke and pneumonia.
His friends and relatives only wish his creations will come alive and hear their call.
Seventy-nine-old de Zuñiga is currently at the Las Piñas Doctors Hospital because of stroke and pneumonia. He receives Intensive Care Unit (ICU) treatment with 24 hours monitoring, according to his friend Felix Cua.
De Zuñiga is the first Filipino to ever do illustrations for comic book bigwigs, DC Comics and Marvel. He is best known for giving birth to a comic hero named Jonah Hex, a traditional Western anti-hero, and "bullet-proof" heroine Black Orchid in the 1970s.
In August 2007, the United States Postal Service honored one of his works, Spider-Woman, which became part of Marvel Superheroes' stamp collection.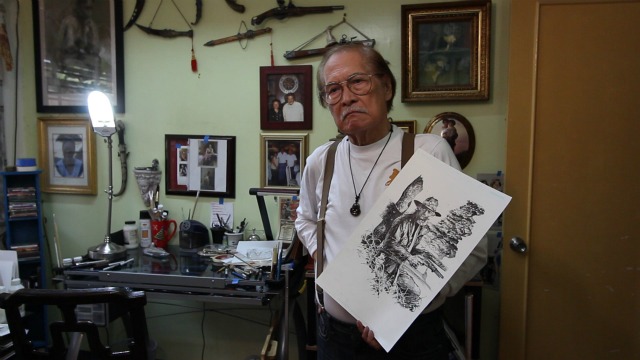 Tony De Zuñiga posing with a sketch of his most popular creation creation, Jonah Hex. Photo by Levi Marcelo
Inspired by a cowboy
Born in 1941, de Zuñiga has always been an avid comic book reader since childhood; among his favorites were artists Jack Kirby and Alex Toth, as well as Alex Raymond's Flash Gordon.
He first realized his inclination with cowboys taking inspiration for Jonah Hex after watching a cowboy movie with his dad when he was four years old.
In another
article
published by GMA News Online, he said he started drawing a cowboy on a horse and his dad was so happy and gave him papers to draw on.
After finishing Commercial Arts in the University of Santo Tomas, the big break arrived in the 1960s. He went to New York and met with DC Comics editor Joe Orlando where he was given an assignment to draw a romance story character.
While in DC, De Zuñiga also inked the first version of the Black Orchid, Supergirl, Ghost Rider, Weird War, and Dracula among others. He then moved to Marvel and worked on some renowned characters such as Spider-man and Robocop.
Unlike any other
Despite old age, de Zuñiga said in an
interview video
posted on YouTube that he is unlike other old men who lose their interest over their work because of poor eyesight and being "burnt out."
"I love to read and observe. I adapt to new trends and apply them to my work," he said. "That's what old people forget to do. Not me!"
His family is asking people to continue praying for his recovery, and his friends, meanwhile, have rallied to help with the financial cost. –KG, GMA News