Filtered By: Lifestyle
Lifestyle
Amid the sand dunes of Paoay, an art installation rises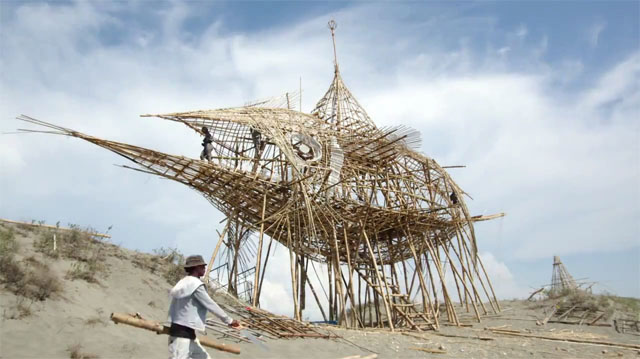 This May, Ilocos Norte celebrates the first La Milagrosa Festival in honor of La Virgen Milagrosa, the province's patron saint.
The weeklong festival culminates on May 10 with "Himala sa Buhangin" at the Paoay Sand Dunes. The event's centerpiece is an installation by sculptor Leeroy New, whose
work has been seen everywhere
from alternative theater, international galleries, outdoor spaces, to apparel worn no less than US pop star Lady Gaga.
New, who says his style is influenced by science fiction, took on a different theme for this project. In a video posted on YouTube, New explains that initially the plan was to do a structure that will be burned at the end of the festival.
"It's like a giant bonfire for the festival... which is symbolic of great festivals and feasts and celebrations," said New during Pecha Kucha Night on April 28 at Samtoy Bookshop in Laoag City, Ilocos Norte.
"Symbolic din 'yung hirap na nilagay mo sa isang bagay. In the end 'yung symbolic act of actually destroying it is that whole cycle of birth and rebirth, life and death, entropy, going back to nature. And the galleon sinking," New adds.
During the festival opening on May 2, the arrival of La Virgen Milagrosa was reenacted, showing how the image of the Virgin Mary was found in a box washed ashore 400 years ago.
Two works
New made two works for the festival. One will be burned, while a larger semi-permanent one will be lit up at night.
"We were deciding on the spot if we wanted to cover it with nipa or anahaw leaves, pero we remembered na sa gabi pala most of the fun 'yung nangyayari. So maganda kapag paglaruan din with lights," says New.
One important concern is that the sand dunes are considered a protected geological site. "Kailangan organic so eventually it will biodegrade and it will return back to the land. And the materials can be used by the locals," says New, adding that it will take about three years for the installation to biodegrade.
New used indigenous materials like bamboo, abaca rope, and inabel, a local textile.
He describes his work as an "almost architectural installation, a cultural installation," as people can climb up and use it as a lookout tower for experiencing the sand dunes.
"I wanted it to be interactive, to be inhabitable so people can actually climb and experience the sand dunes at a different level. It's a height that people haven't experienced when it comes to the sand dunes," he says.
New also says that at one point, the installation looked like a UFO, and at a certain angle you can actually see the boat floating above the sea.
"The kind of installation that I want offers a new kind of experience for the people, the audience going there," he says.
"Himala sa Buhangin" is a whole day event on Thursday, May 10 organized by the Provincial Government of Ilocos Norte from 8 a.m. to 12 midnight. Activities include a sand castle building contest, 4x4 race, zorbing, sandboarding, and a free concert featuring Up Dharma Down and Wolfgang. –KG, GMA News