Filtered By: Lifestyle
Lifestyle
The first-ever Drag King Workshop in the Philippines
Vanessa Fixmer-Oraiz doesn't mind when security guards call her "boss." She motorbikes around Elliptical Circle and handles power tools with confidence. Her strong, open face turns the heads of both women and men at the mall. She also plans to be pregnant with her first child in the near future, and she often cooks dinner for her wife, a white American professor who takes Tagalog lessons with her in Quezon City. While Fixmer-Oraiz exudes masculinity as well as any gentleman on a daily basis, for special occasions, she also performs as a man onstage. Dickie Jaxx is her proudly mustachioed, politically-aware Filipino American drag king persona. For Manila Pride last year, Jaxx lip-synch serenaded a
morena
woman,
kundiman
-style, to tell her that she needed no whiteners for her naturally brown skin. This week, Dickie Jaxx will bring his gender-bending leadership to a group of queer participants in Katipunan. His mission: to guide Filipinas in finding their own inner king at Packing Heat, the first-ever
Drag King Workshop
in the Philippines.
Fixmer-Oraiz came of age in drag king troupes across America, where she and her fellow performers performed political protest pieces set to pop songs. In North Carolina, her most bawdily named troupe performed together for 10 years and toured Europe. (For this article, I'll call them the Country Kings, while advising would-be Googlers of the troupe to subtract one pivotal letter.)
I sat down with Oraiz in the Quezon City condo she shares with her wife, and I asked about her work as Dickie Jaxx.
When did you first start doing drag?
I was always sort of a tomboy. I was allowed to dress in clothes to play sports, be dirty, run around climbing trees. Having to put on the proverbial dress always felt more like drag to me. I came out as queer in high school, around age 16. When I was 21 I was living on my own in North Carolina, hanging out with my friends, and we would have little dance parties in our house. Then we met a trans man who had done drag in Florida. He said, "Have you ever heard of drag kings?" I had never even heard the term. We thought, "Why don't we start something? Try and get paid?"
We blew out the first show. People came from Georgia, South Carolina, and Virginia. I was Dickie Jaxx from the beginning. My first song was "She Bangs," by Ricky Martin. Maybe my half Pinay blood really kicked in—I was definitely considered one of the main dancers in the troupe. At one point I just had tape over my nipples and black pleather pants.
Wow! You got pleather pants for your first show?
Ha, no, I borrowed them.
Ah, beginners' pleather. How do you think you and Dickie Jaxx evolved as you kept doing drag shows in America, and later in Europe?
I think Dickie's a lot cooler than I am. I think he wears cooler clothes than I do. He gets to be a lot more flashy. But we've both grown a lot as people, as performers. It definitely gave me a lot of confidence. It wasn't until the Country Kings and the subsequent 10 years that I became more politically aware. We were founded during the Bush era, which was really oppressive. We were able to perform pieces that were protests; anti-military, anti-occupation, anti-fat phobia. This was the only space of action where we could engage not only with each other, and create something that felt profound and meaningful, but also invite the audience into that world.
Can you give me an example of a particularly political piece you did?
The Country Kings used "Toxic" by Britney Spears. We turned that into a number about cigarettes and tampons and money and greed, and how these things are toxic for us but we can't let them go. We included facts about the similar chemicals in each. There was a five-foot inflatable vagina onstage. There was a six-foot-two tampon. We made it really campy and funny. Drag can be fun, and it can be educational. You can take a song everyone knows and tell a different story. It's easy to start emulating performers, which the Philippines does very well.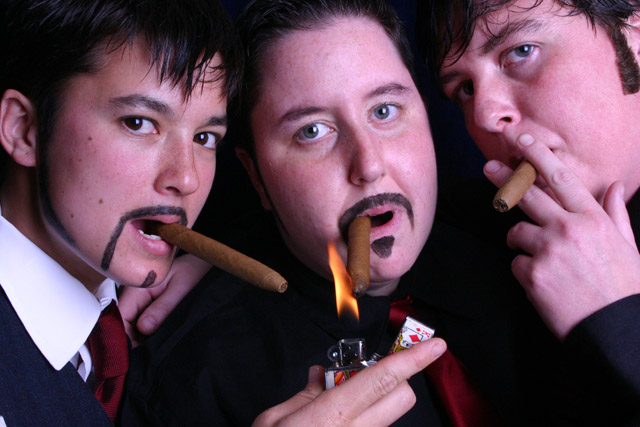 You're Fil-Am, and a very handsome Fil-Am.
Why thank you!
You're welcome. Have you done any pieces as Dickie Jaxx that explored being Filipina?
Yeah, some performances are of what I'm going through, trying to figure out being a Fil-Am. One is me in this very flamboyant "Asian attire," karate pants, almost a kimono. I have a bo stick, I'm doing martial arts moves. Behind me are these images of my Filipino family, What is America?, Humvees, McDonald's. It goes back and forth, back and forth, in this way that's like, "Where is my home?" I juxtapose this against my very Asian warrior-type person fighting in between these segments. The singer in the song says, "Don't be afraid." The music stops, and I throw down the bo. I open up the inside of my coat. The tank top says "I am," and the coat says, "half breed." Then I shed the garment that says "half breed." It ends on this broken moment, with "I am."
One woman came up to me in tears afterward. She said, "I'm half-Samoan, half-Irish. I've been called so many names in my life. Thank you so much for pushing back." I just feel like I've been fighting for so long. I give voice to this experience of not really feeling like you have a home but all you really have is yourself. When my Lola saw me, she told me, "You look like your father."
Oh man. That's powerful. When was the last time you saw your father?
I hadn't seen him then since I was four. So yeah. That was a crazy moment. That was probably the most challenging piece I've ever put together. The original was dedicated to my Lola.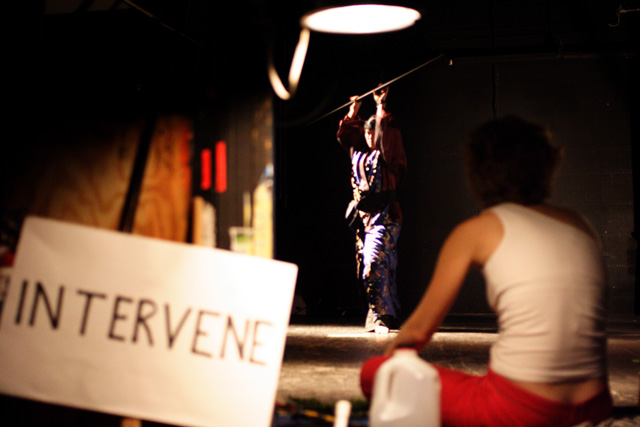 Here in the Philippines, most people know of drag queens, or their only exposure to drag will be in their school handbooks, where cross-dressing is strictly prohibited. Why did you decide to do a drag king workshop here?
I think, with the Philippines being a Catholic nation, there are definitely oppressive similarities to the United States in terms of gender differences. Being able to perform gender, having gender fluidity, safety issues—non-conformity is challenging in Philippine society's fabric. There are a lot more drag queen shows in existence. It's really important to expand and broaden the horizons.
Historically, drag is males performing female gender expression, and vice versa. I'm hoping with this workshop, we can get at what gender is, and how that differs from sexuality. In the context of performing masculinity, there's potential for the repetition of misogyny.
What do you mean? Is it possible for drag kings to also be misogynist, even if they were born as women?
I've seen too many performers just go up there and perform misogyny. They choose music that's really degrading to women, or to queer people, but because it has a really good beat, or because it's flashy, we think it's okay. And it's not okay. It only perpetuates this cycle of oppression. It's heartbreaking. I think performing as drag kings in a patriarchal society, and performing that gender type, comes with certain responsibilities. A man dressing as a woman is now embodying second or third class status, whereas a woman dressing as a man is going in the opposite direction. In a patriarchal society, you can potentially embody everything that's misogynistic about our society. I'm hoping people will walk away knowing the difference.
How do you identify, as far as your own gender and sexuality?
I identify as genderqueer, and queer. My gendered performance is queer. My sex is female, but I present as masculine . . . esque. My sexual orientation is queer, so my sexuality is different from my gender; it's fluid, nonconforming.
What will happen at the workshop?
We'll learn how to apply facial hair, binding your chest, packing. We'll study the difference between walking like a masculine-performing person versus a feminine-performing person. The majority of it will be actually performance. We're gonna provide one song, have people learn choreography to the chorus, and break into groups to develop a little scene.
Do you hope a troupe of drag kings will begin in the Philippines, similar to the Country Kings?
I do hope that a troupe forms, if it's possible. I hope for a drag king vein of activism, play, and self-expression. Drag is funny, it's sexy, it's smart. Ladies love them, men want to be them. Adding a dimension of creativity and subversiveness would be amazing.
–KG, GMA News
Photos courtesy of Vanessa Fixmer-Oraiz