Filtered By: Lifestyle
Lifestyle
Damning documentary on injustice comes home to Cinemalaya
Forty-two eyewitnesses placed Paco Larrañaga in Manila on July 16 and July 17, 1997, the day Marijoy and Jackie Chiong went missing in Cebu. Paco was a culinary student and a teenager, studying in Manila far from his Spanish-Cebuano family. Photographs showed him in Katipunan the night of July 16; his professors' records showed his attendance at an exam the morning of July 17. But he was arrested, along with six other young men, for raping and murdering the Chiong sisters anyway. While Paco and his family waited patiently, then fearfully, for the justice system to regain its sanity, Paco was convicted. The judge refused to hear from all 42 witnesses. So the Larrañagas went to the Supreme Court as a last legal recourse. It elevated Paco's sentence to death row. The chief of court was married, after all, to a relative of the Chiongs.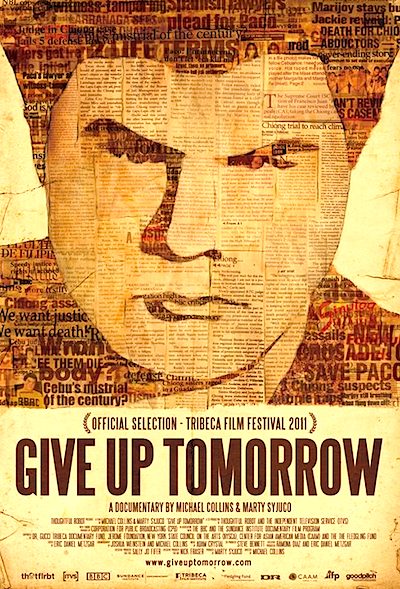 "Give Up Tomorrow" reveals, with damning, commanding clarity, the labyrinthine complicity of corrupt officials, sensationalist media coverage, and insidious family ties and personal favors that led to the conviction and imprisonment of Paco Larrañaga, Rowen Adlawen, Alberto Caño, Ariel Balansag, James Anthony Uy, James Andrew Uy, and Josman Aznar. Filmmakers Michael Collins and Marty Syjuco began research for the film in 2004. "We had no idea what we were doing," they said. They read the manual for their camera on their first plane ride to Manila, and learned filmmaking as they went. Collins and Syjuco debuted "Give Up Tomorrow" at New York's Tribeca Film Festival in 2011, where it earned the Audience Award and the Special Jury Prize. They've toured film festivals around the world since then. On July 22, "Give Up Tomorrow" screened for the first time in the country where Paco's ordeal took place, at the Cultural Center of the Philippines. Syjuco's answer was simple, when an audience member asked him what took so long for the film to come home: "We've been waiting to be invited!" Cinemalaya had extended the first invitation. Much of "Give Up Tomorrow"'s footage is familiar to a Filipino audience raised on local media. The heavy-handed news anchors rendering their own verdicts too soon. The melodramatic, lurid, made-for-TV re-enactments. The sight of the MRT train and the Pasig River at dusk. But in the hushed and loud reactions of the film's first Philippines audience, I could perceive the power of "Give Up Tomorrow"'s arrival in its home territory. "Talaga?" viewers muttered, when an investigator claimed to forget the name of a businessman who was under investigation for drug trafficking at the same time he employed the Chiong sisters' father. "Panalo," someone said sarcastically, when they saw that the President's social secretary, a Chiong relative, had convinced Erap to speed along Paco's prosecution as a personal favor. The audience laughed in disgust when they saw footage of the judge, napping. When the judge's clerk read the men's guilty verdict aloud, many audience members in CCP put their hands over their faces. Some cursed out loud. Some wept.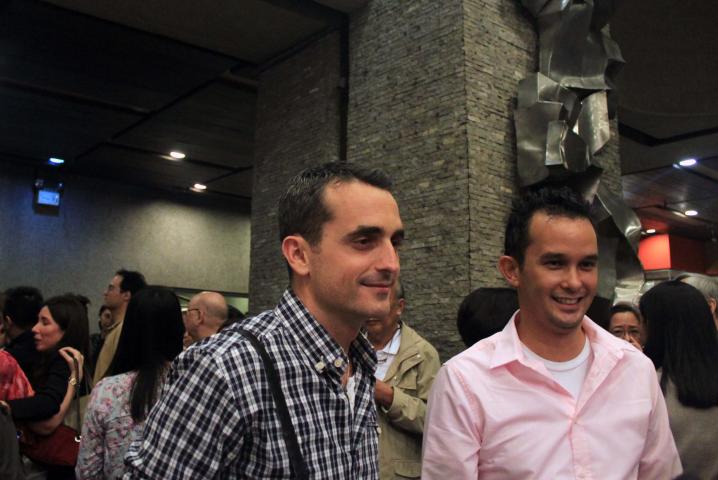 The filmmakers Michael Collins and Marty Syjuco at the CCP for the gala premiere of Give Up Tomorrow.
Later, then-President Arroyo abolishes the death penalty, and Paco returns to New Bilibid Prison from death row. There, he cooks a meal for his family. The sight of Paco cooking, the memory of his schooling clearly in his hands—scattering seasoning on a fish in a wok, wiping a dab of sauce away from a plate—is perhaps the film's most quietly affecting moment. In another country he might have continued in a professional kitchen. But he was in this country, and so he remained in Bilibid, making his suffering parents and co-inmates a meal as best he could, in a makeshift prison kitchen. In each audience utterance at "Give Up Tomorrow"'s Philippines debut, it was clear: Filipinos do not want to be this country. They do not want to be a country where judges fall asleep, defense lawyers are jailed at random, prosecutors and officers receive promotions for jailing innocent men, and personal favors take precedence over any pursuit of the truth. They do not want to be a country where fake sensationalism produces real injustice. They want to be better. When "Give Up Tomorrow" ended, the audience rose unanimously for a long, standing ovation. One of the main interviewees of the film, Paco's sister Mimi, told me she'd spoken on the phone with Paco earlier this week. On one of his five-minute phone calls from a prison in Spain, where he still remains, he was excited that "Give Up Tomorrow" would finally be shown in the Philippines. But he was already thinking beyond his own story. "He's not the only Paco out there," said Mimi. "There's so many Pacos out there. There are many people in Bilibid that have no voice. Hopefully, it will cause some good." Immediately after the film's first screening in CCP, the filmmakers said, "We know this is so much more than a film for many of you." In the audience were witnesses who had testified on Paco's behalf, spouses of the other jailed men, and Paco's family members. Syjuco and Collins asked them to stand. Some stood, slowly, to receive their applause and recognition. It struck me, then, in some audience members' apparent reluctance to stand, that "Give Up Tomorrow" was perhaps a dangerous project. What powers that be in the Philippines, after all, are so invested in keeping the innocent young man and his six co-defendants locked away? Who really caused the disappearance of Jackie and Marijoy Chiong? In CCP, I asked the filmmakers if there were any moments when they felt at risk during the process. "I feel at risk now," Syjuco answered onstage, to some laughter. But he and Collins stayed to answer questions and attend a reception. And there would be a second screening of "Give Up Tomorrow" at CCP, on July 29.
- HS, GMA News