Filtered By: Lifestyle
Lifestyle
Chief justice nominee Sereno shares 7 principles she lives by
"The past two years have not been easy," Supreme Court (SC) Associate Justice Maria Lourdes Sereno confessed in her speech Saturday before alumni of the Ateneo de Manila University.
"It hasn't been easy, but it is never easy to serve a great King, especially a King who gave up his life for us to be saved," Sereno said of the difficulties serving in a 15-man tribunal of the country's highest court.
In the plenary talk dubbed "The Atenean in Politics, Public Service and Development," Sereno, who graduated from the Ateneo with an AB Economics degree in 1980, shared how her faith and unwavering principles led her to where is now.
Sereno was one of the guest speakers in Ateneo's first ever Ignatian festival last July 21, a series of plenary talks on Ignatian spirituality. The festival, held at the campus in Loyola Heights in Quezon City, gathered notable Atenean personalities from the fields of media, music, arts and culture, public service and business.
At 52 years old, Sereno is the youngest justice to be appointed to the SC in this century.
She is also seen to be one of the longest serving justices as she is set to retire in 2030 after serving a 20-year term.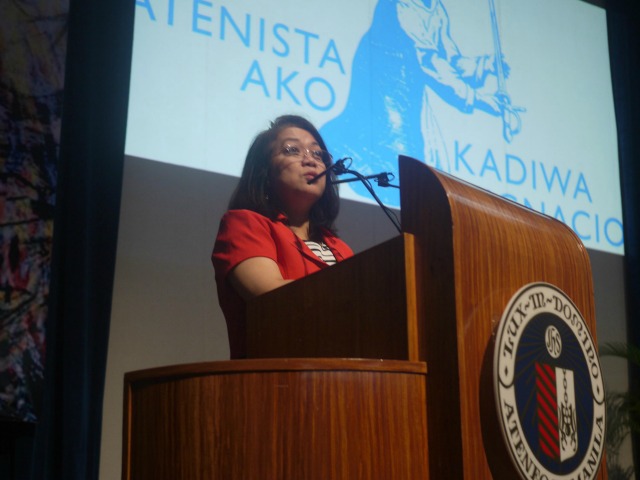 Justice Maria Lourdes Sereno told her audience, "I have to deliberately live a modest life." Alina Co
Definition of success
Two years into her first job in the largest law firm in the country at that time, she resigned to take the low-paying job of a law professor at the University of the Philippines to have more time for her young children.
"In their eyes I was destroying my family's chance of a good life. I was only 26 then but I thought that their definition of success wasn't relevant to me," Sereno said.
Of course Sereno, who, as a young scholar in Ateneo, was thrilled at the thought of service, had a different kind of success in mind.
After landing a scholarship and finishing her degree in the Graduate School of Law in the University of Michigan, she went back to the Philippines to continue teaching and served as legal counsel in various government agencies from 1994 to 2008.
Prior to her appointment to the SC, Sereno was executive director of the policy think-tank of the Asian Institute of Management, and president of Accesslaw, Inc.
From 1995 to 2002, she was consultant for judicial reform, working with the United Nations Development Program, the World Bank, and the United States Agency for International Development.
When she was appointed to the SC by President Benigno Aquino III in 2010, Sereno said some people thought it was because they were longtime friends.
"Earlier, before I got sworn in, I only met him twice. So there's no truth in what other people thought that we were buddy-buddies. I had no political inclination. I was not a known media figure, so perhaps there is really a place in the sun for the quiet and hard-working ones," Sereno said.
7 principles
In her speech, Sereno shared seven principles she lives by as one of the stewards of justice in the country. She hoped that these principles can be useful to the alumni and students who attended her talk.
1. "First, I told myself I will never put myself in a situation where I cannot judge rightly."
To do this, Sereno said she avoids attending social occasions as much as she can, including shying away from the media.
"In effect, I have decided to accept the life of a semi-recluse. So GMA-7 called me yesterday that media recluse," Sereno said, referring to the July 20, 2012
article
on GMA News Online.
2. "I have to deliberately live a modest life."
Sereno said that as a public servant, she deems it her duty to live a simple life. She knows Filipinos have grown too cynical believing corruption is synonymous to high public officials.
She added, "People must be convinced that it is still possible."
3. "I have decided to work in a way that my mind and soul is in my work."
4. "Be truthful."
Sereno said it is difficult to be truthful and to find truth at this day and age assaulted by marketing, public relations and propaganda.
"People think there are so many versions. No. There is only one: the truth. Everything else is untrue," Sereno said.
5. "Fifth rule: if it does not hurt, then I am not keeping my oath. If it no longer hurts for me to see injustice being done, then I do not deserve to stay in the SC."
For Sereno, the search for justice will always be painful. If it ceases to hurt, then something is wrong with one's judgment.
"But you know that you cannot control every circumstance. You know you will lose because I am not part of the majority, then it hurts. Of course you need to control that degree of hurt for you to function," she said.
6. "My family must always commit themselves to keeping my integrity."
7. Lastly, Sereno sums up all her principles in her seventh rule:
"You may say that with all my rules, I am a masochist, a self-flagellist. This is the key: because of my King, I know that to follow the six rules is impossible, but I know in Him, and because He is who He is, nothing is impossible." –KG, GMA News