Filtered By: Lifestyle
Lifestyle
Movie review: APO lives on in 'I Do Bidoo Bidoo'
For some reason, movie musicals (except "Moulin Rouge" because I have a crush on Nicole Kidman) bore me to sleep. This isn't a knock on the genre, but I lose interest when reality is suspended to give way for a song. I've dozed through "The Sound of Music," "Hairspray," "The Phantom of the Opera," and "Sweeney Todd"–right when Johnny Depp was slitting throats in the barber's chair.
Given that, I was apprehensive about spending around P200 to sleep in a theater to see Chris Martinez's latest opus, "I Do Bidoo Bidoo." But two hours later, I felt accomplished to have survived my first musical, and absolutely charmed by Martinez's vision.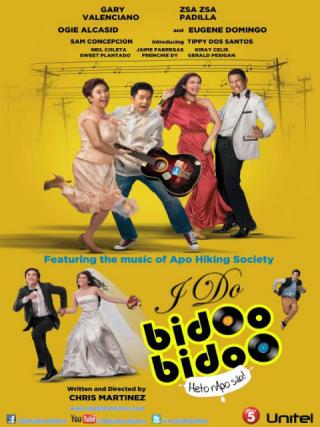 As the first Filipino production of its kind, it draws inspiration from the APO Hiking Society's hit music.
The film stars Rock Polotan (Sam Concepcion), a young, nursing student and father-to-be from a struggling household. His father is one-hit-wonder composer Pol Polotan (Ogie Alcasid) who is married to Rose (Eugene Domingo), a caterer. But before he can marry his girlfriend, Tracy Fuentebella (Tippy Dos Santos), he must also woo her haciendero parents Nic and Elaine (Gary Valenciano and Zsa Zsa Padilla) and convince them that against all odds, to quote APO's "Panalangin," wala nang iba pang mas mahalaga.
Right from the opening credits, the film endears itself with scenic views of the heart of Manila. No matter how much one dreads coming down to its streets–from hawkers to her congested roads–the film warms one up to its consistent, idealized feel.
And just when you think you know your APO songs by heart, Martinez manages to pull a few surprises. There's a nod to Sam Concepcion's "High School Musical" theater days (I also slept through the Disney original), and an interesting twist on APO's "Mahirap Magmahal" done by Neil Coleta, who plays Rock's best friend, Brent.
"I Do Bidoo Bidoo" has an actual story to move the plot along. It's quite refreshing to see a studio-produced local film that doesn't rely on the tired comedy tropes. Though if you're looking for them, the film features unflappable kumares in Sweet Plantado and Frenchie Dy, and a bibo child sidekick in Gerald Pesigan. But they're written in just right, not overpowering the narrative and are given equal opportunity to tease a smile from the viewers.
While the movie banks heavily on box-office hitmakers, its performing ensemble leaves something to be desired. That the world can suddenly break out into beautifully choreographed music video is one of the pillars of a musical, and some of the performances in "I Do Bidoo Bidoo" aren't quite there. At times, people in the background feel like fellow audience members instead of performers in a grand spectacle.
Among the cast, Eugene Domingo easily is the star of the production. Domingo brings her signature style to Rosie as a no-nonsense yet loving mother with her son's best interests at heart. Also, as the stronger maternal figure, she gets to show it with some of the movie's best lines ("Anak natin 'yan, ginawa natin 'yan." "Ginawa niya akong lola!").
Speaking of dialogue, for older audiences, it pays to pay attention. The lines can get furtively PG-13 for those old enough to catch the drift ("Ayoko [ng dumumi sa damuhan], baka suwagin ako ng kalabaw!" "At least may susuwag na sa'yo!").
The burgis Fuentebellas, however, are a bit difficult to swallow as they aren't immune to clumsy English dialogue. I'm not sure if Pinoy films really feel that soap opera dialogue is an important characterization of the affluent. It's also hard to believe that a hacienda heiress living outside the city would attend an undistinguished nursing school in Manila. But one supposes it's all part of how Filipinos like their romances: wildly impossible, but so ridiculously daring that it has to come true.
But beyond the music and the actors, "I Do Bidoo Bidoo" draws strength from its script as it probes the different angles of a teenage pregnancy–how a young couple tries to deal with uncertainty and responsibility, and how parents recover when their darlings color outside the lines of their pre-drawn aspirations.
After two hours and 18 musical renditions, "I Do Bidoo Bidoo" reached an unexpected resolution. A few plot gaps or missing steps might prove to be contentious for some, but I found it enjoyable enough.
For all the film's dramatic build-up, there is no climactic moralizing or grand confrontation. Instead the denouement is set to song and highlights to audiences, young and old alike, that together with values like love, friendship and family, the music of APO is forever. –KG, GMA News
Rating: 4/5