Filtered By: Lifestyle
Lifestyle
'Fearless young artists' win 2012 Metrobank art competition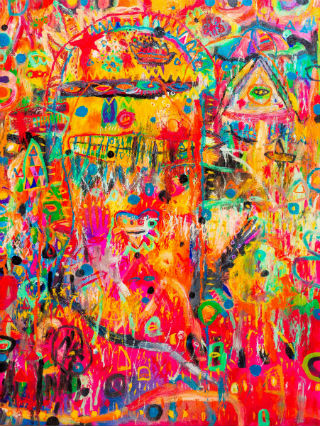 Ronante Maratas' "Undoing Ruin"
With experimental takes, strong imagery, exquisite technique and unconventional painting styles, the winners of the 2012 Metrobank Art & Design Excellence Awards (MADE) earned their place among the roster of winners of the 28-year art and design competition.
According to a press release from Metrobank Foundation, the winning art pieces in this year's competition are a "display of courageous audacity in breaking conceptual and artistic norms."
This year's Grand Prize winners are Christopher L. Gomez (Painting, Water Media), Michael G. Villagante (Painting, Oil-based Medium), Ronante S. Maratas (Oil-based Medium), Alexander A. Tee (Sculpture), and Arch. Jonathan Dangue (Architecture).
Gomez's watercolor painting entitled "Asong Tao: Taong Aso" depicts a human face using dry and wet wash techniques, revealing the artist's freedom and experimental take on the nature of the medium, the press release said.
"With the face looking at the audience, in its massive scale and confrontational air, the artwork faces the issues and various emotions of human existence, struggle and human relationship expressed through the movement of the colored pigment onto the paper," the release said.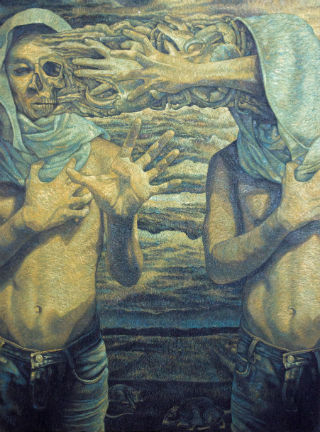 Michael Villagante's "Sagad Hanggang Buto"
Villagante's winning painting "Sagad Hanggang Buto", meanwhile, depicts two human figures, side by side with a mass of human hands and crab claws reaching from under a veil where the head is supposed to be positioned. This mass of hands and crab claws is attached to the disintegrating skull of the other human figure standing at the side.
"This strong imagery employed with exquisite technique speaks of the artist's disgust to crab mentality fueled by greed and selfishness. Like Van Gogh, Villagante aims to depict "vigorous emotional reverberations" in order to awaken, shake and challenge some pre-existing social conditions," the release said.
Meanwhile, Maratas' "Undoing Ruin" won the judges' nod for his "obscure images of eyes, unrecognizable figures, figures of a different species, hands, and thick slashes of colors chaotically displayed and rendered in bright colors."
"Maratas' work speaks the language of neo impressionism colorfully depicting vivid images between reality and imagination. The artist depicts bravery not just by choosing this unconventional painting style but of the deeply personal emotions and memories embedded in the hard strokes and vibrant colors in the artwork. Undoing Ruin is the artist's allusion to those moments in life where one makes a choice between having the courage to dive into unknown waters or regret that you never had the courage to even try," the release said.
Tee's sculpture entitled "Batak" depicts a right arm with a clenched fist that extends until a part of the shoulder and lower half of the face.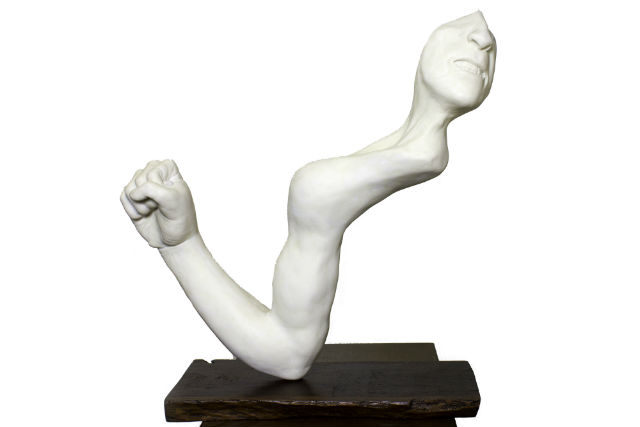 Alexander Tee's "Batak"
"From a glance, one can see the muscular anatomy of the limb but upon closer look one can notice a line that cuts through the back of fists, near the knuckles, that connects until the side of the face. The artist refers to this as an invisible thread that enables the person to subdue emotions of outrage. Batak symbolizes Filipino's resiliency, struggling with one's self and stretching one's limit. Tee confronts issues concerning mankind's psyche through visual representations and forms," the release said. In the architecture category, Dangue won with his "Tahanang Walang Hagdan" design. "Ang tahanang walang hagdan ay idinesenyo upang hanggang sa pagtanda ng mga magulang na gagamit ng tahanan ay patuloy nilang tamasain ang pag baba at pag akyat upang makita ang mga magagandang tanawin sa lokasyon ng ating proyekto," said Dangue.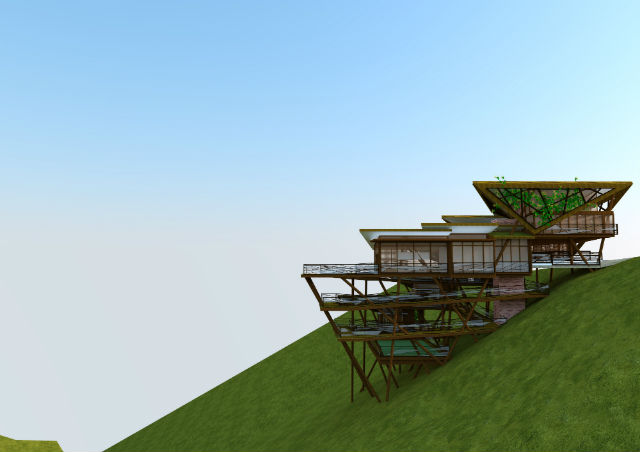 Arch. Jonathan V. Dangue's "Tahanang Walang Hagdan"
Dangue was also the Grand Prize winner in the 2011 MADE Sculpture competition for his
bamboo toothpick assemblage
"Walang Pinanghahawakang Anuman sa Palad."
The winners will be awarded with a glass trophy designed by sculptor Noell El Farol and a cash prize of P300,000.00 each.
"This year's set of winners is a manifestation of the fearless nature of our young artists to go beyond the usual norms, defy the formalist standards, post challenging questions and issues relevant in our present society. We have faith that our rich Filipino culture will continue to flourish through these young artists and designers," said Metrobank Foundation president Aniceto M. Sobrepeña.
A special selling exhibit by the MADE Network of Winners will be showcased side by side with the top semifinalists' during the awarding ceremony, the release said. "This special exhibit is a vision of the future of MADE's new winners, to be future masters in their craft," they said.
A percentage of the proceeds from the MADE NOW exhibit will support the various outreach programs of the alumni organization.
Previous winners of the MADE competition include Bobby Feleo, Elmer Borlongan, Mark Justiniani, Duddley Diaz, Dan Raralio, Noell El Farol, Alfredo Esquillo, Jr., and Gabby Barredo, and established architects and designers such as Architects Noel Tan, Michael Peña, Jericho Adriano, John David O'Yek and Angelo Mañosa. Interior Designers Marybeth Tabaquin, Jasmine O'yek Sy, Wilhelmina Garcia, April Frigillana and Karina Diana Cortez.
The awarding ceremony will be held on September 13. For more information, visit the Metrobank Foundation
website
.
–Carmela G. Lapeña/KG, GMA News
Photos courtesy of Metrobank Foundation