Filtered By: Lifestyle
Lifestyle
Operation Smile's gift for Pinoy kids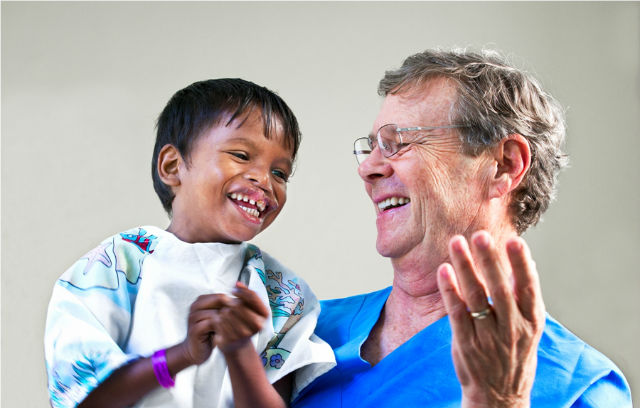 Co-founder Dr. Bill Magee says Operation Smile is the Philippines' lasting gift to the world.
Known for their warmth and hospitality, Filipinos are often found smiling. But what comes naturally for many of us is a dream for those born with cleft deformity.
Last Christmas, while other kids her age wished for toys, five-year-old Angel Torres got a new smile. Her grandmother, Lisa Buenaventura, shared that until recently, Angel almost never got to leave the house.
"Hindi siya nilalabas ng mommy niya dahil nahihiya," Buenaventura told GMA News Online at a press conference on November 8.
Cleft abnormality can be repaired easily, but many cannot afford the treatment. Because they are shunned and ridiculed, cleft children develop low self-esteem, become withdrawn, and forgo formal education, according to Operation Smile, a non-profit organization devoted to provide free reconstructive surgeries to children and young adults born with facial deformities.
Buenaventura said that they could not afford surgery, but after Torres was featured in an advertisement for Operation Smile's 30th anniversary, she was operated on last December 20, just in time for Christmas.
"Tuwang-tuwa siya, nakakapag-straw na siya. Dati hindi siya makapag-straw kasi butas. Nung nakapag-straw siya, kahit tubig ini-i-straw niya," Buenaventura shared.
The operation was life-changing for Angel, who is now able to go outside and play with other children. The operation has also made a big difference in their communication at home.
"Malaking pagbabago, kasi naiintindihan na namin. Pero dati, hindi namin naiintindihan," Buenaventura said.
Angel, who is now undergoing speech therapy, is still shy, preferring to communicate with her hands, but her smile almost never leaves her face.
4,000 Pinoy kids born annually with cleft deformity
Angel is one of around 4,000 new cleft children born every year in the Philippines. Operation Smile said oral cleft is among the top 12 congenital defects in the country.
Cleft children suffer from low birth weight, which is difficult to correct owing to the nature of their deformity, Operation Smile said.
As a baby, Angel was very difficult to feed, Buenaventura recalled. "Halos hindi kami natutulog gawa ng mahirap padedehin itong batang ito," she said, explaining that Angel refused to use the nipple designed for children with cleft palate, so they would use a normal nipple instead. "Lalagyan lang namin ng kaunting butas na medyo mas malaki sa normal. Tapos pipigain namin," she said.
According to Operation Smile, one in every 10 children born with cleft die before their birthday, and 12 percent do not reach the age of five. Buenaventura noted that the sooner cleft children can be operated on, the better.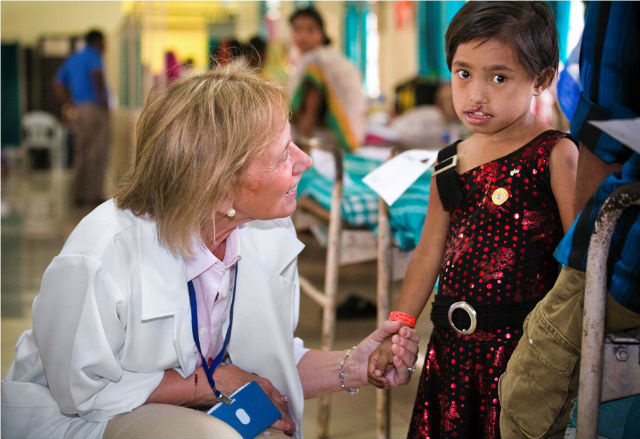 Operation Smile has given free reconstructive surgeries for 200,000 indigent cleft children all over the world. Nearly 25,000 of those treated globally are Filipinos.
Free reconstructive surgeries
This month, Operation Smile is holding its "Journey Home" in celebration of its 30th year. It embarks on the biggest ever medical mission in the Philippines from October 25 to December 2.
Some 1,000 volunteers will perform free reconstructive surgeries on 1,500 indigent cleft children in the cities of Naga, Angeles, Silay, Cagayan de Oro, Manila, Dasmarinas, Cebu, and General Santos.
Of the 1,000 volunteers, 700 are Filipinos, and 300 are from 35 countries.
"We can describe Operation Smile as a global Pinoy. Born in Naga to American parents, and now, serving the whole world, the children of the world, that even our Filipino volunteers are participating in missions outside the country. And in this journey home, there are some Filipino volunteers coming home to give back to their own country," said Roberto Manzano, president and executive director of Operation Smile Philippines.
Manzano said that in order to continue their charity work, they will adopt the public-private partnership approach. Operation Smile will focus on expanding its outreach programs, going to more areas, treating more children, and establishing more cleft care centers.
He noted that Filipinos can help by participating in mapping patients.
"If you want to treat more patients, you have to look for them, and we will do this with the use of technology," Manzano said.
Developed by the Ateneo Java Wireless Center for Smart Communications, Inc., the Op Smile mobile app allows volunteers to help map patients by taking their photos using a mobile phone camera. Volunteers will then key in patient information, and send the data to a central web-based database that specialists can access.
The app will be used in the "Journey Home" missions, which Operation Smile's founders hope will change the lives of 4,500 Filipino children through 1,500 cleft surgeries and at least 3,000 dental treatments.
It all started in PHL
"The Philippines is the home of Operation Smile. If it hadn't been for the wonderful personalities of the Filipino people, if it hadn't been for their warmth, their energy and involvement, I doubt that we would have ever thought about coming back that second time," said Dr. Bill Magee, who co-founded Operation Smile in 1982.
Magee had come to the Philippines for a one-time medical mission with his wife, Kathy. Out of 300 children, only 40 were operated on. Magee recalled one woman who came up to them with her daughter at her side. The woman offered them a basket of ripe bananas, a thank you gift despite their having turned her daughter away.
"It was then with tears coming down her cheeks and ultimately, tears coming down our cheeks, that we said we really need to bring a group of our friends back to take care of those 200-plus kids that we had turned away," Magee said.
The Magees did return, and eventually Operation Smile grew to become a global movement. Over the past three decades, it has provided medical evaluations to two million indigent individuals around the world of whom 200,000 received free reconstructive surgeries.
Nearly 25,000 of those treated globally are Filipinos, making the country the biggest beneficiary of Operation Smile, the press release said. For Magee, "Journey Home" is an opportunity to thank the Filipino for starting Operation Smile.
"It was because of you that Operation Smile began. So as hundreds of volunteers came here, and your health professionals traveled to other countries, the Philippines became the bedrock of Operation Smile. It was only fitting that we come home to the Philippines to celebrate this," he said.
Magee encouraged Filipinos to participate in Operation Smile. "There's a place for everybody within Operation Smile. You don't have to be a medical doctor, you don't have to be a nurse. You just have to be a good-hearted individual," he said. –KG, GMA News
For more information, visit www.operationsmile.org.ph Photos courtesy of Operation Smile