Filtered By: Lifestyle
Lifestyle
Theater review: Rothko and the conflicts of artmaking in 'Red'
In a country where pomp and pageantry, grand production design and choreography – not to mention noise and music and everything in between – is what's deemed as entertainment, there is nothing in "Red" that will interest the every-Pinoy viewer.
But it has everything we should see about local Pinoy talent, it is everything that writing about creativity should be. "Red" by John Logan is a two-character no-intermission play about artist Mark Rothko and fictional assistant Ken. "Red" is fantastic material because it resonates in third world Philippines, given the travesties of art and culture, creativity and artmaking, in this context.
Yes, "Red" got those bad reviews in the US. No, they couldn't even begin to imagine an audience such as Manila.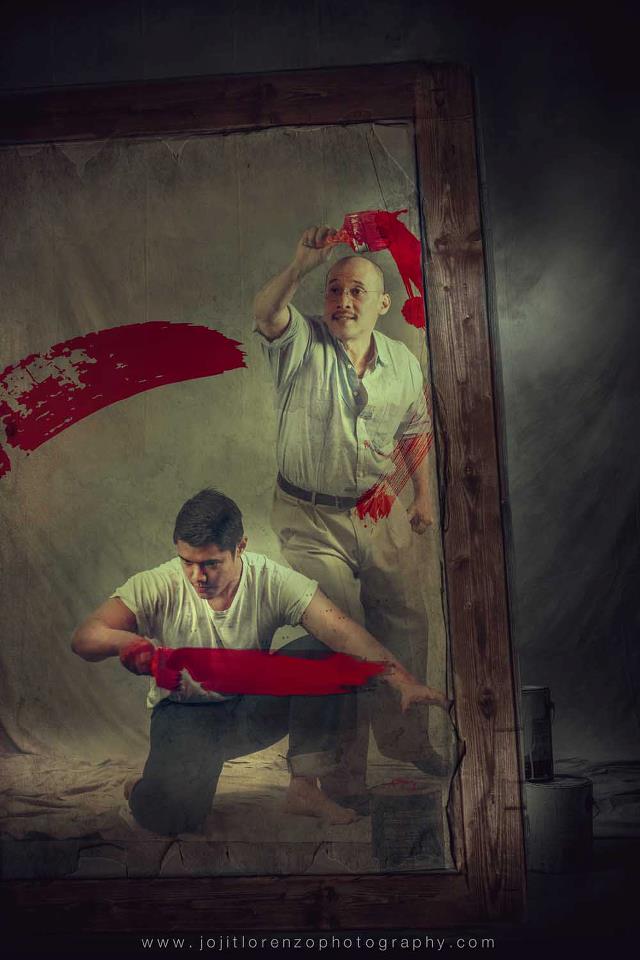 Bart Guingona and Joaquin Valdes play artist Mark Rothko and his fictional assistant Ken.
Which is not to say we are less of an audience, as it is this: what this play dares do is not something we like doing, or would enjoy seeing on any stage. This version of yabang in Rothko, and this naïve Ken, those exist too often in this country. Artists on high horses and bright-eyed young artists are familiar to us. They will keep you awed by "Red."
Elsewhere in the world, that story might have already been done better, if not countless times; in the Philippines, it is something we don't quite talk about.
Here is where the daring of "Red" lies as it is staged in Manila, and it will hit you the moment Rothko (Bart Guingona) asks of Ken (Joaquin Valdes): "What do you see?"
It is a canvas filled with red. As most of the canvasses are on stage, as the space itself will be about a particular kind of red paint being mixed in a pot, about having some red spill on the floor, having red splatter the two actors' clothes, their faces.
It drips with red.
Rothko as star, as context
Their conversations will be Rothko's artmaking, his hatred of critics and art patrons, gallery owners and other artists. He refuses to be mentor, but will tell Ken of the literature he must be reading, the philosophical works he must know about. That is, if he wants to be a painter, if he isn't a painter yet. He is assistant to Rothko, but also someone who is within his own crisis, growing up with no family, being transferred from foster home to foster home, taking on the role of older brother seriously at age seven, after the murder of his parents.
Ken's character rolls with the punches of Rothko, and the changes from his naiveté are subtle, allowing for the sense of his own insecurities keeping him where he is: prepping canvases and cleaning up after Rothko.
Which is no easy task in the face of any temperamental artist. Rothko at this point in his career, in 1958 New York, didn't make it any easier. He had just been commissioned by The Four Seasons restaurant to do paintings for its walls, and Rothko's delusion was about ruining the appetites of its would-be patrons, something that he articulates after he has worked on some 40 or so paintings for the restaurant. He would later return the money for the commission and refuse to do the commission.
This is the context of this stretch of two years that "Red" puts on stage, and it is one that's riddled with the complex artmaking process that we imagine is in our bigger name artists, given what we know of their stereotypical craziness. Yet here Rothko is revealed to also be quite lost, wanting to be relevant, but wanting to disengage with the world; dismissive of art that's happening outside of himself; snobbish about what art is, mean about what art isn't. Conflicted by the act of selling out to do a posh restaurant's walls.
He hates the fact that everything is being liked, that all art is acceptable. In the play he screams: "Where's the discernment? Where's the arbitration that separates what I like from what I respect, what I deem worthy, what has. . .listen to me now. . .significance."
So it seems that 1958 America is actually 2013 Philippines. Such is this play's appeal. Such is its truth.
Guingona's talent beyond Rothko
To say that Guingona is brilliant in the role of Rothko is an understatement, and that is really a failure at finding the right words for this portrayal. Last year, in "Next Fall" I had wondered why I wasn't seeing more of Guingona in theater. Kicking off the year with "Red" made it worth the wait.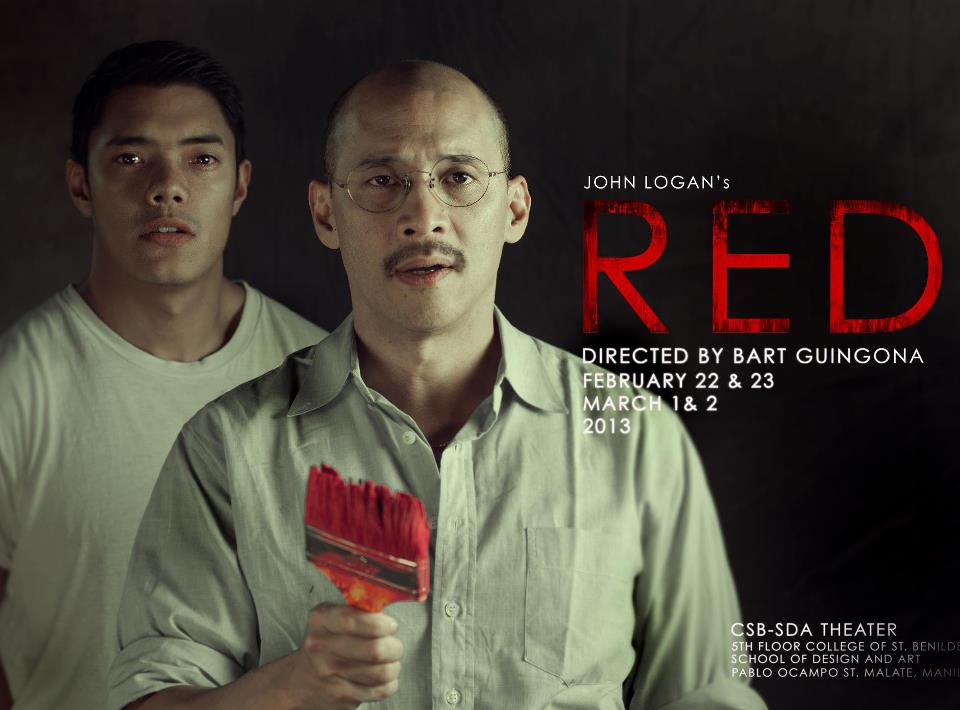 "Red" resonates in the context of third world Philippines with with its travesties of art and culture, creativity and artmaking.
And no, this is not about Guingona's mere existence as actor, layering the words here with new meaning – that isn't flattering at all, really. Instead the gift of Guingona is that you completely forget it is him, at the same time that he need not necessarily be Rothko, as he could just be the every-artist. The stance is both confident and tired, the tone is excited and frustrated, there is nary a kindness in his voice, as there is an undercurrent of pain.
A worthy other to Guingona, is Valdes as Ken – he's really the surprise here. The innocence and positivity are easy, maybe the naïve young artist, too; but Valdes evolves as subtly as this character needed to here, becoming less awed and more opinionated, carrying more weight with each step, from one scene to the next. Where he moved from wanting to please Rothko to knowing him well enough to refuse being carried away by his drama; where in the beginning he had few words and later knew to point a finger at – and scream about – Rothko's limitations.
It's easy to think that the high point for Valdes here was when he talked about Ken's parents' death; instead it is actually the scene where he dares take on Guingona's Rothko, eye-to-eye, like they are equals. It is the daring of youthfulness that is here, as it is just Valdes taking on another character that is far larger than he is, and doing it with less chutzpah and more intelligence.
That scene where Rothko and Ken go down a list of what red means, it is something that has stayed with me far longer than any other stage scene in a long time. That is something this text owed to these two actors.
Elsewhere, this play was faulted for having become a coming-of-age story of sorts for this younger character. And yet it would seem to be the perfect ending for this Pinoy audience, where we have yet to learn to stand up to our patrons and mentors, official and unofficial; where it needs to reach the point of crisis before we have the balls to even untangle ourselves from the clutches and claws of our cultural mothers and fathers.
We forget that red also stands for rebellion. And in this country, "Red" is certainly what we need (to see) still. —KDM, GMA News
Directed by Bart Guingona for The Necessary Theater, "Red" runs on February 23, and March 1 and 2 at the CSB-SDA Theater, 5th Floor, College Of St. Benilde School of Design And Arts in Manila. All photos courtesy of The Necessary Theater.
---
Katrina Stuart Santiago writes the essay in its various permutations, from pop culture criticism to art reviews, scholarly papers to creative non-fiction, all always and necessarily bound by Third World Philippines, its tragedies and successes, even more so its silences. She blogs at http://www.radikalchick.com. The views expressed in this article are solely her own.