Filtered By: Lifestyle
Lifestyle
Given to fly: Capt. Halili still has 'right stuff' at 67
Captain Meynard Halili flew a kite when his folks wanted him to sleep after lunch so he'd grow up to be tall. "But look at me, I'm short!" he said. It was a few years after World War II, and one particular afternoon, that his kite pointed him to a dream.
"[There] was a gleaming airplane," he recalled. "This was a post-war situation. 1950's, and this American flyer was doing loops, rolls, and everything. And I said that when I grow up, I'll fly just like that."
He wouldn't fly a plane until he became 40-years-old, but he sure held on to his dream.
It was new journalism writer Tom Wolfe who chronicled the elite requirements needed to transform test pilots into astronauts in his book "The Right Stuff". Transcending enormous risks and technical dangers needed a different level of mental and physical strength; what jet pilots called the "right stuff."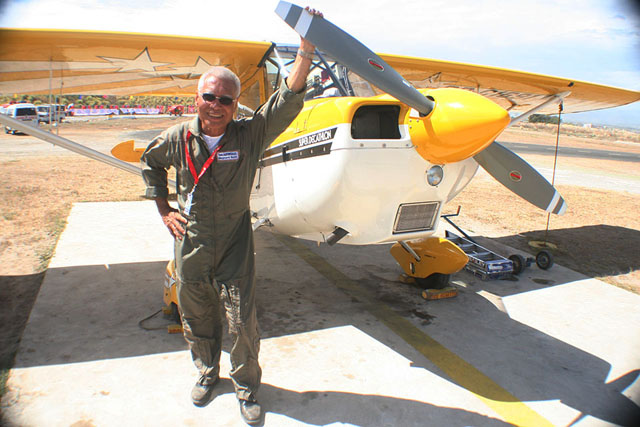 67-years-old Capt. Halili is the only Filipino licensed to perform aerobatic aircraft exhibitions in the country.
Capt Halili certainly has the right stuff. First, he surmounted his childhood in a poor family, then he worked for Philippine Airlines and got into the cargo business afterwards, where he earned enough to send himself to study flight in the United States.
"I learned everything from seaplanes to gliders, aerobatics," he told GMA News Online. "I just loved it."
Now at 67, he still flies his plane at the 18th Philippine International Hot Air Balloon Festival. He's the only Filipino licensed to hold aerobatic exhibitions in the country.
Throughout the four day gathering, he'd hop into his plane twice – in the morning right before the Breitling Jet Team flies, and once more in the afternoon.
"I do aerobatics but that [Breitling] team is superb," he declared in awe.
Capt. Halili has been flying for years, but his record is not spotless. One time, he had an air show accident that almost cost him his life.
"I went up to about 800 feet upside down [and] rode to a cloverleaf," he told GMA News' Cata Tibayan. "[Then] I went for a hammerhead and on the way up at 200 feet the engine fails."
With strong faith, he converted his fall to airspeed to bring the plane relatively safe on the ground.
"People thought I'd be gone. But God is good, I had no bones broken. But I have, what, 50 stitches on my face? You just can't see them."
Halili flies a Bellanca, a design of aircraft known for their efficient, low operating cost gaining fame that does well in world record endurance and distance flights. Capt. Halili's "been married to" his yellow plane since 1999.
"Look at her. Well taken care of, [and] she still looks brand new. [I] never put her under stress, never scolded her for mistakes that I made," he told GMA News Online.
So if you happen to catch him and his yellow plane when you go to the 18th Philippine International Hot Air Balloon Festival, give him a wave. He could have stopped flying because of his age, but he still does it for the love of it. The same way he looked up at the sky and tried to reach it at 40. The same way he watched a plane while he flew a kite as a child.
Then maybe, you'd consider flying at 40 years of age while playing with a kite at the festival. – KDM, GMA News