Filtered By: Lifestyle
Lifestyle
Tambay tales: Book on UP life crowdsources nostalgia
In English, the Tagalog slang word "tambay" translates to the act of passing time idly, or when used as a noun, a bystander or a bum. Derived from the phrase "stand by," the term usually has a negative connotation, but not to iskos and iskas from the University of the Philippines (UP).
In UP, the "tambayan" is a sanctuary. It is a place for endless conversations on life, love, lifeless love, and loveless lives. It is a venue for discussions on academics and politics over a game of pusoy dos or a plateful of pancit canton.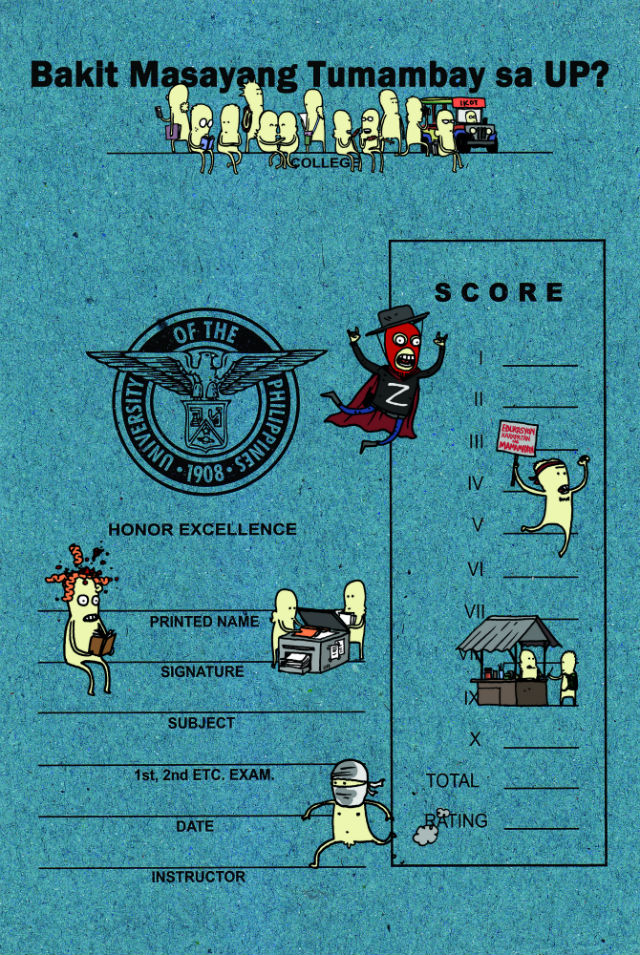 The book "Bakit Masayang Tumambay sa UP?," published by the UP Junior Marketing Association and the UP Writer's Club, tries to capture the jovial spirit of the act of "tambay" in 128 pages. Inspired by the Facebook group "Narinig ko sa UP," it presents a collection of crowdsourced poems, essays, anecdotes, jokes, conversations and photos on adventures and misadventures inside UP.
If you are looking for something to read sporadically to keep the boredom away while waiting in a long line or traveling across train stations in the morning, then this is the book for you. The pieces are mostly written using a conversational tone, as if the authors are just casually hanging out with you one lazy afternoon at the Sunken Garden to share their most memorable UP stories.
The conversational tone of the stories also make them highly relatable. Even students who are not from UP can easily identify with some of the authors who shared stories about flunking subjects or their first days in college. The chapter entitled "Sparks and Burns," in particular, can effortlessly draw in readers with stories on campus heartaches and heartbreaks.
The informality of some of the pieces, however, also became this book's weakness. Some of the poetry and prose in the book focused on topics that bordered on the trivial, such as a caterpillar crawling on the grass, or goats crossing the street. Other entries in the book also used text messaging language, which can be very difficult and bothersome to read.
Still, there are some hidden gems in this compilation of stories on UP life. Jomari Guiao's "Handlebars," for instance, is an innovative piece of literature that tackles unconventional love. Alex Castro's "Ang Lakad ni Isko" is simple yet inspiring. Anna Patrisha Jose's "Nanay Remedios" tells a truly heartfelt and moving story of an oft-neglected campus figure.
All in all, "Bakit Masayang Tumambay sa UP?" provides a lot of insight on UP life. For UP students and alumni, the book packs a lot of nostalgia from cover to cover (which was aptly patterned after the famous blue book, with quirky caricatures from Manix Abrera). It will make you recall all the things you love about being an iskolar ng bayan. It will make you want to come back to the UP campus, to the Oblation's outstretched arms. —KG, GMA News
Book cover art by Manix Abrera