Filtered By: Lifestyle
Lifestyle
Ready your eyes for the IMAX experience at SM Aura
SM Aura's IMAX Theater, like the rest of the brand-spanking new mall in Bonifacio Global City launched last Thursday, isn't going for pretty. But unlike the rest of the mall, which is an unsightly blot on the landscape, the theater is at least just a spare, utilitarian space. It's only there to provide you with two hours of gorgeous visuals and surround sound, and in that respect it delivers.
But first, getting there: The theater is, strangely, tucked away behind the food court on the fourth floor. I don't quite understand the placement, but then the mall on the whole feels oddly planned.
Inside, the space is smaller than your usual movie theater. It only seats 449, with five rows down near the screen and, by my count, nine more a little higher up.
For some reason there is no center aisle to break up the 30-plus seat-long rows, but at least there is ample legroom so that people can walk in and out of each row with ease. It's still an unusual design choice and one that somewhat agoraphobic types like me wouldn't be crazy about.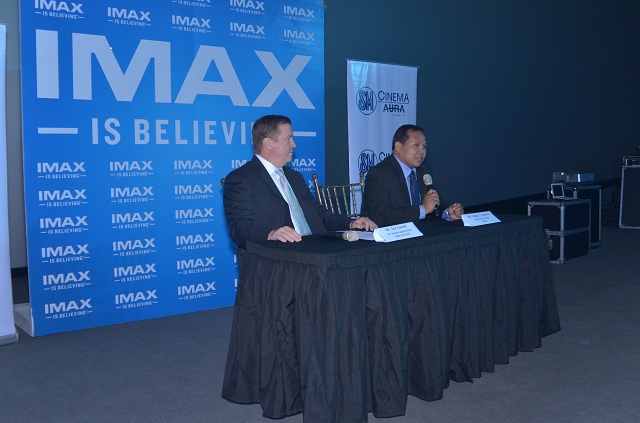 IMAX Asia Pacific senior vice president and managing director Don Savant (left) and West Avenue Theatres Corp. senior vice president Edgar Tejerero hold a short press conference inside the theater in front of the IMAX screen before the screening.
The screen is not a large one, as IMAX screens go: only 21 meters wide by 12 meters high.
But the good—even great—news is that the theater really delivers where it counts: crisp, sharp, vivid images hurtled toward us at speed. In grand "Star Trek" tradition—for that was the film we watched at the theater's launch last Friday —there's a lot of noise in space, and we experienced the sound of explosions and warp travel (and one character's anguished line delivery that would have Trek fans either cheering or rolling their eyes) in glorious surround sound.
Films that are shown in IMAX theaters are either regular films digitally "up-res'd" to IMAX format or shot with IMAX cameras. In the case of "Star Trek Into Darkness", director JJ Abrams shot the action sequences with IMAX cameras, so every high-speed chase, every extended knock-down drag-out fight scene, and every fabulous flap of Benedict Cumberbatch's long coat was rendered the way God intended: in beautiful IMAX detail.
It's quite a good little theater. It might even be worth a trip back to SM Aura. – Barbara Marchadesch/KDM, GMA News