Filtered By: Lifestyle
Lifestyle
Book review: The effective use of drama and verisimilitude in 'The Mango Bride'
I have long since learned my lesson about judging books by their covers: I don't do that anymore. Now, I tend to judge a book by its first few chapters. I consider it the author's elevator pitch to readers: this is the kind of story you can expect, and it will be worth your time to make the journey with me to find out what happens next.
Judging by the fact that someone gets stabbed on the first page of Marivi Soliven's "The Mango Bride" and bleeds all over the prologue, I thought I might be in for a lot of drama—the Pinoy telenovela or Korean drama kind. To my delight, I was right.
"The Mango Bride"—originally titled "In the Service of Secrets" when it won the Palanca for the Novel in English in 2011—tells the story of two women who flee to America to attempt to start a new life.
Amparo Guerrero is banished there by her mother to cover up a scandal that could potentially destroy the name of their
buena familia
. Beverly Obejas, meanwhile, goes there as a mail-order bride—a "mango bride"—in search of love and a better life that she believes only a rich, foreign husband could possibly provide.
Good drama
I likened this book to television dramas because both Amparo's and Beverly's stories are rife with the kind of scenes and elements we are used to seeing in those programs: a family feud, rich boy falls for a lovely but "unsuitable" girl, unplanned pregnancies and society scandals, unlikely romance, the aforementioned dramatic stabbing, karma, and lots and lots of secrets.
This is a refreshing approach to tell a story that highlights old issues that many have written about before but are still very much relevant today, like poverty and the vast difference between societal classes in the Philippines, the mail-order bride trade and the exploitation of women, the immigrant experience, the plight of war veterans, and even how we, as a culture, deal with secrets and shame and family values.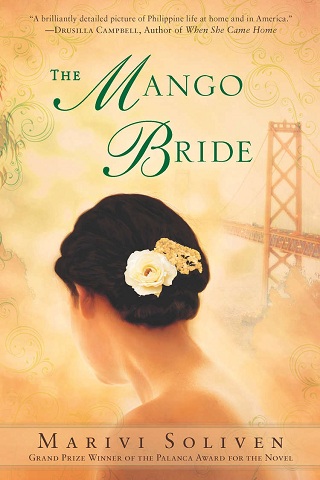 Verisimilitude: Marivi Soliven's The Mango Bride brims with familiar scenes and sentiments.
I liked Soliven's style because the novel didn't read like it was trying to be too intellectual or even preachy just because it had big issues to tackle, yet it managed to convey just as effectively how serious and real these issues are and how they affect people. Her writing is tight, witty, emotional, entertaining, and perfect for making good drama.
The two faces of verisimilitude
In a recent discussion I had with other book bloggers, we talked about how Filipino readers seem to like looking for verisimilitude when reading books set in the Philippines, even if it's a fiction book.
We like it when we spot familiar places in the story and try to pinpoint locations which are only vaguely described. We smile knowingly when famous people are mentioned or when we read about familiar scenarios like how someone singing Frank Sinatra's "My Way" in a karaoke bar can start a brawl or how someone died when she got ran over by a train.
Although I've never been to America, Soliven's characters and how they live and behave there are still very familiar—we heard similar stories from migrant relatives and friends before—that it was easy to care about them and what happens to them.
Soliven's Manila, meanwhile, is so alive and brimming with that same familiarity. Many of us have experienced how taxing going to visit our dearly departed at a very crowded public cemetery on All Souls' Day can be. We have walked through poor neighborhoods like Beverly's, or driven through posh subdivisions like Amparo's. We are guilty of looking at Filipina companions of foreigners with scorn. And I'm sure we've all decried how Manila traffic is "instant: just add water."
This aspect of Soliven's writing brought to mind the recent hullabaloo over Dan Brown's depiction of Manila in his latest novel, "Inferno", and how he called it "the gates of hell."
Apart from a few exaggerations (news flash: it's a fiction book), it really is no different from how other authors have described Manila or how filmmakers have depicted it before. It's a wonder these people haven't received letters from concerned government officials or been heavily criticized so publicly before.
"The Mango Bride" is worth reading for its great writing, engaging plot, and the verisimilitude. But it is also worth stepping into the world of the book and going through the emotional wringer to appreciate the struggles that some of our countrymen go through even if we have not experienced it ourselves. At least some of us are lucky enough that we can step out of that world and go back to our more comfortable realities.
— BM, GMA News
"The Mango Bride" is available in book stores nationwide.
---
Meann Ortiz is an engineer, freelance writer, and blogger. She has stepped into many other worlds through books and wrote about her experiences on her blog, The Girl Who Read and Other Stories. The opinions expressed in this review are solely her own.