Filtered By: Lifestyle
Lifestyle
The grown-up palette of CJ de Silva
Christiana Jade "CJ" de Silva was, according to a series of instant milk ads that ran on TV more than a decade ago, a gifted child. The ads named her and several other children as special, outliers of a good kind, the ideal kids that parents want as their own.
That was in the 1990s.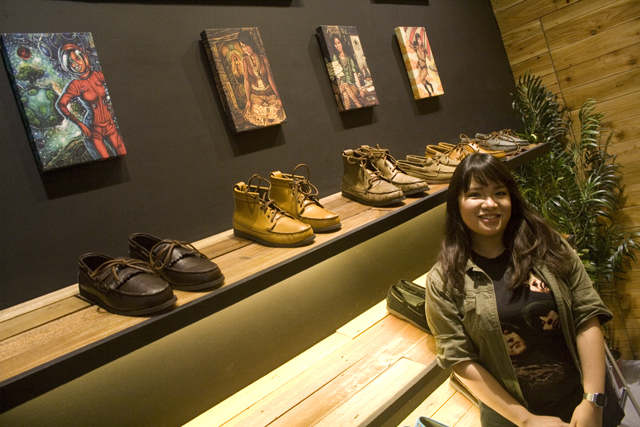 CJ de Silva: No longer a child, still gifted. Photos by Roehl Niño Bautista
"I'm an adult now. Usually people would think na, 'Ah, matanda ka na pala! Akala ko maliit ka pa lang'," de Silva told GMA News Online. "More than ten years ago na yung commercial pero the image of CJ de Silva that people have in mind is a kid."
The child wonder painter is turning 26 in a few weeks, happily married, and working as an art director for an ad agency while still honing her craft on the weekend.
"I try to balance it kasi mabu-burn out ako sa ahensya culture if I don't have an art thing that I do on weekends," she said. "And it keeps me inspired. Come Monday, ready na ako, hindi ako sawa sa advertising."
In 2010, she saved up for a comeback exhibit, creating pieces that revolve around women with the oddest jobs. "May detective, archaeologist, astronaut… aspects of woman as a self-actualizing person, kasi I wanted to come back not as a kid, but as a grown woman."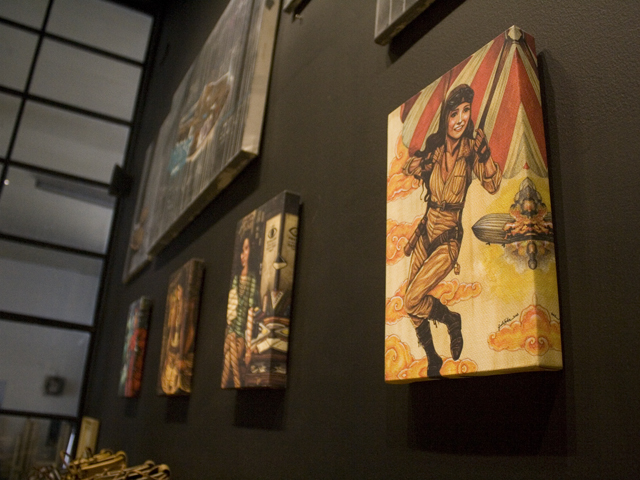 CJ's works on display at The Flying Dutchman store in Makati.
She had 15 pieces planned and was working on her eighth when a strong habagat struck and destroyed the paintings in the first-floor studio of her Malabon home.
"Nung sinubukan naming siyang i-recover, wala na, faded na, watercolor pa naman din. Pero I got to scan them in high-res [beforehand], so I get to print them."
Four prints ended up inside Flying Dutchman at The Collective in Makati, after a post-lunch shopping with officemates introduced her to the owner, who asked if she would like to display some works in the shop.
"Sabi ko sige, kasi feeling ko kailangan ko rin ng presence sa mga hipster area," she quipped. "Kasi yung mga contemporary artists, everywhere sila. Kailangan kong sabayan eh. Baka ako ma-perceive as passé, kailangan maging in."
'Ayoko na mag-paint'
CJ grew up surrounded by paintings. Her grandfather was a painter, the barangay go-to guy for signs and posters. Before tarpaulin printers existed, CJ's lolo did streamers and murals while she watched and tried to participate. "Nakikigulo ako." Her father was also a painter; she became one too, eventually graduating magna cum laude from the UP College of Fine Arts.
She didn't feel the pressure of her fame at first. "Noong grade 5 ako, nirelease yung commercial. Parang for [my classmates], it was normal because I grew up with them na 'yeah, she knows how to draw, nothing special'."
But when she transferred from Saint Gabriel Academy to St. Scholastica's College for high school, she found that her prominence meant much expectation.
"They recognize the name pero 'di nila marecognize how I look," she said. "Nakaka-pressure siya kasi I was in the honors section. May perception na when you're a Promil Kid, you're supposed to be super intelligent."
She had numerous frustrations in high school. "I wasn't good in math, and people think you're good in everything. Ang pressure sa akin is more of making other people understand na hindi ako super genius, I'm not Einstein," said CJ. "Pero siyempre tina-try kong hindi bumagsak."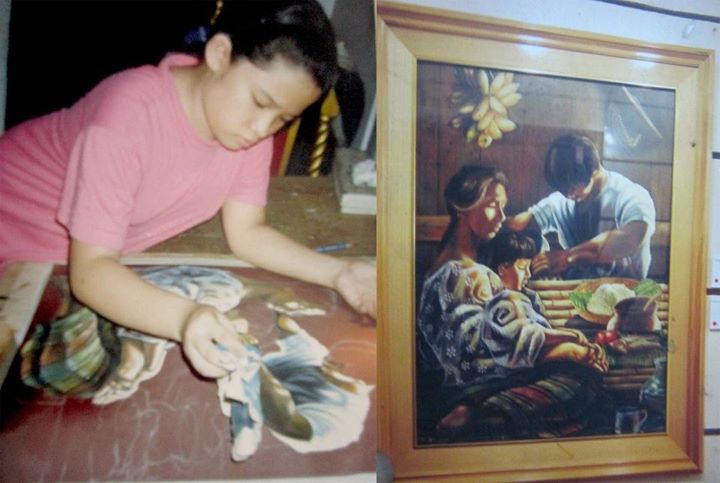 The young artist at work and (right) the finished painting. Photo courtesy of CJ de Silva
At some point in high school, she wanted to quit painting.
"Part of rebellion [phase]. I told my dad 'Ayoko na mag-paint, nakakasawa na,' as in may ganun akong moment. I have to paint a Mother and Child piece, every week, kasi bumebenta siya," she said. "I painted a woman na blue 'yung light, set in the night, dark siya. Sinabi ng daddy ko, 'Hindi iyan bebenta, patay ka,' tapos hindi talaga siya bumenta. I was so frustrated."
CJ then stopped to concentrate on her academics. "Hindi na siya fun." She picked up a brush again when she entered college, where she thought the pressure would be less because she would be studying with other painters like her, but soon realized that it just changed its form.
"'Ah ikaw 'yung napanood ko noong bata ako, sabi ng nanay ko kung mag-drawing ako, mas magaling ka kesa sa akin,' so parang meron silang 'ah si CJ de Silva, iyan 'yung kailangan kong lampasan," she recalled about her classmates.
College was a different battleground for CJ. Should she establish rapport with fellow artists? Should she compete with everything she had? She had her own frustrations. "Hirap ako sa photography, pero kailangan kong i-uno lahat. Medyo mahirap."
"I was excited to just graduate and start working, kasi nag-OJT ako sa TBWA [the ad agency she is with now] and I realized I like working," she said. "Parang sila 'yung best na naka-intindi sa case ko kasi they know that I was a talent in an advertisement so nawala 'yung expectation sa Promil Kid [moniker] kasi alam nila na 'eh, advertising lang 'yun eh.' Mas realistic na ngayon, mas nae-evaluate nila ako as a person or as an art director more than as CJ de Silva."
Married life
But the CJ de Silva that Wincy Aquino Ong knows is different. After being friends for many years, they got married earlier this year.
"She's a workaholic," Wincy told GMA News Online. "Minsan sinusumpong, moody, very moody. Pero simple ang joys niya. Her happiness talaga ay music and movies."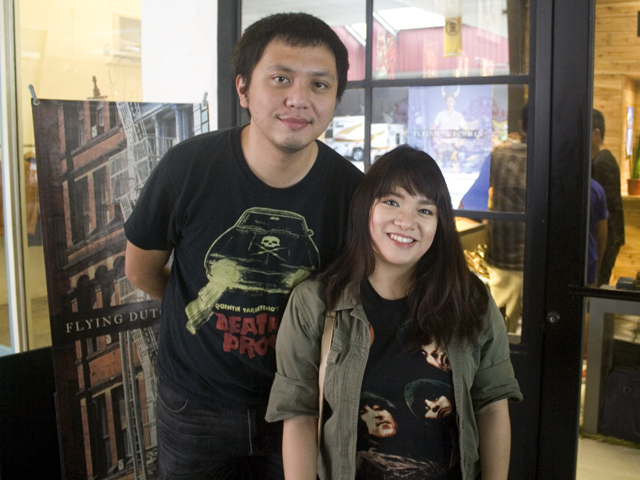 CJ and husband Wincy Aquino Ong got married earlier this year.
"Married life [also keeps me busy]," said CJ. "Mag-aayos ka na pala ng bahay. Maa-appreciate mo 'yung invisible things na your parents were doing."
CJ loves spending time at home, according to her husband. "She's learning how to cook now."
"I try!" she replied.
"Sa gabi, when she paints, I just read. Or draw," he added. "Kani-kaniyang projects lang kami, tapos quiet time."
Sometimes, CJ would teach Wincy how to paint. "Pero sometimes ayoko magpaturo sa kaniya."
"Oh yeah, kasi harsh ako magturo."
While he comes from a comics perspective of drawing, she came from a fine arts background.
"But we share [an interest in] Marvel, kasi 'yung dad ko binawalan ako mag-anime," said CJ. "As in bawal manood, bawal magbasa ng manga, bawal. Ang binigay sa akin, 'Ayan, Marvel, tama ang perspective, tama ang anatomy' or 'yung mga Filipino komiks."
The CJs of the future
Sometimes, CJ gets invited to judge art contests in elementary schools. "Yung mga trainers, from the time I was competing, [the style they teach,] it's still the same...'yung nakaganito," she then put her hands together, as if holding something round and invisible in them. "Yung holding the globe," her husband added. "We are the world, we are the children."
"Parang, paano nila ito na-skew sa theme? Kunwari World Food Day. Bakit may ganun? My dad and I would always discuss [concepts]. Kailangan pa ng konting push conceptually," said CJ. "You can't expect naman kasi hindi part or priority ng curriculum ang art. Pero it's good pa rin na kids draw at nagpapa-contest pa rin sila. Sana lang ma-improve 'yun."
Perhaps with more of a push, more artists like the young CJ can be discovered and their talent nurtured, allowing them to come into their own as artists, just like she has.
— BM, GMA News