Filtered By: Lifestyle
Lifestyle
Is Jeane Napoles a new Imelda, or just a victim of social media?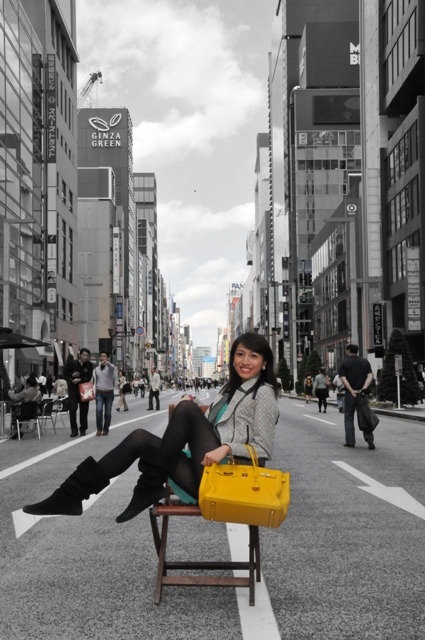 Facebook and Twitter feeds have lately been overloaded with pictures of this girl.

From tickets and backstage passes to the MTV Awards, to photo ops with the likes of Justin Timberlake to Justin Bieber, to a lavish 21st birthday party, it seems as though Janet Lim-Napoles's younger daughter Jeane has it all.

And yet, when National Press Club board member Berteni "Toto" Causing turned the spotlight on her social media accounts via his blog, Jeane practically disappeared from the scene. Her Facebook, Twitter, and Instagram accounts were found deactivated, her WordPress was set to "private," and all that was left for the nosy ones were the photos and notes on her Tumblr posted in 2011.

The blurb beneath her Tumblr profile pic reads, "Amazingly, I don't give a s*** <3"

One can only guess that something did have to give, enough for her to remove traces of a charmed lifestyle when news came out that her mother, JLN Corp. President and CEO Janet Lim-Napoles, had been dubbed the mastermind behind a P10-B pork barrel scheme during the years she was living it up in luxury.

A regular Uptown Girl, a lover of the spotlight--one Tweeter even went so far as to say:

After Imeldific, we have Jeane Napoles.

— Joseph Cataan (@JosephCataan) July 31, 2013
But might the Modern-Day Guillotine, namely, Public Opinion via Social Media, be too quick to judge her?

Glitz and glam, then and now

Back in the Martial Law days, then-First Lady Imelda Marcos often invited renowned artists and musicians to grand dinners at Malacañang palace. Under her well-manicured hand, building after building sprang into existence: the Cultural Center of the Philippines is one, the National Kidney and Transplant Institute another. She owned real estate in Manhattan, a sterling art collection, a dazzling array of jewelry, and--most notoriously--over a thousand pairs of shoes.

All of 23 years old, fashion designer and model Jeane Napoles is no Imelda Marcos, not yet anyway, but that does not stop one's eyes from bugging out upon seeing the Loboutins, Max Azrias, and Celines gracing her closet.



Contemporarily Imeldific? Maybe a little.

Her Tumblr account also reveals that the younger Napoles had a penchant for partying and shopping at a number of First World destinations – Paris, France; London, England; and Los Angeles, USA.

That's not to say she wasn't a good student. Her LinkedIn account lists her as having been President of the Honor Roll Society at her college, the Fashion Institute of Design & Merchandising in L.A. There, she was an International Manufacturing & Product Development major and graduated magna cum laude last year, according to her mother.

The tuition at FIDM differs for each major. For an IMPD major such as Jeane, the tuition would have cost around $42,405 inclusive of two study tours to Asia and Europe.

According to her Tumblr account, midway in her studies at FIDM, Napoles lived in the penthouse suite of 1010 Wilshire in L.A. This was before she moved to the Ritz-Carlton.

Hard-earned or ill-gotten wealth?

Netizens were outraged upon seeing the younger Napoles's photos of her expensive belongings, despite her mother Janet's assertion that they grew rich from coal mining in Indonesia, and that their funds came from legitimate businesses.

The Bureau of Internal Revenue (BIR) has stepped into the picture, investigating the Napoles family's properties. In an ANC interview, BIR Chief Kim Henares stated that there was nothing wrong with displaying one's wealth, so long as one pays the corresponding taxes. She confirmed that someone came forward with photos and information on the Napoles family.

The scandal first leaked in July, four months after the NBI rescued kidnap victim Benhur K. Luy, a distant relative and personal assistant of Janet Lim-Napoles, from a condominium unit in Bonifacio Global City.

When Luy detailed the reasons for the kidnapping, the NBI sensed that something fouler than a simple abduction was afoot: apparently, the elder Napoles did not like anyone copying her methods of acquiring funds.

But how did she acquire such funds?

The website of the family-owned JLN Corp. yields only the following information in the "About Us" page, which is about as vague as Janet's media interviews:

"JLN Group Of Companies was established last April 27, 2009. Our company provides explicit service and outstanding products addressing the unique requirements of different industries all over the Philippines.

"JLN Corporation also serves as the prime and holding corporation for a number of subsidiaries.

"Today, over the years of hard work and dedication, JLN Group of Companies boasts of a highly competitive venture and has successfully managed to survive the challenges of the local market industry and has penetrated numerous roster of clientele.

"JLN Corporation has expanded its operations and widened its resources to meet the fast and growing demands and will continue to be a reliable provider of quality products and outstanding service."

JLN's home page contains a slideshow of generic pictures on the following services:
Agriculture Science

Healthcare Services and Equipments

Threat Detection and Prevention

Renewable Energy Design and Implementation

Engineering and Construction, Professional Security and Surveillance Systems

Advance Biometrics

Information Communication Technology
And these three words in bold white letters: WHO WE ARE.

But according to Luy, those aforementioned "years of hard work and dedication" were directed mainly at funneling some P10-B in pork barrel funds into ghost NGOs through government-funded projects.

JLN apparently represents the initials of Janet Lim-Napoles, who says she is ready to face the probe into the matter and is willing to open her bank records to prove her innocence.

The Philippine Daily Inquirer, which broke the story, listed five senators and 23 House of Representatives members as JLN Corp. clientele. Most of them have denied any involvement in the pork barrel scam.

Here comes the cavalry

While all this was happening, social media erupted after seeing the pictures first circulated by Toto Causing on the web.

As expected, there was an explosion of outrage and mockery, but an equal number of netizens may have been driven by curiosity--especially after the young socialite closed down all her accounts. A wise move, perhaps, but it also feeds public imagination (which tends to be vicious, at best)--for example, a number of fake Jeane Napoles accounts have popped up in the wake of her disappearance from the Internet.

Some were a little more level-headed and said that all this rage could be directed toward bigger fish in the pond, such as Jeane's mother and those who continue to support the pork barrel, formally known as the Priority Development Assistance Fund (PDAF).

RT @natoreyes More than anger at Jeane Napoles, we should be indignant with those in power who continue to defend rotten PDAF system.

— mars visp (@ur4thplanet) July 31, 2013
Trial by media agad agad for #JeaneNapoles? Saka ko na siya raratratin 'pag guilty na ang mudra niya. In fariness sa luho mo girl ah - wagi!

— Carlo Sapurco (@carlosapurco) July 30, 2013
Dear Jeane Napoles, I'm sorry but using Scriptina in your birthday photo wall just proves that money can't buy you class.

— Mr. Santos (@TheZidVicious) July 31, 2013
all of our taxes went to foreign shopping malls via jeane napoles. clap! diamond-studded shoes could fill empty stomachs of about a hundred

— Pamela Kisha Andrada (@PamelaDave_) July 31, 2013
Part of my salary as a taxpayer goes to 1 The improvement of infrastructure 2 The education of SUC students 3 The LV bag of Jeane Napoles.

— Miguel Lizada (@mlizada) July 30, 2013
Love of mother, friends
"Wala po na nanggaling sa gobyerno, ni piso. Lahat pong yan ay hanapbuhay namin galing sa aming pinaghirapan," said
Janet Lim-Napoles in an ANC interview
. "Kaming mag-asawa ay nagpapakamatay na maghanapbuhay para maibigay po namin sa aming mga anak."
It's a sentiment any mother, any parent can understand. The problem is the possibility of Janet Lim-Napoles having lavished the hard-earned funds of your average Filipino parent on her own child.
In the interview, the elder Napoles confirmed that her daughter indeed had two Porsches and expensive watches--gifted during a few of her birthdays.
For all anyone knows, it could be that Jeane Napoles herself does not know where the money she's been Imeldifically spending has been coming from. And, just like any other person, she does have other sides to her.
Little dresses made out of pillowcases for Africa!♥ http://t.co/V17vysMl What a fabulous, fashionable advocacy! Congrats @jeanenapoles!

— Cheryl Tiu (@cheryltiu) October 26, 2011
#FF to the best cousin on earth; klariza's cousin! @jeanenapoles she is amazeballs..oh no she is TOTESAMAZE :) go follow her right now! :) ♥

— lara (@ohfarmiga) June 1, 2012
Congratulations on the opening day of #trilogy ATC you guys! @queenxtin @obeeham @jeanenapoles @wendellvans high five! Worth the wait!

— Kassy (@kassypajarillo) December 2, 2012
Missed you @jeanenapoles! So good seeing one of my oldest friends again ?????? http://t.co/MlvpPVjyxw

— Schinina Juban (@schininajuban) March 17, 2013
Incredibly sweet post by @jeanenapoles about us - thank you, Jeane! We know you'll go far at FIDM & in fashion! http://t.co/zEYz8Sgx

— Karen Kane (@Karen_Kane) October 20, 2011
Whether one asks her friends, family, or netizens who have no connection to her whatsoever, Jeane Napoles is standing in the light--and whether this light is a gentle ray of sunshine or the glare of the criminal spotlight is dependent on where one might be standing.
It's up to netizens now to make sure that this spark, however small and fleeting, does not distract thousands of honest taxpayers from pursuing the bigger, more pressing issues surrounding her. -
YA, GMA News
All photos from Tumblr account of Jeane Napoles