Filtered By: Lifestyle
Lifestyle
Fat and fabulous: Pinay Curvies advocate body acceptance
The teasing began as early as childhood. As far as Lorna Campilan and Mitch Leus—the founders of a support group for plus-sized women called Pinay Curvies—could remember, they have always been big-boned and perpetually teased about it.
"People make fun of big people sa TV, then in real life. Simpleng sa jeep lang, paparinggan ka ng konduktor," recalled Lorna, who confessed she used to be so angry about the way people were treating her because of her weight. Now a social media manager in a TV network, Lorna told of how she picked fights with 'manongs' whom she caught making snide remarks, "pinapatulan ko talaga."
Pinay Curvies founders Lorna Campilan and Mitch Leus. All photos courtesy of Pinay Curvies
The insensitivity of sales ladies doesn't help either. As a fashionista, IT professional Mitch always had a hard time looking for clothes her size in malls.
"Yung random sales lady, alam mo naman ate ang size ko tapos bibigyan pa ako ng lower size. Dati, I will just keep mum and walk away. Pero ngayon, I can look them straight in the eye and say, 'mataba ako so I need a big size,'" recounted Mitch, who felt frustrated on how plus-sized women have always been underrepresented in magazines.
"There's the occasional plus-size section, but mostly wala," Mitch said, who couldn't help but compare herself curvy women abroad, who have strong support groups and media represenatation. "Feel ko dito kinukutya yung mga big girls when they go gaga over a fashion event. Pag malaki, yuck, nagsusuot ng skimpy, ang taba, hindi bagay."
Without any existing plus-sized women groups, both Lorna and Mitch took their frustrations to the web and created their blogs "
Extra Seksi
" and "
Feastful Life
" as therapy to keep off the insecurities and as Lorna put it, "baka sa pagba-blog ko, makahanap ako ng kindred spirits."
After exchanging comments on their respective blogs, Lorna and Mitch finally met during a plus-sized designer Er Zullie's event. With the encouragement of other plus-sized Pinays and Er Zullie designers Aries de Guzman and Berna Cuevas, these fat and fabulous women set off to start a sisterhood called "Pinay Curvies."
Suppport group for plus-sized women
After creating the site Pinay Curvies November of last year, Lorna and Mitch held their first event January 2013, which was a swap meet.
Lorna was inspired by the plus-sized blogs in the U.S. she had been following, such as
DancesWithFat
,
GirlWithCurves
, and
Nadia Aboulhousn
, where she got the idea to hold a swap meet.
"You bring your old clothes and we swap. Everyone went home with something. It was an intimate and fun event," Lorna said of the swap meet, where twelve people attended.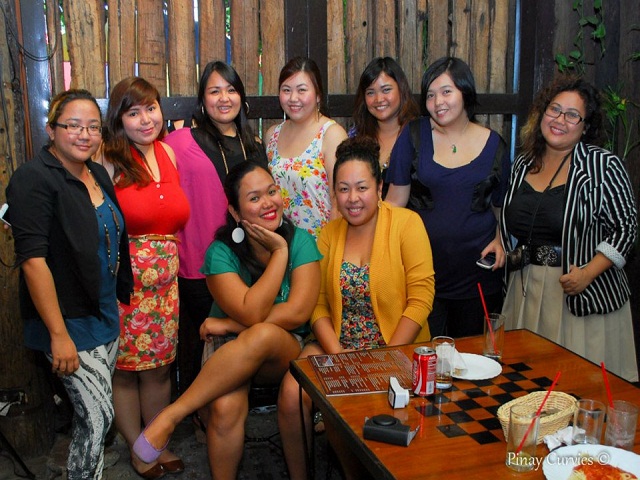 The sisterhood of the Pinay Curvies at their first-ever swap meet last January.
Lorna and Mitch envisioned Pinay Curvies as a community and support group of plus-sized women. Online, they hold weekly Twitter parties called "Usapang Curvy" and monthly blog linkups and given the members' busy schedules, they try to come up with events at least every three months.
Since their first event, Pinay Curvies has had a quiz night, a
Juana C. The Movie
movie date, and a beauty and fashion boot camp entitled "Glam Tales."
The Glam Tales was their most recent event, wherein plus-size hair and makeup artist Maita Atienza and fashion stylist Mercille Tiomico taught the girls how to become more fabulous with the right styling.
"This came about from an usapang curvy session, na may mga hinaing kami, like paano pumili ng magandang foundation, paano paliitin ang cheeks, how to style yourself being plus-sized. It's all about how you will embrace yourself being plus-sized." Mitch said.
Body acceptance
As both founders shared, they do not want plus-sized women to think they are worth less than the beautiful women plastered on huge billboards all over the metro. Their call? Embrace your curves and don't pretend to be someone else.
"We advocate acceptance and respect. Hindi yung porke mataba kami, bebe-little ka nang mga payat," said Lorna, who has stopped picking fights with 'manongs.'
"Ngayon, keber na! Hindi na ako naaapektuhan," she added in her signature "gay lingo" style of talking.
Mitch added, "Pinay Curvies is a sisterhood. We don't want plus-sized Pinays to feel alone, na mayroong ibang mga tao puwede nilang takbuhan, kuwentuhan."
Pinay Curvies also aims to break the stigma that plus-sized and big-boned women are necessarily unhealthy.
"We promote a healthy lifestyle, which means healthy eating, exercise, and healthy relationships," said Lorna, who plans to hold a plus-size yoga session soon for Pinay Curvies members.
"It doesn't mean [pag] mataba ka, unhealthy ka. The same way na hindi porke payat, healthy ka na," Mitch added.
Asked how forming the group has affected their life, both Lorna and Mitch admitted it has greatly helped them resolve their insecurity issues.
"It has helped me greatly sa journey ko to self-acceptance. Minsan kasi you need reassurance from other people. In our case, kailangan namin paglabanan kasi we stand for something," said Lorna, who wants to meet activist Mae Paner and actress Kai Cortez, her plus-size idols in the Philippines.
Mitch, who used to be in denial about her weight, now feels better about her self. Being part of Pinay Curvies helped bring about this change.
"Having curvy women with you and they're proud na curvy sila, nakakainspire pa din. Na it's okay, it's alright to be curvy, walang kaso yun. As long as you're confident." —
VC, GMA News
Visit their
Facebook page
and their
website
.