Filtered By: Lifestyle
Lifestyle
UP student apologizes to owner of photo he stole to win contest
(Updated 3:57 p.m.)
The University of the Philippines student who
recently won a photo contest by passing off someone else's work as his own
has apologized, but the man whose work he stole is doubting his sincerity.
In his letter to Gregory John Smith, Mark Solis said that his youth, inexperience and "inability to see the repercussions" of his actions, as well as the prize money and the chance to go abroad, led to what he called his "regrettable lapse [in] my judgment".
Solis had sent in Smith's 2006 photo of a young boy draped in seaweed, entitled "Neptune, King of the Sea," to a photo contest organized by the Chilean Embassy with the theme "Smiles of the World." It won first place, which would have earned Solis a cash prize of $1,000 and a free trip to Brazil and Chile.
"I take full responsibility for a disgraceful action and a grave moral lapse on my part. This recent turn of events has taught me to become humble, to have foresight, to be sensitive for the works of others, and ultimately, to take responsibility for my action," Solis wrote in his letter.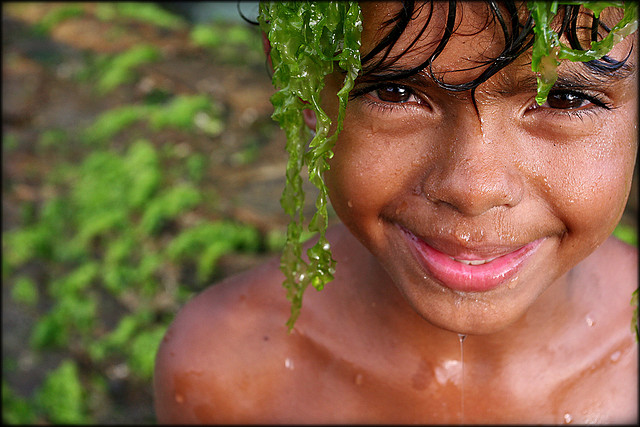 Mark Joseph Solis passed off Gregory John Smith's "Neptune, King of the Sea" as his own work and won a photo contest with it. Photo posted with permission from Gregory John Smith
GMA News Online got in touch with the 22-year-old Solis, the winner of the 2nd Calidad Humana National Essay Photography Competition last week, on Sunday but he refused to give a statement.
However, Solis mentioned a "letter of apology to the owner which I will personally send to him."
But in an email to reporters, Smith said he first read the apology in the press before receiving it a little later in his inbox from
ProjectCH
, the contest organizers, and not from Solis.
"I have had no contact with Solis whatsoever and I don't think it was in good taste that his apology to me was published before I'd even received it, so he must have shared it with the press before he sent it off to me, or at least before I received it. I think that says something about how serious he takes his own actions," he said.
Solis had also forwarded the letter to ProjectCH and the competition overseer, Antonio Torralba.
"I think this kind of apology is easy for any intelligent person to 'fake' according to public opinion and in order to save his own skin, so I didn't really pay much attention to the content other than understood it was his remorse of the facts," Smith said.
"I take more note of people's actions than in their wording, so I think Solis' apology was worth nothing more than an admittance of his 'crime,'" he added.
Smith noted that Solis' "actions speak for themselves," and that this was apparently not the first time Solis had done this—he had previously sent off the
same photo to another contest, this time alleging that the child was from India
.
"The guy obviously has an insatiable appetite for infringing copyrighted material without any scruples," Smith said.
"I have taken note of his apologies and remorse, but I myself am a man of action, so I would like to see Solis translate his words into some solid action to benefit the children he has so irresponsibly abused by taking their image and publishing it freely as one of his own property. I mean there are plenty enough of suffering kids in the Philippines, as there are in Brazil," he said.
In his email, Smith also suggested that the prize money that would have gone to Solis should be given to his foundation instead, which in turn would use it for underprivileged children in Manila.
"Why not make this contest really worthwhile and use it as a springboard to mobilize mass support for the many suffering families and children of New Smokey Mountain? " he said.
The organizers, however, said that the prize would go to the runner-up instead.
Chilean Embassy revokes award, might sue
The Chilean Embassy on Monday released a statement about Solis's deception, saying that it has revoked the award and is considering taking legal action against him.
"In accordance with the information that we have obtained confirming that Mr. Solis indeed plagiarized the work of Mr. Gregory Smith, the committee is in the process of re-evaluating the other submissions and has decided to revoke the prize issued to Solis. After due evaluation, a new set of winners will be announced," it said.
"Part of Calidad Humana involves living with integrity and upholding the values of the Filipino people. Obviously, Mr. Solis has failed to abide by this and we are considering taking legal action against him."
The embassy also thanked the netizens who pointed out that Solis had won with a stolen photo, saying that this "affirms the Filipino's innate Calidad Humana, which is translated as strength of human character and all that contributes to a culture of excellence and a life of virtue well spent."
— Roehl Niño Bautista and Barbara Marchadesch/YA, GMA News