Filtered By: Lifestyle
Lifestyle
Pop-up shoe shop: They sell Seychelles on the Manila shore
Say it with me: Seychelles shoes on sale 'til Sunday. Head on over to the undeniably lovely Seychelles pop-up shop before it disappears; a first in what will likely be a long and loving relationship between the brand and Manila's shopping scene, this is one shoe shopping opportunity you will not want to miss.
An American favorite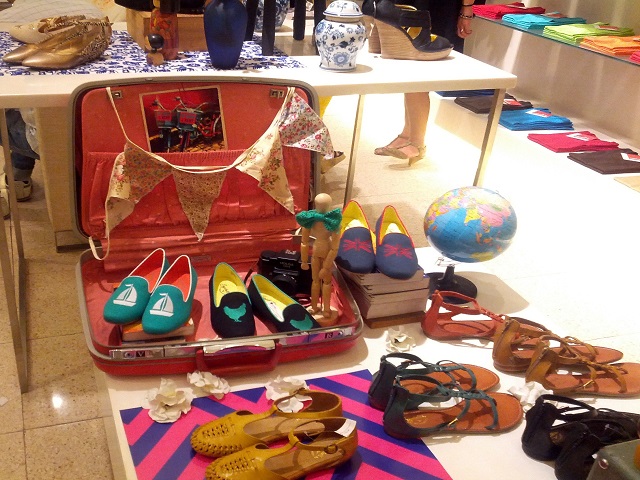 Colorful footwear in tropical hues are perfect for Manila feet.
Seychelles (say-SHELLS) is an L.A.-based brand that was established in 1984 and has since evolved into a certified fashion darling when it comes to vintage style and old world aesthetics.
They started out with cowboy boots and Italian jewelled sandals in the 80s but underwent a major rebranding in the early 2000s, turning into a shoe brand for the chic and charismatic customer with a good eye for the unique and the timeless. Some examples from their roster of vintage-loving celebrity customers: Jessica Alba, Taylor Swift, and Elizabeth Banks.
Today their ultra-feminine footwear is sold at high-end department stores like Neiman Marcus and Nordstrom, as well as at large boutiques like Anthropologie, Urban Outfitters, and Free People—and now at the Itsie Bitsie boutique in Rockwell, Makati, too.
For the fashion-forward Filipina
"When we approached the Seychelles principals, we said 'you know what, you have to be in Asia. And you have to be in the Philippines...the growth here is just incredible," said Pia Miranda, one half of the Marty + Miranda duo that brought Seychelles to the Philippines in the first place.
Miranda and her partner, Casey Marty, are huge fans of the Seychelles brand and even bigger believers in the Philippine fashion scene.
"I think that the Filipinos are so fashion-forward. Sometimes honestly...I think America can learn a thing or two from the Philippines," said Miranda of their endeavor.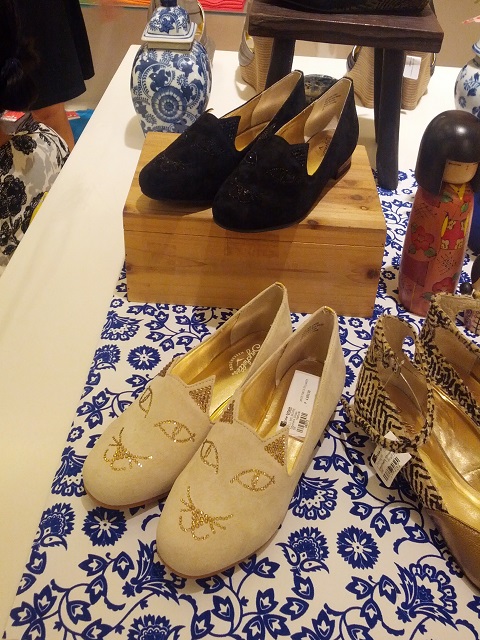 Cat got your tongue. Or maybe it's just speechlessness on account of this too-cute pair of shoes.
This wouldn't be the first time the brand is stepping on to our shores, but the manner in which it has come to us now is definitely unique.
"No one's really brought it exclusively... it's our first full-on distribution of the brand that has proper styling, proper marketing, proper merchandising, and proper support from the principals," said Miranda.
More than just proper, the display at Itsie Bitsie is all-out wonderful and clearly reflective of the Seychelles style. The charming mix of shoes and nostalgic items brings to mind Journey to the Center of the Earth, Lolita, and Marie Antoinette all at once with its dark suitcases, rotary phones, teacups, and flower vases serving as background to the pretty pairs.
"We… worked with a stylist, Candy Reyes, who styled everything exactly in the way that Seychelles would want to be represented, you know with the vintage styling and the suitcases... she's done a wonderful job," said Miranda of the display.
Everyday shoes with an edge
"We learned that the popular styles in the US don't necessarily translate to be more popular in the Philippines," said Miranda, as she noted that among the best-selling styles in Manila are one particular pair of "Indian braided sandals" and "wedges… any wedges."
"Filipinos love wedges. In America, we walk more so flats are more popular but this is not a walking country… so wedges are more popular."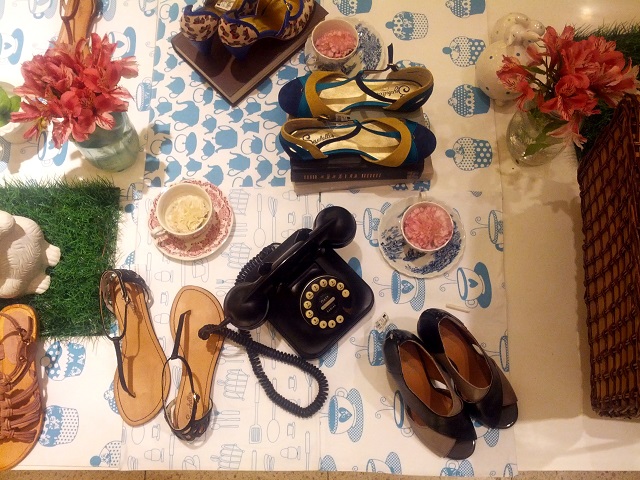 Seychelles in LA would have loved the quirky display styled by Candy Reyes.
What's great about Seychelles is they have an incredible range of styles—from lovely little flats and easy breezy sandals to "chunky-funky" platform heels and hard-wearing booties—and they're all very pretty. Not to mention, they are "supremely comfortable thanks to interior cushioning and other features," like discreet rubber soles in classy shades of beige, black, and other neutral tones.
With everything these shoes have got going for them, it's pretty much a steal. Although some might consider a Seychelles purchase an investment instead, with the price going a bit steep at an average of P5,000 per pair.
In any case, Seychelles will be available for purchase online if you, or your budget, don't make it to the pop-up shop in time. Just be on your toes for the next pop-up coming in November—venue, to be announced.
"That's gonna be a surprise. We like to keep things changing... it's always gonna be a new experience for every customer," said Miranda, giving eager shoppers reason to stay eager.
"Just watch out for what we're doing," she said. —
VC, GMA News
The Seychelles pop-up shop is open from October 4-6 at Itsie Bitsie Boutique, 119 Joya Lofts and Towers, Joya Drive, Rockwell Center, Makati. You can also shop online. Visit their Facebook page and follow them on Twitter and Instagram (@SeychellesPH) for updates.