Filtered By: Lifestyle
Lifestyle
Pampanga parol maker creates giant kaleidoscopes of color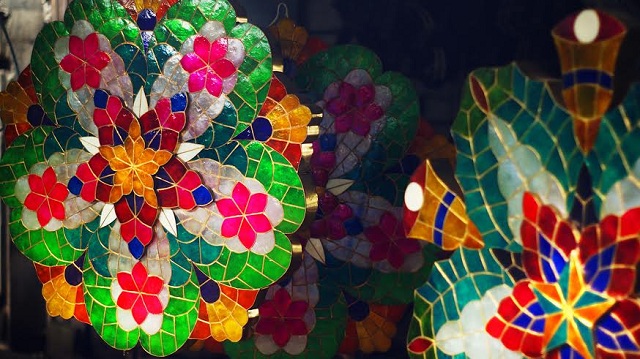 "When we were kids, my brothers and I would play with our toy trucks and attach our own parol drawings on cardboard, simulating the position the way the real arrangements of actual giant lantern festival entries were supposed to be during competitions. We simulated a mini-competition in our home and let our Tatang judge who among the siblings had the best design," said San Fernando parol maker Arvin Quiwa about how he became interested in the art and craft of making the traditional Pinoy Christmas lantern.
Arvin's award-winning work has made his hometown, Barangay Sta. Lucia, a Hall of Famer at the giant lantern festival held in Pampanga every December.
Although the parol-making craft runs in the family—he is a descendant of Francisco Estanislao, who created the first parol more than 100 years ago—Arvin never actually thought that it would become his lifetime pursuit as well. He has a Commerce degree from Assumption, a world away from the actual job he has now: conceptualizing and designing lanterns. Arvin's degree initially landed him in sales.
Unknown to many, lantern-making in San Fernando is not confined merely to Christmas decorations. The Quiwa family also creates designs for other important celebrations such as Valentine's Day and Flores de Mayo, and has supplied lanterns to the city government of Olongapo since the 1990s.
Making the designs
Lantern-making design is not as easy as it may seem to be. The ability to strategically conceptualize the lighting variations, with specific movement, of more than 10,000 bulbs with unique interplay at every change of phase is quite a feat. According to Arvin, there are only three people who can do this, as it requires years of experience and exposure to the craft. The hardest part is the synchronization of the rotor so that every piece of the lantern is intentional and has specific function.
"Any mistake in the arrangement will be clearly visible because it runs in patterns," he said.
In the early days, Arvin rendered his designs freehand. "I don't know how I make the designs. But the moment I sit at my table, my brain starts to see the flickering of lights and the circular movements of kaleidoscopic colors. My mind is into transcendence," he said.
Arvin believes that future parol designs will become more dynamic with the advent of high technology and gadgetry.
"I am now using Google Sketch Up, a 3D software to make the workflow in creating my designs efficient," he said. "Every year, I always think of a better design that will surpass the previous one. As you can see, it is not that easy. Like what I always say to my clients who sometimes haggle for the price of my lanterns which they think are cheap and easy to create: You can always buy materials to create a lantern. But you can not just simply create one. It's unique because it's art."
— BM, GMA News