Filtered By: Lifestyle
Lifestyle
Book review: Subtle tropes in Jim Pascual Agustin's 'Sound Before Water'
Subtlety is a key element in Jim Pascual Agustin's recent poetry collection "Sound Before Water" (UST Publishing, 2013). His muted tropes lend sharpness to his works, as he reminisces on experiences whether of his motherland or his two-decade migrant experience in South Africa.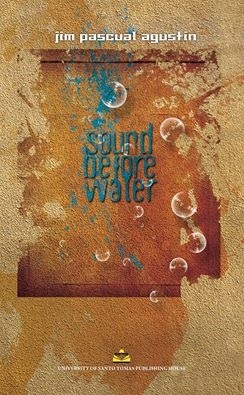 A diasporic writer who has chosen to live in Cape Town since 1994, just a few months after Nelson Mandela became the nation's leader, Agustin grapples with episodes of his life in his newfound Africa that resonate with his native Philippines. Being his sixth poetry anthology, "Sound Before Water" captures the author's imagination and heartfelt insights with delicate lyricism.
This lyricism and subtlety are ensconced in poems that, for instance, reminisce of his bygone times in the tropics, like an enchanting moment with fireflies in "Sea Fireflies in Mindoro":
Points of light gathered
round our limbs.
Wave a hand and they grew more
luminous. We were surrounded.
…
Bearing lights traced our skin
that would never again be this
close to constellations,
this warm.
Writing in free verse, some of Agustin's poems are of bucolic settings in Africa that perhaps remind the poet of his native islands' summertime, as in "Narrow Path by the River":
Summer's whipping rays held back/ by clouds over the valley./ The air, breath from someone/ with a burning fever.
Nature being every poet's friend, we are also led to an enticing celebration of the beauty of the evening sky, as in "Tonight by Chance":
Tonight by chance we saw/ dots of unflinching light,/… Our children in our arms,/ the skies bring/ unbearable clarity.
Social realist commentaries also fill Agustin's images that probably resonate with his experience of growing up in Martial Law Philippines. The commonness of death and violence fill our minds in "The Blind Stealth of Drones":
On paths made barren
by heavy boots,
grass no longer grows.

The next explosion
is just another
loose pebble.
Tackling a horrific international incident, as the Haditha killings in Iraq in 2005, the poet takes a few lines from the news as an epigraph to his poem "Random Thoughts on the Haditha Massacre on Valentine's Day." The poem was written as a eulogy to three of the 24 people massacred by US Marines on that one fateful day. Its poignant lines end with this stanza:
And then that sudden/ unexpected/ goodbye/ void of an embrace.
Some poems also speak of his alien status in his adopted motherland (Agustin having chosen to be a South African national), as in "Birds will have Dominion When I Take Swallow Form":
With special rubbers they have erased/ my footprints on the roads I used to roam,/ filed away all records of my life/ under: ALIEN.
Using a powerful combination of resounding simplicity and keen imagery common in his works, the poet speaks of a certain homesickness that seems to haunt him in "Moments Later":
1
listen
trees ache in this alien wind
roots lose their grip
on hollowed soil.

2
my foot moves
but is no longer mine
like a dream
missing an ending
Born in Marikina in 1969, Agustin mentions a Jesuit priest, the late Fr. James O'Brien, as one who has been a major influence in his love for poetry. Warmhearted accounts from Ateneo graduates continue to speak to this day of the generous-hearted Irish-American who used to make young Ateneo scholars recite pages of English poems. And Fr. O'B, as he was fondly called, was known to beam with such pride and passion as he watched his young wards recite poetry with a flourish.
Agustin graduated with a degree in English Literature at the Ateneo de Manila, as one of the beneficiaries of the Tulong-Dunong, a scholarship program that Fr. O'Brien himself established to help bring underprivileged children to school. Agustin has also been a poetry fellow at two national writers' workshops.
Agustin co-authored the poetry anthology "Salimbayan" (1994) with fellow Ateneo poets Neal Imperial and Argee Guevarra. His previous poetry collection, "Alien to Any Skin" (2011), was a finalist at the Filipino Readers' Choice Awards. One of his recent poems was also
a finalist in a recent poll on Goodreads
. His expressive poem on Mandela's recent passing, "The Breath of Sparrows, For Madiba",
may also be read on his blog
.
Agustin is currently working on his seventh poetry collection, "A Thousand Eyes." One of the most prolific poets of his generation, Agustin is undoubtedly gifted with clear poetic vision and a deftly honed skill for writing in the medium that he loves and knows best.
Whether scenes local or global, personal or collective, Agustin's poetry allows us entry into a mind that astutely reflects on insights and moments of our shared humanity, making life and its losses just more bearable, and sometimes even blessed, amidst our ever-shifting times.
For his poems allow modern readers a moment where they may perhaps find themselves some solace, like "…breathing air/ from another moment."
— BM, GMA News
Rina Angela Corpus is an assistant professor at the Department of Art Studies, University of the Philippines. Her research interests include feminist aesthetics, dance history and spirituality in the arts. Her poetry has been featured in various publications.