Filtered By: Lifestyle
Lifestyle
Concert review: The boys of Kpop bring it at DKFC2
Seems like the year of the horse is already bringing in lots of good luck for Filipino Kpop fans: not one, not two but six Kpop groups came together for the second Dream Kpop Fantasy Concert (DKFC), held in Araneta Coliseum on February 2.
It was an all-boys group lineup this time, much to the delight of the female fans, who comprised 95 percent of the audience. Block B and Super Junior M (SJM) have been to the Philippines more than once already. Henry from SJM even showed his appreciation for Filipino fans by saying that they always cheer the loudest. Meanwhile, it was the first time in the country for A-Jax, BAP, A Prince and BtoB.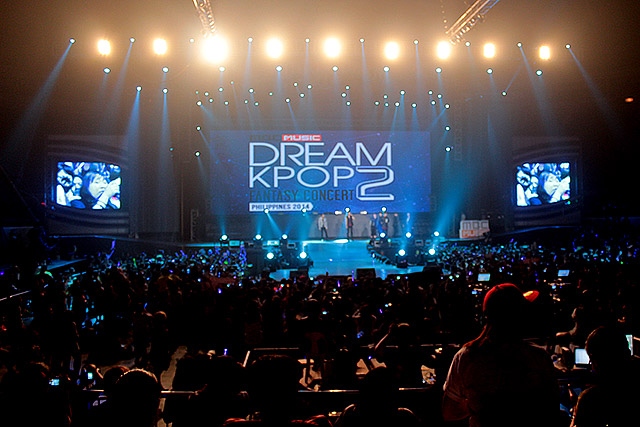 Clamor for the best view
Fans were only let inside the concert venue a few minutes before the concert officially started.
As the entrance for each section opened, the fans—especially those in the mosh pit and general admission—rushed to get the best view of the stage. However, some from the seated area were not content and the excitement prompted them to chant "Bababa kami!" A few minutes later, some fans began jumping down to the lower section, with security resorting to checking the tickets in their possession.
None of the fans were hurt during the short ruckus and the show proceeded as planned.
Making the coliseum glow
It's not a Kpop concert without the signature color-coded lightstick for each group and for this year's DKFC, sapphire blue and green became the colors of the night. However, the lightsticks continued to glow throughout the three-hour concert, never turning off even for the groups without official lightstick designs and colors.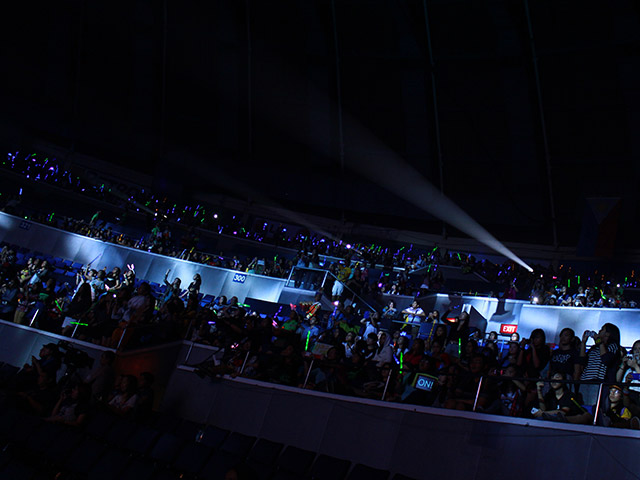 The blue and green lights moved tirelessly to the beat of the songs, starting from BtoB's first song "WOW" up until SJM's final song "Breakdown".
Breaking the language barrier
Fans expect their favorite groups to perform songs on their albums. All six groups did that, but some were also able to surprise the fans by suddenly singing popular English and Filipino songs.
Garbed in all-white outfits, A-Jax, who debuted in 2012, made everybody swoon by singing "Angels Brought Me Here" and ending the song by presenting a bouquet of flowers to their special guest and label mate Han Seung Yeon, a member of the popular girl group Kara.
A Prince made the fans sing along with them when they sang "Nasa Iyo Na Ang Lahat," which was popularized by local teen actor Daniel Padilla, and danced to the tune of the hugely popular novelty song "Otso Otso," much to the astonishment and delight of everyone.
Fans want more
The six groups performed five songs each, with every group taking the stage for about 30 minutes, but it was still not enough for the fans who wanted to hear more from their idols. Some were crying, unable to believe that they were seeing their favorites in person.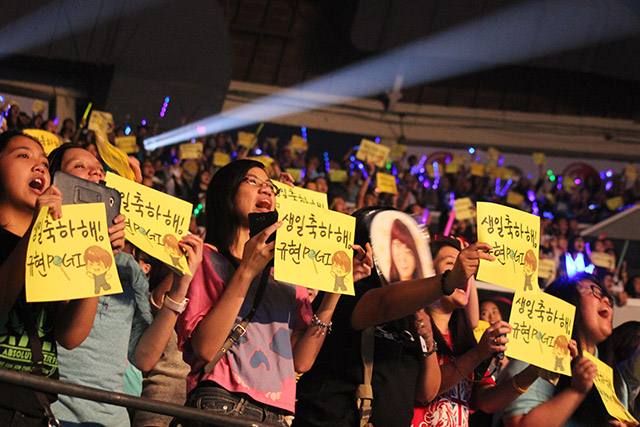 During SJM's talk section, fans even held up banners saying "Happy Birthday Kyuhyun" to show their love to the group's youngest member, who was celebrating his birthday on February 3.

And even after SJM sang their last song and bade the audience farewell, everybody refused to stand up from their seats, unable to grasp that the three-hour Dream Kpop Concert they've been waiting months for was finally over.



For Kpop fans, DKFC2 marks only the beginning of a year full of Kpop concerts and fan meetings. Some are even hoping that their favorites will have their own solo concert in the country, before they go on hiatus and enter the military. — BM, GMA News

All photos by Analyn Perez