Filtered By: Lifestyle
Lifestyle
The richest of men: Tado's friends, fans pay their last respects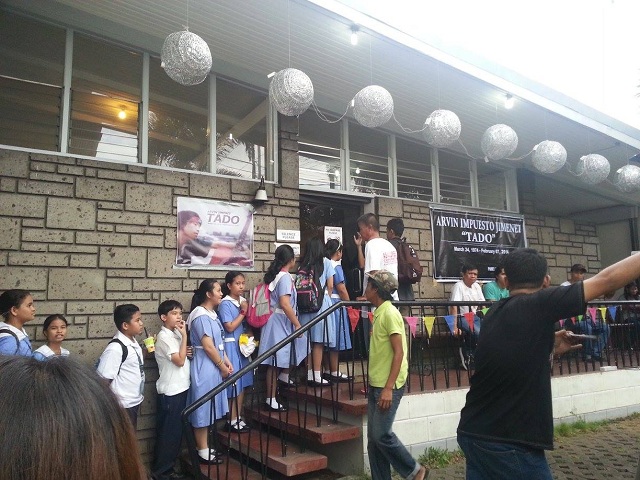 Long lines of people of all ages and professions wait outside the door to see Tado one last time.
After all the blinding sunshine in the metro lately, the clouds were threatening rain on the afternoon of February 11, the final day of Tado's wake.
It appeared like a big birthday party was being set up: A large awning had been erected, and tarpaulins plastered with Tado's smiling, bespectacled face hung from the gate and the fence. Banderitas and red and blue flags emblazoned with stylized portraits of the late actor-activist-artist-comedian hung from the walls. Giant wire mesh globes hung from the ceiling above the balcony. In the garden, some men were setting up a gazebo and lining it with chairs.
The San Roque branch of Paket Santiago Funeral Homes would probably have looked like an ordinary two-storey house on any other day had an ordinary person's remains been laid inside.
But Arvin "Tado" Jimenez was no ordinary person, drawing a steady trickle that turned into a snaking line of visitors at his wake.
"Kahit na showbiz personality si Tado, hindi siya mayaman," said Leni Velasco, president of Tado-co-founded organization DAKILA, who was assigned to answer questions from the media. "Pero ang yaman ni Tado ay marami siyang kaibigan. All these people coming to his wake are proof of that."
Everything he said had meaning
Among the wake goers were chattering students in their uniforms, people of all ages and professions, it seemed.
A wall displayed a mosaic of brightly-colored post-its on which were scrawled messages for Tado and his family. Next to it sat a young woman wearing a surgical mask named Jam, a so-called Brewster, an avid fan of Tado's radio show Strange Brew. Earlier that day, she had come straight from the hospital, having just recovered from a bout of measles, and did not appear too light on her feet.
"Every time may event yung Brewsters, magpapa-game siya," Jam recalled. "Favorite memory ko yung magpapa-game siya kasi sobrang kwela niya. Lahat binibigay niya sa amin."
But she also spoke of Tado's serious side. "Malalim kasi siyang mag-isip, eh. Pag nagsalita siya, hindi lang basta nagsalita—may kahulugan 'yun. Kaya para sa amin, kahit nagpapatawa siya, may part pa rin na seryoso talaga siya."
College student and DAKILA volunteer Nicole also noted Tado's serious side. She first met him when he came to their school and spoke to the assembly as part of an anti-drug program. She was manning a table where the charitable could drop off monetary donations and buy some of the t-shirts Tado used to sell at his shop LimiTADO.
"Sa personal, medyo seryoso siyang tao, especially tungkol sa mga prinsipyo niya," said Nicole. "Pero magaling siya sa public speaking. Mararamdaman mo talaga na gusto niyang mang-impluwensya."
She added, "Bukod sa pagiging komedyante, may ibang side pala siya, which is his wider, bigger side—nagsusulong siya ng mga advocacy."
Larry, a friend of Tado's who helped him found yet another organization, called SuporTADO, said of him, "Ganito ang pagkakaiba ni Tado sa mga artista: naniwala siya sa mga advocacy niya. Naniwala siya na dapat i-educate ang masa at maka-isa, dahil nahihiwalay ang pag-uunlad ng sistemang kapitalista sa tao."
Sacrifice and devotion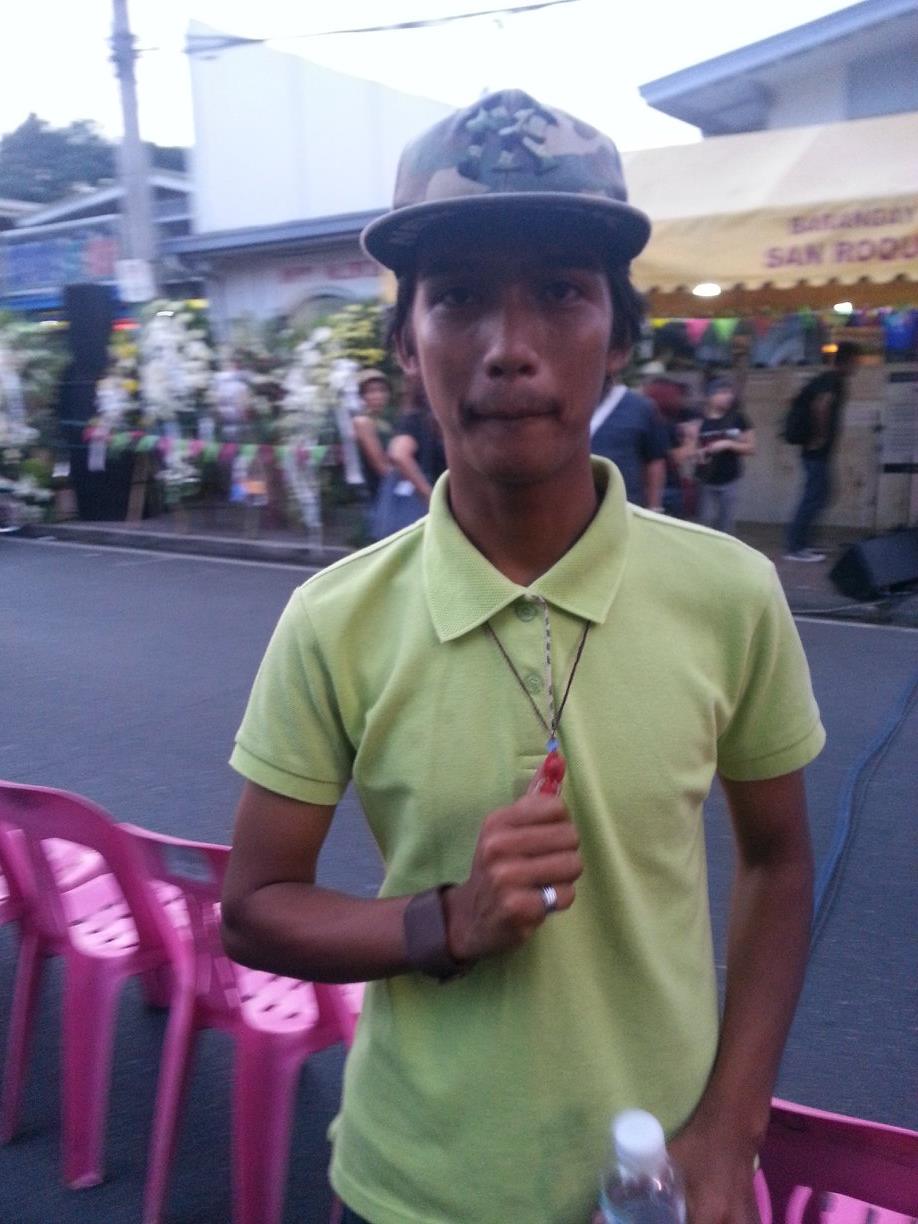 Joselito 'JL' Valdez walked six hours from Malabon to Marikina in the clothes Tado gave him more than ten years ago. He worked as a volunteer, reminding those in line to behave and not to take photos.
Some of the visitors and volunteers went to moving lengths just to attend the wake. Two hoarse-voiced volunteers kept the line in line, tirelessly reminding folks to keep their cameras and cell phones in their bags and pockets, for this was to be a no-photography wake.
One of them, gangly 21-year-old Joselito "JL" Valdez, revealed, without a trace of pride or self-pity, that he walked six hours from Malabon to Marikina when he heard that Tado had passed away just to see if it was true, and that he had no companion with him. His family has no idea where he is, as he left abruptly, saying that if he had asked permission first, they would never have allowed him to go.
"Sabi ng mga kaibigan ko, 'JL, yung amo mong si Tado, wala na,'—hindi ako makapaniwala," he said. "Siya ay ang malapit kong kaibigan na pwede mong lapitan sa oras na kailangan. Lahat na kay Tado na—magiging mabait, mapagkawanggawa—lahat, binibigay niya. Ibibigay ko ang buhay ko para sa kanya kung pwede lang."
JL shared that he and Tado first met at a Battle of the Bands tournament in Malabon. "Nagpapahanda siya pag birthday ko at tinulungan pa niya akong ilibing yung tatay ko sa Nueva Vizcaya," the youth said.
Then he touched the camouflage cap on his head, his green collared shirt, his dark jeans, then the necklace with a yellow cord holding up a red stone. He said that these had once been Tado's clothes and that he had given them all to him back in 2003. JL had come to Marikina in naught but those clothes and he intended to walk back to Malabon with just those as well, after the cremation on February 12.
And if he could have one last chance to speak to his benefactor and friend, he would say, "Salamat po sa pagbibigay ng iba't-ibang bagay kahit 'di kailangan, dahil kundi po sa inyo, baka wala na rin po ako sa buhay na ito."
Leni Velasco herself was a friend of Tado's, and oversaw nearly all the funeral arrangements on behalf of Tado's family. She appeared to be the embodiment of composure in her black dress, stockings, and pumps, making a PowerPoint presentation on her laptop even as she answered questions. But watching her being interviewed by TV personnel, there appeared to be moments when chinks in her composure showed, when the corners of her lovely smile would falter as she spoke of Tado and slipped into a memory of him.
And speaking of memories of Tado, it was difficult for her to choose a favorite. But she eventually recalled that "mahilig siyang manglaway. Kung sa tingin niya masyadong sosyal yung isang tao, dinuduraan niya sa legs, nilalawayan niya—malikot talaga siyang mag-isip."
"Si Tado kasi, hindi siya nawawalan ng mga idea. Pero yung mga taong pumapaligid sa kanya, sila yung nag-iimplement. Kaya nagjojoke nga kami eh," said Velasco, chuckling as the memory became clearer. "Na idea ni Tado yung kamatayan niya at kami yung mag-iimplement."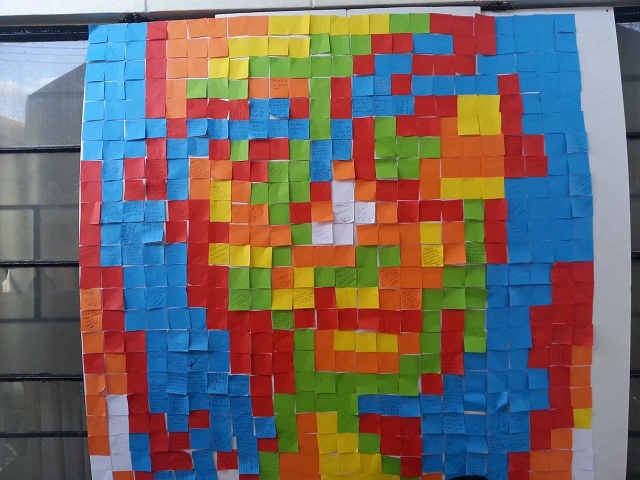 Visitors left messages to Tado and his family on hundreds of sticky notes on a wall.
Asked how she was holding up, Velasco said, "Wala nang choice, eh. Kailangan. We also have to be strong for Tado's family, pero para ring nawalan ka ng foundation."
Velasco revealed that DAKILA's individual members, especially those closest to Tado, have not yet processed their grief. They have been running around doing errands—on autopilot, it seems—and Velasco believes that the grieving will come afterward, when all this is over, for his death had truly come as a shock. They had not even known he had gotten on a bus to Bontoc.
His family is
mulling pressing charges against the Florida bus compan
y, but Velasco said that there has so far been no word from them.
As to how Tado's immediate family is handling the situation, Velasco said, "The kids are taking it well—they've had a good, well-rounded upbringing. And Lei [Tado's wife] is a very strong woman."
His bicycle
In the casket, Tado was wearing his favorite white-and-red checkered scarf, a black shirt, and dark jeans. His familiar bicycle had a place of honor next to the coffin. Tado was an avid cyclist and advocate of road safety, but he did not have a sporty bike. It was actually a girl's bike with a basket in front.
Velasco shared that it was his children who came up with his outfit, for they knew what his favorite articles of clothing were, and that it had been Lei's idea to surround him with his favorite things. They had wanted his funeral to be short and sweet.
Indeed, several NGOs (such as Greenpeace and Oxfam) and the Polytechnic University of the Philippines community—especially Panday Pira, the student organization Tado had once led—were to put on their own individual tributes later in the evening. There was also a procession—which surprised Velasco, as she had no idea there was to be one at all.
What could one do but accommodate the overwhelming love everyone had for this brilliant, quirky, cause-oriented man?
— BM/HS, GMA News