Filtered By: Lifestyle
Lifestyle
Youth orgs at TAYO Awards live up to being 'hope of the fatherland'
Jose Rizal once said that the youth is the hope of our fatherland—and considering how many youth and student organizations won big for their worthy causes at the 11th Coke TAYO Awards on Thursday, February 6, you'd be hard-pressed to prove Rizal wrong.
Take Ateneo de Naga's Sarong Bangui Junior Eagles Club and the Watershed Management Youth Council, based in Davao City, for instance.
Sarong Bangui's initiative was to collect tarpaulins left over from elections and recycle them into other useful materials, such as "Tarpadyak," or durable roof coverings for pedicabs. They plan to turn the tarps into bags in the future to better sustain the project.
"Ateneo de Naga...is a flood-prone na lugar," said Sheena, a 3rd year Accountancy major, and Sarong Bangui's representative. "Every time that happens, 'yung mga tumutulong talaga sa amin ay 'yung mga pedicab drivers. And during that time, it was campaign period for the mid-term elections—ang daming leftover na tarpaulin. We observed that maganda siyang gawing 'Tarpadyak.'"
When asked how the pedicab operators felt about their project, she said, "There's this one padyak driver in Naga City...he said it feels good na may mga taong umaalala sa kanila. And I feel we're on the right track."
Meanwhile the Watershed Management Youth Council began more than 10 years ago, cobbled together by young, enthusiastic volunteers who lobbied against the illegal presence of a banana plantation on the slopes of Mt. Apo. They have been petitioning and creating signature campaigns for environmental causes ever since.
"'Yung project namin po is 'yung Battle of the Band—which is using recyclable materials for a fashion design competition," explained 3rd year Mechanical Engineering major Daniel Mediante.
He further explained that they used a tree-vote system to determine the winners. "Binibigyan namin ng tickets 'yung mga banda and then, ibebenta nila 'yun sa kanilang mga respective communities. And then, each na mabebenta na ticket is equivalent to a seedling. Ang gagawin naming paraan is, itatanim namin ito sa tabi ng Tabugan River."
The awards
A partnership between softdrink giant Coca-Cola and the TAYO Foundation, the awarding of the Ten Accomplished Youth Organizations of the Philippines culminated in a ceremony at Malacañang Palace at 9 a.m.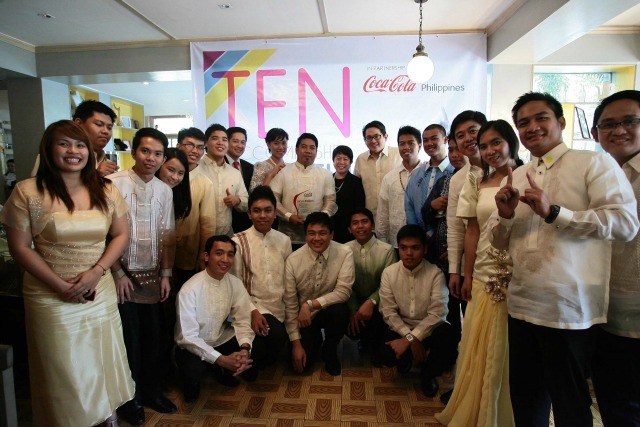 Winners and finalists of the 11th Ten Accomplished Youth Organizations smile triumphantly as the search drew to a close this year. Photo courtesy of Coca-Cola Philippines
"Sana we also take the opportunity to learn from each other," said Senator Bam Aquino at the media luncheon at Casa Roces after the ceremony. "We can expand our work with what we've learned from each other. At the end of the day, we try to promote unity among all of the finalists and delegates."
Aquino need not have worried, as in the three days these representatives had to tour parts of Manila, present their organizations' respective projects, and pose for endless photos, it already seemed as if they had their inside jokes, their jovial familiarity with each others' little quirks.
"And because your generation is adept at technology...go as viral as you can get and spread the word about what you do, because that is the only way we can really reach our goals," Aquino concluded.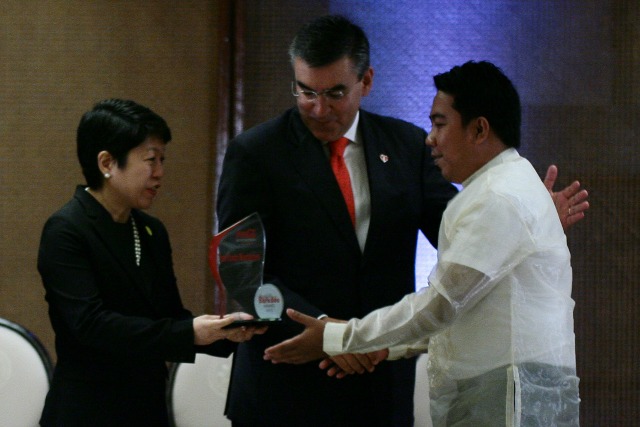 Guillermo Aponte, Coca-Cola Philippines president (center), joins Cecile Alcantara, Coca-Cola Foundation Philippines president (left), in giving the Coke Barkada Award to Team BUNDOL Mountaineers representative Ariel Lalisan. Photo courtesy of Coca-Cola Philippines
286 entries
There were 286 entries, most of which centered on environmental protection, medical services, disaster recovery, education, and entrepreneurship.
These were then narrowed down to 20, and among the 20, the 10 winners had projects that were deemed "sustainable, impactful, creative, and reflective of the true spirit of volunteerism and citizenship."
The winners and finalists are as follows:
Gualandi Volunteer Service Program (Visayas) for their project: "Break The Silence Network Project"
Association of Locally Empowered Youth-NM (Mindanao) for their project: "Disadvantaged Urban Youth Entrepreneurship, Organic Vegetable Production, Food Processing and Marketing Project
Hayag Youth Organization (Visayas) for their project: "Langoy Para Sa Kaluwasan"
Kawil Tours (Luzon) for their project: "Kawil Tours-Reconnecting Isla Culion through Tourism"
Tanay Mountaineers Incorporated (Luzon) for their project: "DISASTER RISK REDUCTION ADVOCACY PROGRAM - Empowering the Youth in Building a Resilient Disaster Community"
TC Youth Laboratory Cooperative (Mindanao) for their project: "Financial Literacy for Youth Program"
United Architects of the Philippines Student Auxiliary - Foundation University Chapter (Visayas) for their project: "ESTUDIO DAMGO - DUNGGA DAYCARE CENTER"
Tulong sa Kapwa Kapatid (NCR) for their project: "Break Realizing Dreams through Education; Building Hope through Small Acts of Love"
Volunteer Service Provider (Mindanao) for their project: "Developing Ocean's Man-Made Eco-Friendly Shelters (D.O.M.E.S.)"
University of San Carlos-Pathways (Visayas) for their project: "Bridging The Gap (BTG)"
In addition, the Coke Barkada Award was given to Team BUNDOL representative Ariel Lalisan. The Coke Barkada Award is given annually to one of the year's 20 national finalists. The winner receives a trophy and P30,000 in cash for the organization's projects. —KG, GMA News