Filtered By: Lifestyle
Lifestyle
Woman not enough: The filmic journey of director Sigrid Andrea Bernardo
Part of a series on women this month. March is Women's Role in History Month in the Philippines.
It was when I got to see Sigrid Andrea Bernardo's short film Paghihintay sa Bulong (Waiting to Whisper) at Cinemalaya 2012 that I got a glimpse of what she was capable of. She has been making short films since 2005, and it took her 'til 2013 to make her first feature. The short film was shown as part of a showcase of her work at the University of the Philippines Film Center.
Bernardo had been an actress and a theater director with Dulaang UP. It was an acting stint as part of what she describes as Lav Diaz's "ten-hour epic," the film "Evolution of the Filipino Family" (2002) that got her curious about film.
"I always wanted to be in films, acting and behind the scenes," she said. "I always wanted to direct." T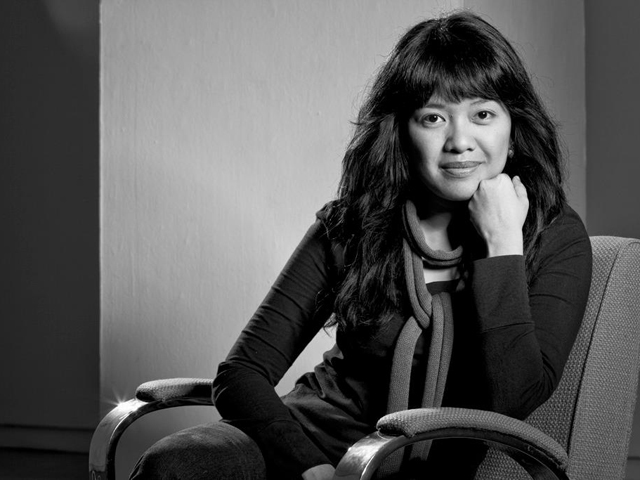 The pace of the shoot meant that, apart from acting, Bernardo was able to persuade them to make her part of the production team, starting out as a production assistant and ending up as an assistant director.
"I've always been interested in storytelling," she said. "And in fact, my first job was as a storyteller to kids."
It was this interest in telling stories, especially stories that were close to her heart, that led her to make her first short film, "Babae" (2005). The film, set along the railroad in Manila, was originally envisioned as a documentary feature aiming to tell the lives of different women, but was eventually entered in Cinemalaya's short film program that year. The story, about two women who were bound together by tragedy in their childhood, provided the prototype for a screenplay she wrote the year after.
The screenplay was a story set in Bulacan around the time of the Obando fiesta, where people gather to dance as a votive offering for the intercession of St. Clare of Assisi, traditionally for fertility. It was a coming-of-age story involving a girl named Anita and an older woman named Pilar. For four years, until she had it workshopped at a French producers' forum in 2010, the screenplay tried and failed to get funding. And even after the workshop, it could not get made.
About a year before the French workshop, she made "Little" (2009), with funding from the NCCA.
"After I made 'Babae,' nagreklamo yung mga gay friends ko, 'puro ka naming lesbyana,'" Bernardo recalled, adding that she made "Little" in reaction to a spate of gay films that emphasized the sex more than the love. The dramatic film captures a young man's desire to escape rural life with his best friend, whom he loved despite his friend's dissolute lifestyle, and ends with a death in the family.
A death in the family plays a very small part in "Au Revoir Philip" (2011), her most personal film. Shot partly in Paris and in Apchat—where "Little" represented the country in the One Country One Film Festival. "Au Revoir Philip" was compiled from footage from an aborted short film (involving three French kids she met in Apchat) and from footage she shot in and around France.
"It is my most personal film," she recalled. "And it deals with several kinds of love: love for country, love for art, love for another person."
"Au Revoir Philip" took some time to compile. It is about a migrant who moves to France to find herself. It is also about the people she encountered and the journey she undertook.
The film which led me to discover Bernardo's work was "Paghihintay sa Bulong," which won her the Best Screenplay (Short Film) prize at Cinemalaya, and eventually an honorable mention at the Exground Film Festival in Germany.
"Bulong" is a dark comedy involving a dysfunctional family waiting for their matriarch to die. The idea for the film arose from a coffee shop chat where all present talked about older relatives who were about to die. She then wrote the script in a day. The film was shot without any pre-production preparation, and this time, with support from Pixeleyes Multimedia, where she works at present.
She said of "Bulong": "I wanted to make a film that would make people feel guilty laughing at it."
It was in 2013 when Bernardo finally got funding to make "Ang Huling Cha-Cha ni Anita," which is competing in the Osaka Asian Film Festival with other Philippine independent films sucj as Jerrold Tarog's "Sana Dati" and Siege Ledesma's "Shift."
"Anita," which stars Teri Malvar as Anita and Angel Aquino as her crush, the enigmatic Pilar, won four prizes—including joint best picture and best actress (for Malvar) at the first Cine Filipino festival last year. Aquino won the PMPC Star Awards prize for best supporting actress last week.
Apart from her film work, Bernardo currently makes AVPs and has been involved in several television projects (including "Bantatay" for GMA Network, where she met one of the child actors for "Anita").
"People have asked me, what is your genre?" Bernardo said. "I'd tell them, I don't have a specific style. But maybe I could say that I prefer to give very serious topics a lighter treatment."
Yet what shone through the most in our conversation was the infectious enthusiasm and joy Bernardo has for her work and for her passions. Hopefully, more people will be able to view her films in the future. —
VC, GMA News