Filtered By: Lifestyle
Lifestyle
Movie review: Non-sexual nudity-filled fairy tale fantasy in 'Kirikou and the Sorceress'
A bit of fair warning for those about to watch Michel Ocelot's "Kirikou et la sorcière" (Kirikou and the Sorceress) for the first time: there is a lot of nudity—none of it sexual—the way it was in Africa before the colonists came barging in.
So if you are sensitive/easily offended/a prude/a conservative parent, don't watch this or clear your kids out of the room first.
But in doing so, you will miss yet another charming fairy tale fantasy from the man who made
"Princes et Princesses" and "Les contes de la nuit"
.
"Kirikou" is loosely based on a folktale from West Africa, where Ocelot moved to as a child and left in his adolescence.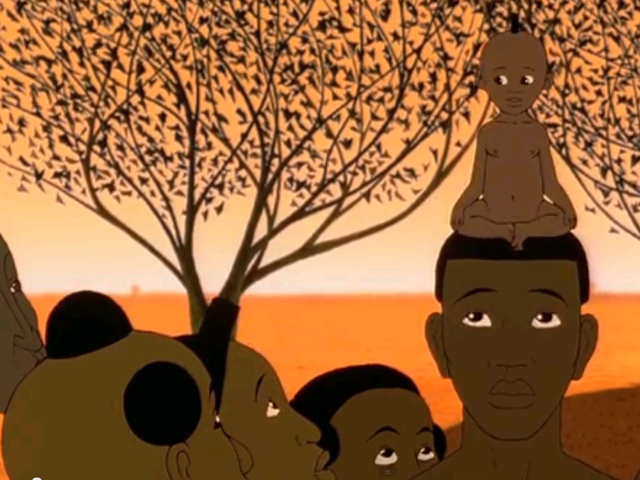 It is the story of a baby born already capable of walking, talking, sassing, demanding, questioning, and thinking up clever methods for achieving his goals—and how he frees his superstitious, at times cruel, but mostly well-meaning village from the clutches of the wicked sorceress, Karaba.
If this story sounds somewhat familiar, that's because it is—Kirikou's beginnings are much like those of Lam-ang, the hero of the Ilocano epic, "Biag ni Lam-ang" (The Life of Lam-ang).
Both are born walking and talking, both choose their names, both have lost their fathers in a battle, both of their mothers let them go off on adventures.
I think it was this familiarity that allowed me to accept what strangeness there may have been in the scene where Kirikou was born...and in the ending, as well.
Done in digital ink and paint, Kirikou is not only a feast for the eyes of lovers of 2D animation, but of lovers of simple but multi-layered stories, as well.
So many diverse themes pop up throughout this 70-minute film, as the Kirikou website states in its Director's Notes laid out for
potential teachers
: forgiveness, family, the battle of the sexes, to name a few.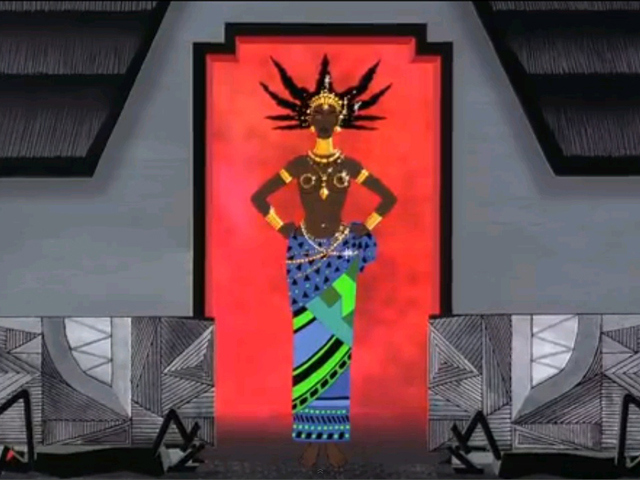 But the two most prevalent themes are these: the wickedness of Karaba—who has eaten all the men, dried up the spring, and demanded all their gold; and the prevailing belief in superstitions vs. taking matters into your own hands.
At the risk of giving the plot away, it seems that no one has taken the time to understand Karaba, and I like how it makes the main antagonist more well-rounded as a human being.
I can also understand the stupidity and pettiness of the entire village (with the exception of Kirikou's mother), as Karaba is made even stronger by "people believing in foolish things."
"Kirikou" does have some truly dark moments, such as the scene depicting how Karaba first came to be—all the little cruelties Karaba committed toward the villagers and that the villagers committed toward Kirikou are nothing compared to this.
I found myself holding my breath in the scene where Kirikou was crawling and digging his way around a network of tunnels and encountering skunks, squirrels, and bones.
The film also has a lovely score devoid of any modern instruments, as per Ocelot's instructions to composer Youssou N'Dour. Here's the catchy, dancey song that plays during the end credits, "
La chanson de Kirikou
" (Song of Kirikou):
And if you cannot get enough the plucky little hero, there have been two midquels in its wake: 2007's "
Kirikou et les bêtes sauvage
" (Kirikou and the Wild Beasts) and 2012's "
Kirikou et les hommes et les femmes
" (Kirikou and the Men and Women).
All of these take place presumably between the events of the first movie, and each one uses an animation style somewhat different from the first, with the most recent one culminating in full-blown computer animation.
— JDS, GMA News
"Princes et Princesses" and "Les contes de la nuit" are two of ten animated films currently being screened at the Cinema in the Open-Air Film Cycle at Rizal Park, courtesy of Ambafrance Manille, for the entire month of March.