Filtered By: Lifestyle
Lifestyle
Froilan Bacungan, former UP College of Law dean, dies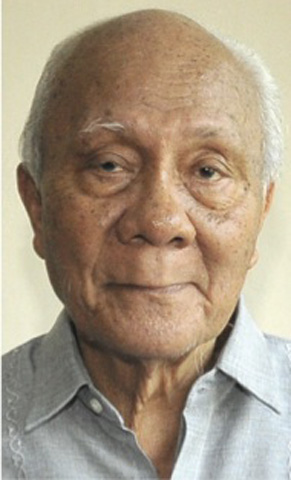 Froilan Bacungan. Photo from Philippine Constitution Association
The University of the Philippines College of Law on Thursday mourned the passing of its former dean Froilan Bacungan.
In a post on its Facebook page,
the UP College of Law said Bacungan, who served as dean from 1978 to 1983, died early Thursday morning.
"He graduated from the UP College of Law, and took his Master of Laws at Yale University where he was a Fulbright-Smith Mundt Scholar. Dean Bacungan taught Labor and Constitutional law for many years at the College of Law," it said.
Bacungan recently wrote two books: "Labor and Social Legislation: An Updated Systematic Presentation"; and "Universal Human Rights: A Reality in the Constitution of the Philippines."
The former dean will lie in wake at 7 p.m. Thursday until May 20 at the Loyola Columbary at Commonwealth Avenue, Damayan St., Bgy., Matandang Balara, Quezon City.
A profile of Bacungan on the Philippine Constitution Association website
described him as the seventh UP Law Dean.
Under his watch, "new academic institutions in the field of law were established at the College."
The Philconsa also said a new law curriculum was also adopted to make legal education more responsive to the vital roles of the legal profession.
Bacungan also served as director of the UP Law Center from 1973 to 1978, it added.
On the other hand, he served as commissioner of the Commission on Elections (1984-1986), and President of Philconsa (1986-1987).
Posts in gov't, private sector
Philconsa said Bacungan, before joining UP as a full-time faculty member, held positions in government and in the private sector including:
Chief, Research and Public Information Staff and Manager, Claims Department, Social Security System (1958-1964)
Executive Secretary and legal and economic counselor, Philippine Chamber of Industries (1964-1972), and Wage Commissioner (1972-1973).
International Labor Organization labor relations and labor law expert to the governments of Thailand and Pakistan.
Part of a team that designed a social security program for Bhutan.
Bacungan was also a human rights legal expert, and handled the course on Human Rights at the UP College of Law.
He also chaired a 10-man Committee on Legal Education that submitted a Report on Legal Education in the 1990s to the Supreme Court. —
VC, GMA News