Filtered By: Lifestyle
Lifestyle
The pain of losing a father
Part of a series on dads—and being a dad—for Father's Day
I wasn't at Dad's bedside when he died on August 17, 2007, the day before his 65th birthday.
It all happened so fast and we were mourning on the day when we should have been celebrating.
Dad—Lauro Diola Velarde, former head of Ford Philippines in Bataan and later on, also in Sucat in the 1980s—had been an active and energetic person even until the hour he had a fatal heart attack.
How I wish I had hugged him or kissed him just before he passed away. But fate took us by surprise.
When dad suddenly became very ill, Mom told us to meet them at the Philippine Heart Center in Quezon City. On their way there, things took such a turn for the worse that dad told the driver just to bring him to the nearest hospital along the way.
I couldn't believe it when mom called me on the phone, crying, and saying that dad had passed away. The journalist in me was itching to tell her, "Are you sure, mommy? Can you please double-check?"
But all that I told her was to stay calm and pray, reminding her what our Catholic faith teaches us, that the hour of death is the most glorious moment of our lives as it is when we meet God.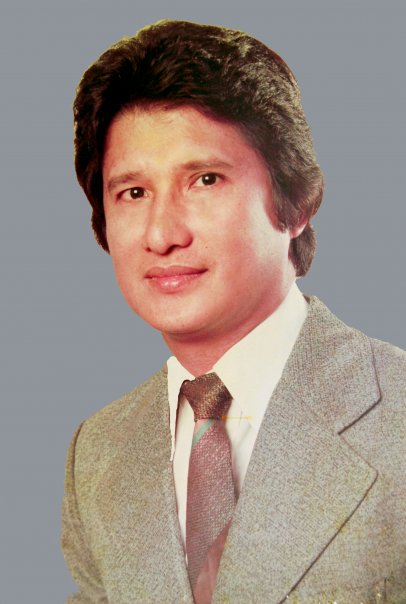 The author's father, Lauro Diola Velarde.
Dad was diagnosed with diabetes and obstructed heart arteries about 17 years before he passed away. But he never slowed down and still lived life to the fullest despite his ailments. If he could, he would do 10 things at once.
Hours before his death, neighbors saw him busily giving instructions to helpers who were preparing for what was supposed to be a grand celebration for a landmark birthday, his 65th.
I was on the phone with him too before his fatal heart attack; we were talking about all sorts of stuff, including how my siblings Fernando, Melissa, and I had pitched in to buy him an unusual birthday gift: an oxygen tank.
He had been complaining of difficulty in breathing every now and then but he refused to undergo angioplasty as he wanted to be present for our brother's wedding, scheduled a few days after his birthday.
It was all too late and the oxygen tank now sits in our house near the entrance door. It is still painful to look at it, almost seven years after dad passed away.
I remember dad firing several questions about the oxygen tank: Is it made in Japan? Is it stainless? Does it have a carrying case? How long is the warranty?
He had an unusual mind: he thought of everything and it's no wonder that he excelled as a manager and later on as an entrepreneur.
I dutifully answered all his questions and before our conversation ended, I said, "Love you, Daddy! God bless you!" We always ended our conversations that way. Even in our daily texts to each other, I always tell my parents, "Love you, mom and dad."
If I had known that dad would be dying hours after our phone conversation, I would have told him more than "I love you." I would have told him how grateful I was for how he brought us up. He was a very strict father, we couldn't fool him and expect to get away with it. He would scold us even for little things, like leaving toys on the floor.
In fact, he told us that he would throw away toys that were left scattered after playing. And he did. When I was seven years old, I snuck around the house after midnight to pick up my toys from the trash bin. I learned my lesson and became an extremely organized person.
Despite dad's strictness, he was also very loving, generous, forgiving, and understanding. He always took our family on vacations and gave us the best he could.
Once, after scolding me for having slept through a late night TV show we were supposed to review for school, he came home with a gift: an expensive miniature alarm clock. The card read, "Dear Miss Beautiful: Sorry for scolding you this morning. Daddy loves you."
Daddy, we love you very, very much too. We still shed tears when we think of you. Mommy misses you so much. She offers Mass for you almost everyday.
We know you're under God's care and that you're watching over us constantly. We know we'll have the chance to hug you again someday and tell you how much we truly love you.
Three life lessons from Dad:
(1) Respect all people equally.
Whether someone is a janitor or a head of state, treat both with equal respect.
(2) Do things in the simplest way.
When you can finish a task in two steps, why do it in three? The simplest way is the most efficient.
(3) Do things in the best way you can.
Why settle for the ordinary when you can do the extraordinary?
— BM, GMA News