Filtered By: Lifestyle
Lifestyle
'K'na, The Dreamweaver' a passion project for first-time director Ida del Mundo
I knew since our college days in DLSU that Ida Del Mundo, writer and director of the film "K'na, the Dreamweaver," would make it big someday.
We were part of a class of literature majors clumsily exploring career options. Ida, however, was one of those people who seemed to be sure of what she wanted to do, and was likely to succeed in whatever it was. She always excelled at things she did, be it writing Foucault papers, close-reading Auden's poetry, or playing the violin.
Because her undergraduate thesis was about ekphrastic poetry, and her graduate dissertation was a multi-genre creative writing piece about travel and space, I thought she would be more focused on writing poems.
A few months ago, however, I heard that she was immersed in something a bit different.
Weaving K'na
Ida, who writes for the Philippine Star, was in Lake Sebu, South Cotabato last year on a writing assignment for the Tinalak festival. On the day that she was about to return to Manila, she was stranded in the mountains at a T'boli village.
It wasn't safe to go home because of the heavy rain, so her group decided to spend the night in the village. There was no electricity, no phone signal, and she admitted that they were worried about spending the night there.
Then, at night, the villagers started to sing and dance.
"Without any announcement, one of the elders just brought out her hegalong and started playing in a corner. Then some more villagers came nearer to where we were and they started dancing." It was improvised, Ida recalled. "It was not as if they were putting on a cultural show. It was as if they hardly noticed we were there. It was very natural and soul-soothing."
"K'na the Dreamweaver," was originally an idea for a pre-colonial epic story, Ida said. "I was thinking of writing it as a short story, but I was never able to finish it. I think the culture of the T'bolis and the Lake Sebu itself is so colorful and vibrant that the medium that would give it justice really has to be film."
Even after her synopsis was shortlisted at Cinemalaya, Ida still didn't have any plans of directing. It was the panel's encouragement that drove her to direct.
Cinemalaya's synopsis reads: "When a young T'boli woman becomes a dreamweaver, she has the chance to weave together her village's warring clans. But, will she give up true love to do so?"
The film tells the story of young T'boli woman K'na, played by Mara Lopez Yokohama, who needed to study a language she's unfamiliar with. Previously, she had to learn how to speak Bicolano for Alvin Yapan's "Debosyon" (2013), and Ilocano for Mes de Guzman's "Ang Kwento ni Mabuti."
However, she said, "For me, T'boli was the most challenging of all the dialects I had to learn 'cause it's nothing like Tagalog! I think it's an advantage that I speak three languages so I picked it up pretty smoothly."
Yokohama added that she was very comfortable working with Ida. "While filming, she was not only my director but my friend," she said. "We were in Lake Sebu for two weeks. Away from civilization, and it was such an amazing experience filming. It was nice to be away and just focus on the film and on each other. We became family."
The film also stars RK Bagatsing, Nonie Buencamino, Alex Medina, and Bembol Roco. The music was scored by Diwa de Leon, and the costumes were designed by Candy Reyes who, according to Ida, "is well-versed in different weaving techniques."
"As it is, the T'boli culture is so colorful, so it was not hard to make the costumes stand out on film," she added.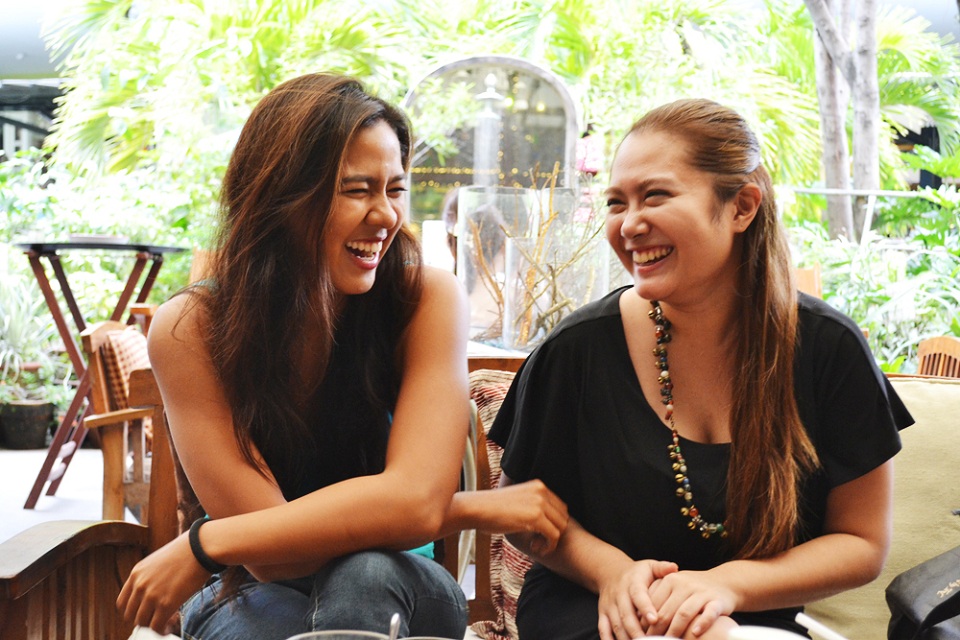 Director Ida del Mundo and 'K'na' actress Mara Lopez Yokohama. Photo by Bong Sta. Maria
Poetry, film background
I asked Ida if she thinks she was able to incorporate poetry in K'na. "I think the sensitivity by which I approached the story is poetic. The film is very quiet, something that I think also characterizes my poetry."
"Some people think that poetry is all about flowery words, but for me it is being able to capture so much in something so simple. Or, enriching simple words with so much meaning," she added. "My film also has that sensibility—simple but meaningful."
This is Ida's first film, but she's no stranger to the craft. She is the daughter of the legendary Clodualdo del Mundo—or Sir Doy, as he is commonly known in La Salle—who wrote classics like "Maynila sa mga Kuko ng Liwanag" and "'Merika." Sir Doy worked with Ida as the film's producer.
Was it strange working with an acclaimed director who also happens to be your father? "It was the first time for us really to work together. I think he was on the losing end because as the producer, he could insist on what he wants, but since I'm his daughter, I got my way most of the time," Ida joked.
"One piece of advice he gave me was to take my time. There is always pressure to act quickly, but art takes time and to produce something good, it shouldn't be rushed."
The biggest challenge, said Ida, was the shift from writing to directing. "When you write, anything you can imagine is possible. Directing is limited by reality. I had to find a balance between pushing for what I had originally envisioned and what was possible during the shoot."
"There are some scenes where I had to compromise. There are some that—thanks to the ideas of the crew, the actors, and the location of our shoot—turned out better than I could have ever envisioned."
I asked if we're going to see more projects from her in the future. She said she has some ideas floating around, but nothing concrete just yet—"When you make a passion project you invest yourself so fully into it. It's hard to move on to other things!"
"If I have another story that I feel as strongly about as this one, then I think I will direct again."
This woman took her passion for poetry and used it to enrich a different art form, one that she's new to. As someone who was lucky enough to see some parts of Ida's artistry grow, I couldn't be more proud.
— BM, GMA News
"K'na, the Dreamweaver" will be shown in Greenbelt, Trinoma, Fairview Terraces, and Alabang Town Center cinemas as part of Cinemalaya's lineup. Click here for screening schedules.