Filtered By: Lifestyle
Lifestyle
Book review: Postcards from climate ground zero in 'Agam'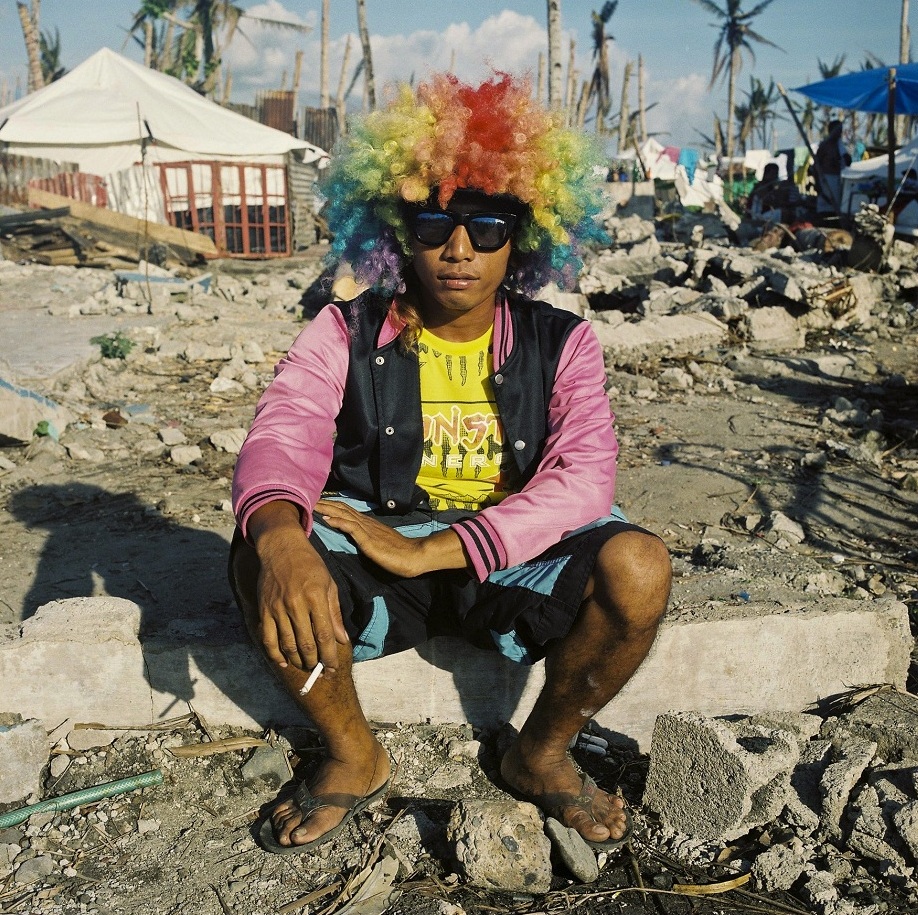 A jokester amid the grimness of post-Yolanda Tacloban. All photos from "Agam"
For "Agam," a collection of narratives about climate change, contributors were given a laundry list of words to avoid. "Global warming," "adaptation," "mitigation," "mainstreaming" and, of course, "climate change" were just some of them. The result – as climate crusader Renato Redentor Constantino, one of the brains behind the book, said – is compelling.
Compelling, in a way, because this is essentially climate change talk without politics and propaganda. Even if you're a staunch climate change denier, you'd have to be a real heartless individual to dismiss the suffering expressed in this book as propaganda.
Compelling, also, for the sense of foreboding one gets after the last page is turned.
For "Agam," 24 contributors – artists, poets, journalists, anthropologists, scientists – try to see climate change from the eyes of those who may not have heard of or are familiar with the term. Incidentally, these are people whose livelihoods will be directly affected by the phenomenon – farmers, fishermen, the ordinary folk. It's their day-to-day hopes and wonders and fears, scattered in 119 pages, divided in five sections (Plea, Looking Back, Foreboding, Hope and Testament), told in eight Filipino languages.
Not surprisingly, many used Yolanda as springboard for their narrative. In poet Padmapani L. Perez's "Mothers Speak," a mother begs the sea not to take her son the same way it took her husband. In "Sa Laylayan ng Bahaghari (Rainbow's Edge)" by Palanca awardee Honorio Bartolome De Dios, a man addresses his bay, who has yet to be found after the storm. A wife's search for her missing husband, meanwhile, is what Tacloban-born writer Daryll Delgado's "Panawagan (Plea)" is all about.
A woman twirls her makeshift blanket.
Narratives that don't tug at heartstrings, meanwhile, inspire analysis. In Constantino's "Weather," we are told that physicists have been seeing links between "mean temperature on the ground" and "heat-absorbing gases in the atmosphere" as early as April 1896. In "Unnatural Disasters," noted journalist Sheila Coronel points out that when post-disaster accounting is done, "the columns that show responsibility and blame are rarely filled up." To bring the collection to a fitting close, UP Diliman Chancellor Dr. Michael L. Tan, in "Malayo Na," asks the pertinent question, "Where are we headed for?"
And then there are the pictures. According to Constantino's introduction to the book, the project began when they tapped retired photojournalist Jose Enrique Soriano to capture portraits of Filipinos facing climate change. Feeling up to the challenge, Soriano said he "went out, met and talked to people, and took their portraits." It is from these snapshots that the writers based their narratives (each was assigned a photo).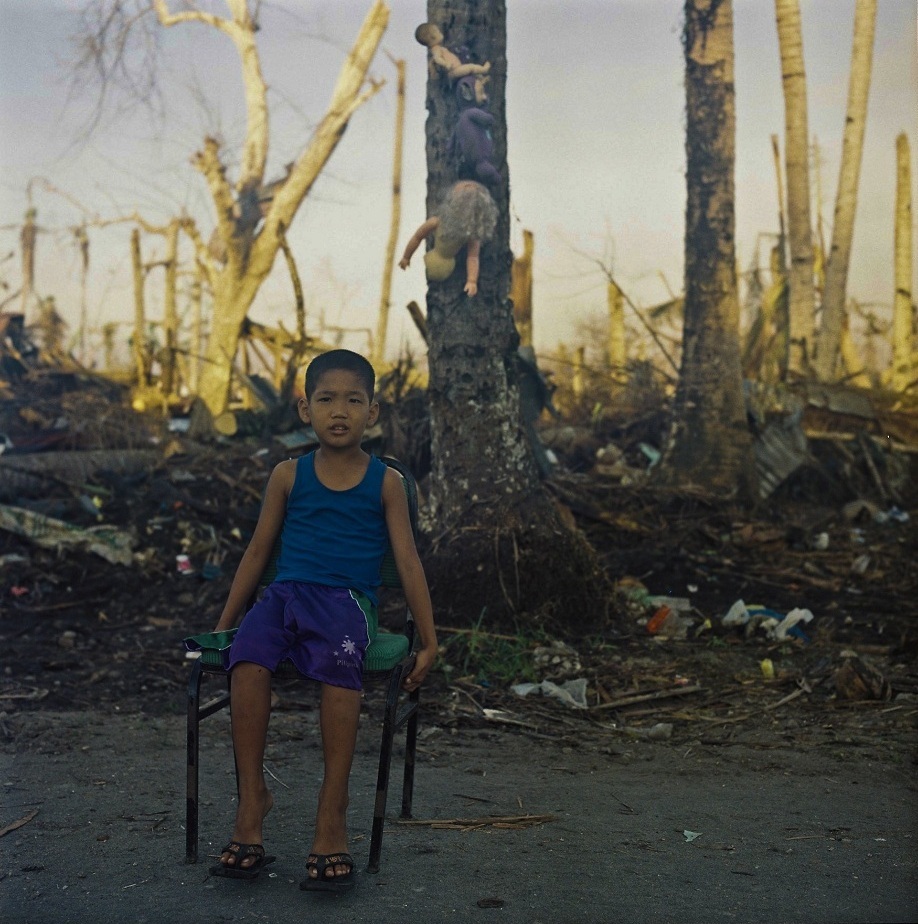 A child tries to make the best of the situation.
As always, words and pictures make for a nice package. Paired together in this context, the book presents a very human face of the climate problem, which is just as loud a call for attention and understanding as the jargon-infested reports of climate experts. The people behind the project do not implore readers to go out on the streets and seek changes through threats and militancy; what they hope to accomplish through "Agam" is for readers to think more deeply about the problem, particularly its causes, so that long-term solutions can be proposed. Otherwise, the day will come when this collection will have the eerie effect of a suicide note.
"Agam" is published by the Institute for Climate and Sustainable Cities (iCSC). The proceeds from the book will go to Re-Charge Tacloban, a project that funds the building of e-jeepneys and integrated solar sustainable transport facilities in the Yolanda-hit city. — VC, GMA News