Filtered By: Lifestyle
Lifestyle
Wear Kapampangan: T-shirt entrepreneurs seek to boost Pampanga's language
August was Buwan ng Wika, which highlights Tagalog-based Filipino as a unifying language for the entire nation. But for Kapampangan graphic designer Allan Sampang, owner of the local "statement shirts" company Wear Kapampangan, his work towards the preservation of language is not confined to a single month. For him, it's perpetual—and it's not pro-Tagalog.
Based in Mexico, Pampanga, Wear Kapampangan creates shirts with Kapampangan words and statements printed on them.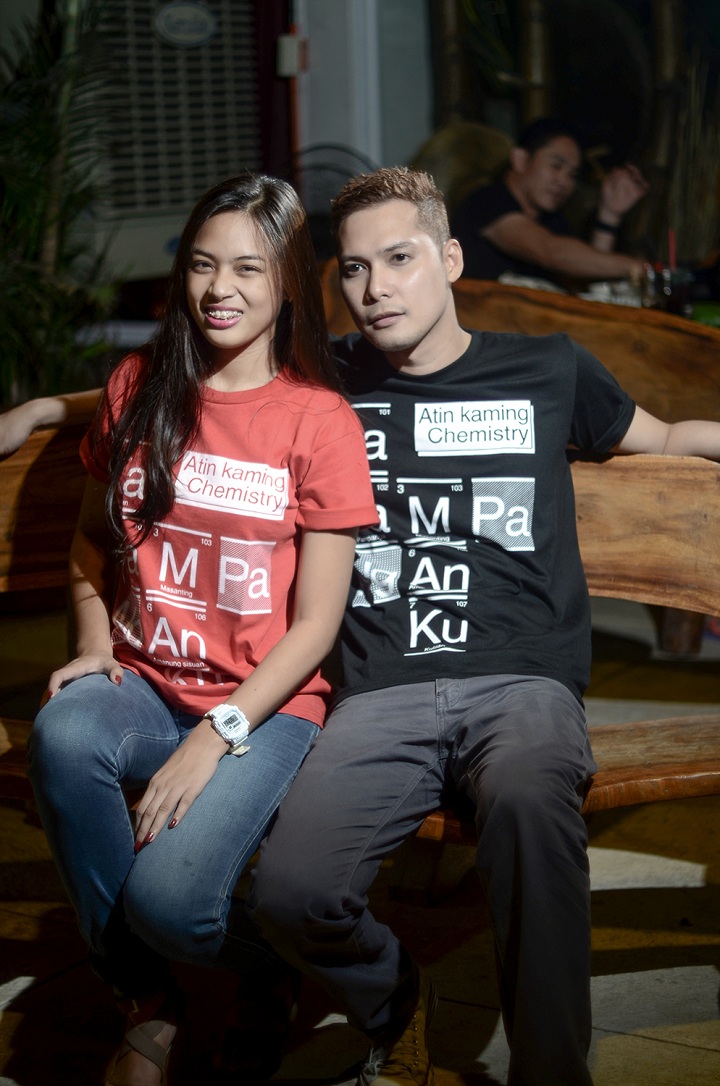 'We have chemistry': Wear Kapampangan's shirts bear regional terms and phrases
"The germinal concept started upon the realization that most of the new generation of youth in Pampanga no longer want to speak Kapampangan, as they have low esteem for the language," said Sampang. "They prefer the Tagalog imposed by the national government. The goal and intention of the statement T-shirts is to...instill in the minds of these new generations that Kapampangan is cool."
Sampang, a med-tech graduate from Centro Escolar University, and call center colleague Nikki Vias felt that T-shirts were the best medium for their advocacy—T-shirts being everyday utilitarian objects.
"It was in 2010 when Allan and I sat down and talked about it," said Vias. "We thought of doing T-shirts because everybody wears T-shirts. With the help of two other friends, Gerald and Jullie, we started selling them to our office mates. And the feedback was good."
For Sampang, Kapampangan is not merely a language, but a concept embedded in the culture and sensibilities of the one who speaks it. "You can see that even within Kapampangan region, [different] proverbial verses are spoken from barrio to barrio. Each has its own identifiable statements," he said.
The first designs created by Allan were typographic. "I remember going to Manila and buying ordinary polyester T-shirts where I first printed the Kapampangan statement. I first did: 'Atin maglakad kanu keng kalye Balibago, misakab ya ing alti! Sabi na, TAKSYAPOW! [An American was was walking along the street in Balibago when he suddenly slipped and said, TAKSYAPOW!]' All the 30 T-shirts that I printed bearing the statement were sold out," he said.
'A subjugating factor'
Many in the new generation of Kapampangan youth sees Kapampangan as only secondary to Tagalog. Mike Pangilinan ,a Kapampangan scholar and author, believes that the concept of "Filipino" being the "wikang pambansa" is wrong because the Philippines is comprised of many ethnolinguistic groups that have their own language, history and culture. "Instead of being a unifying factor, it becomes a subjugating factor," he said. "Tagalog is being used as a tool for suppression under the guise of national unity. But is there really unity if the language that is being treated as a national language is becoming a threat in the total banishment of our own?"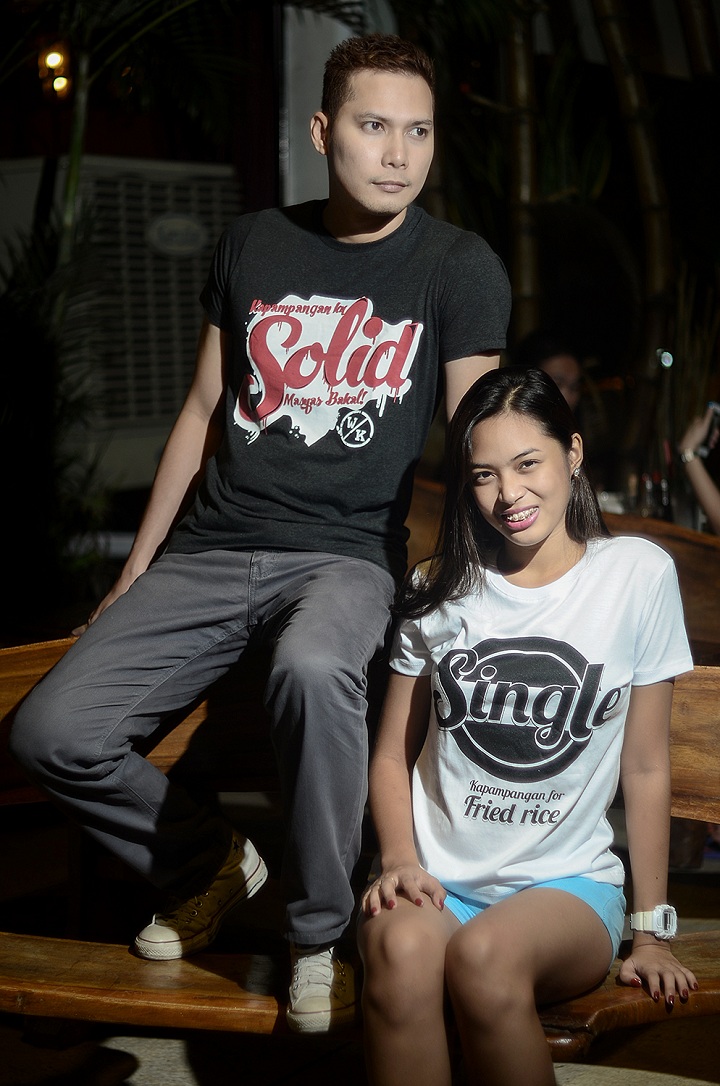 On his shirt: 'Kapampangan Ku Solid Masyas Bakal' (I am a Kapampangan. Solid. Hard as steel.) On hers: 'Single, Kapampangan for Fried Rice' ('Single' is pronounced 'sing-le'.)
Pangilinan, a Foreign Studies associate at Tokyo University, has also done pioneering research on a pre-colonial Kapampangan script called Kulitan or Súlat Kapampángan an Indian-inspired abugida or alphasyllabary. It was recorded as "culit" by 17th- and 18th-century Spanish lexicographers, and the writing system became known as kulitan.
There are now Kulitan calligraphers who conduct workshops for others interested in the script. "In the age of globalization and social networking where the loss of identity is undeniable, things that make us unique as a race or individual still count as crucial," said one of the workshop teachers, visual artist Bruno Tiotuico.
"That is why we need to proliferate the learning of this process of writing our own Kapampangan script. If we are tracing who we are, this is what we have. For younger generations...being aware of the Kapampangan ancient script is something that makes them feel more relevant since it describes their unique way of life in terms of language and culture.
"You can never be relevant on the global stage when you don't represent that which is supposed to be uniquely your own."
But the ancient script is more research material for language experts than part of current Kapampangan communication. Regarding the diminishing use of Kapampangan, said University of the Philippines professor Jovy Peregrino, advocates must look more toward two institutions that are influential in the preservation of culture: school and family. "The language itself is not to blame. It could be the politics that surround the institutions in the Kapampangan region that perhaps show their inability to guard the Kapampangan language and preserve its use among its people," he said.
"Education, which can be found in a university, and the family are two institutions where the speaking of the language should start. If these two institutions have low regard for the language, it will definitely vanish."
The Ryzza Mae generation
Kapuso child star Ryzza Mae Dizon, who hails from Angeles, recently became a trending subject in forums regarding the way she interpreted the Kapampangan spoken by an elderly woman on "Eat Bulaga".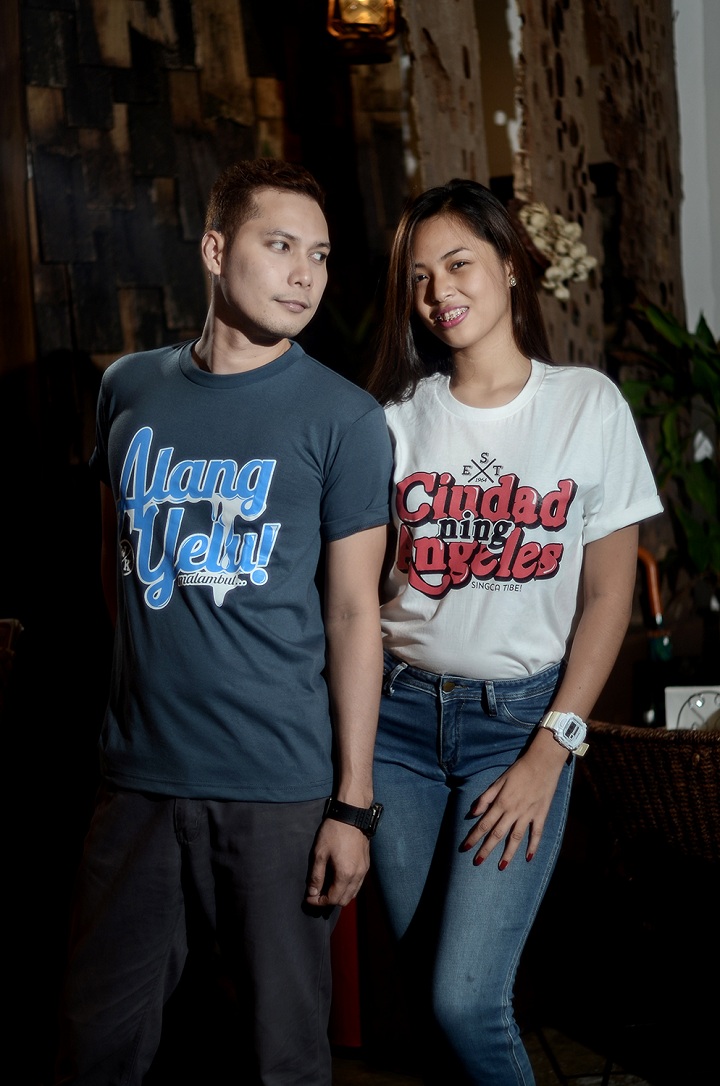 Sampang and colleagues use T-shirts to promote Kapampangan to the new generation.
A number of posters criticized her, saying she could not understand or speak Kapampangan very well.
But the young TV host is part of the new generation of Kapampangans who grew up watching mass media dominated by English and Tagalog—to the point that Aileen Ramos, who works in a laundry shop in Guagua, said that her Grade 1 daughter is actually having a hard time understanding Kapampangan as a language of instruction in school under the K-to-12 program's
Mother Tongue Based-Multilingual Education (MTB-MLE)
.
"Tagalog is her way of speaking [now] since it is the language she sees on television and her way of communication with her classmates. Now, they are teaching [Kapampangan] lessons in class, that is why she complains of not comprehending the discussion," she said.
Peregrino, who was a former head of the Komite sa Wika at Salin (PKWS) of the National Commission for Culture and the Arts (NCCA) and a member of the NCCA National Advisory Board from 2008-2011, believes that the struggle to bring Kapampangan back to primacy will be a lengthy process whose benefits will be reaped not by the present generation but by the next one.
Wear Kapampangan's market
"If only I have all the resources to give in order to save the vanishing of our language, I will do it. But this is what I can share, the T-shirts," said Sampang.
Wear Kapampangan
's products can be ordered online. "I will never put [the shirts] in malls since I think the malls are number one perpetrators of cultural genocide," he added. "I have some other more commercially produced product shirts. But Wear Kapampangan is pure and true to its advocacy of helping people become aware of the language."
— BM, GMA News