Filtered By: Lifestyle
Lifestyle
Burnham's century-old ideas can still be used to improve Manila – architect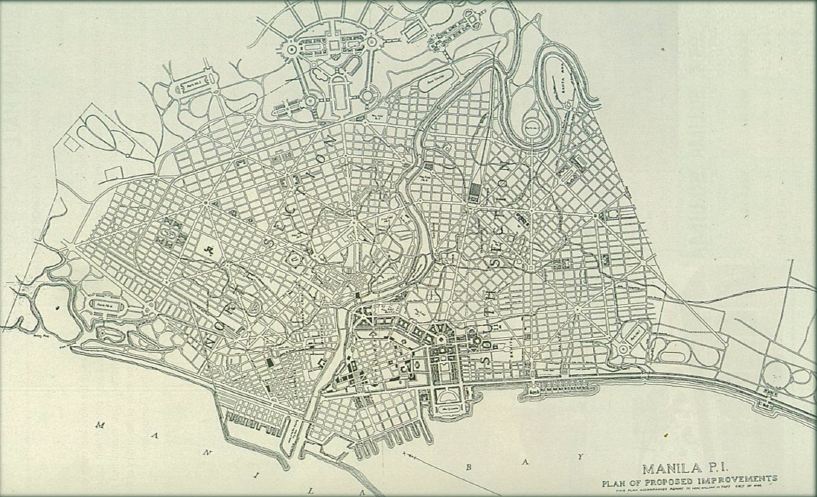 Daniel Burnham's plan for Manila. Images courtesy of Palafox Associates
"Possessing the bay of Naples, the winding river of Paris, and the canals of Venice, Manila has before it an opportunity unique in history of modern times, the opportunity to create a unified city equal to the greatest of the Western world with the unparalleled and priceless addition of a tropical setting."
Thus said American architect Daniel Burnham when he presented his grand plan for Manila in 1905.
More than a hundred years later, only a few parts of his plan were completely followed. Today, Manileños have to live in an "urban planning mistake," according to architect Felino Palafox, Jr. during a lecture at the American Chamber of Commerce of the Philippines in Makati City on Tuesday.
One of the biggest mistakes of Manila's structure was not following Burnham's plan, Palafox said. It started when the Philippines became a republic and threw away the grand plan; the uglification of Manila began.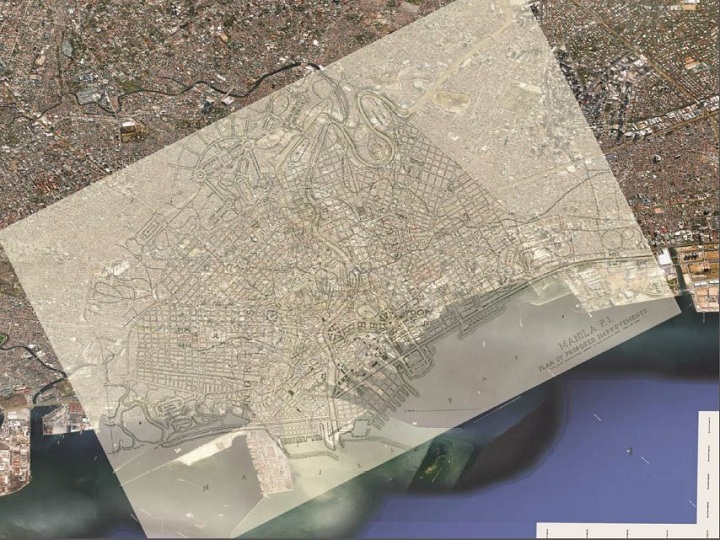 The Burnham plan superimposed over an aerial photo of modern-day Manila.
However, the Philippines' capital still has a future, Palafox said. It could revisit Burnham's plan—and that doesn't mean simply reminiscing about the city's long-lost old grandeur.
It's about studying Burnham's 1905 planning principles and applying them to present-day Manila.
As overcrowded and overbuilt as Manila is now, there are ongoing discussions between the city government and experts such as Palafox on how to apply Burnham's ideas of "grand scale, wide radial boulevards, landscaped parks, and pleasant vistas" to the city.
For instance, after a request by Manila Mayor Joseph Estrada for advice on the matter, Palafox and his team took photos of some areas in the city and made perspectives or "postcards from the future" on how to redevelop them.
Palafox also shared that there are projects in development that aim to rehabilitate Manila's canals and the Pasig River—after all, Burnham's Manila plan made use of waterways as the door to development. As Burnham saw it, the Pasig River was like Paris' River Seine; Manila's esteros were like the canals of Venice; and Manila Bay was like the Bay of Naples.
As for roads, Burnham believed that they should have three equal priorities: trees and landscape, pedestrian, and vehicles.
Clearly, though, Epifanio de los Santos Avenue was made only for vehicles.
"Only two percent of Filipinos have cars. But 100 percent [of Filipinos] are pedestrians. The moment you leave your car, you are a pedestrian," Palafox said.
Using private vehicles should be the last option in traveling from one place to another. Walking, riding the bicycle, and public transit should be the first options in an ideal world.
Challenges
In the actual world, however, people live with the reality of high population density, urban pollution and badly managed public transit, and Burnham's plans for a beautiful, pedestrian-friendly, well-planned city can seem more unattainable than ever.
What's more, in Burnham's day Manila's population was a small fraction of the current 1.7 million, and the sprawling metropolis now known as Metro Manila was not yet in existence. Are Burnham's ideas really still feasible today? Palafox thinks so.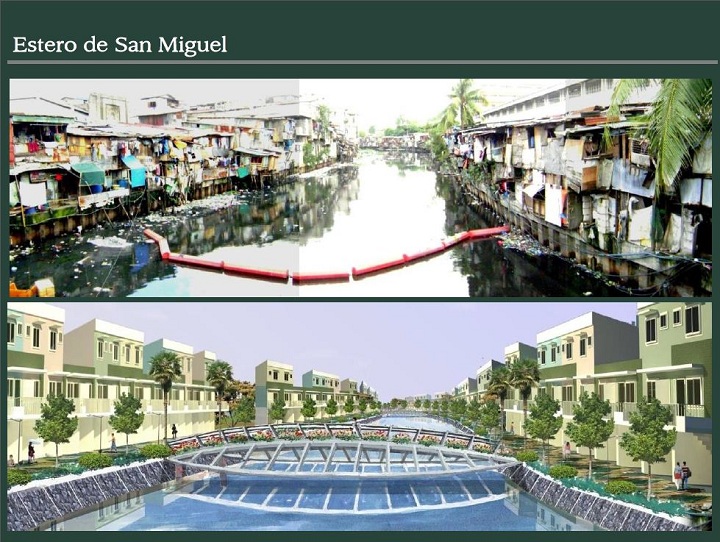 A 'postcard from the future' showing what could be done with a segment of Manila's Estero de San Miguel.
But there are roadblocks to attaining a better, more liveable city. One is the lack of budget. Another, said Palafox, is that experts are seldom consulted by government and implementing agencies.
"We architects and urban planners in this country are second-class citizens. The first-class citizens are the politicians and the contractors," he said.
Continuity of implementing projects is also a problem. "Previous initiatives of previous administrations are not respected," Palafox said.
Ultimately, it may come down to overcoming one trait that Filipinos share: the "pwede na" attitude.
"If 'better' is doable," said Palafox, "'good' is not enough."
— BM, GMA News